Open Your Skrill Wallet and Find a Free $20!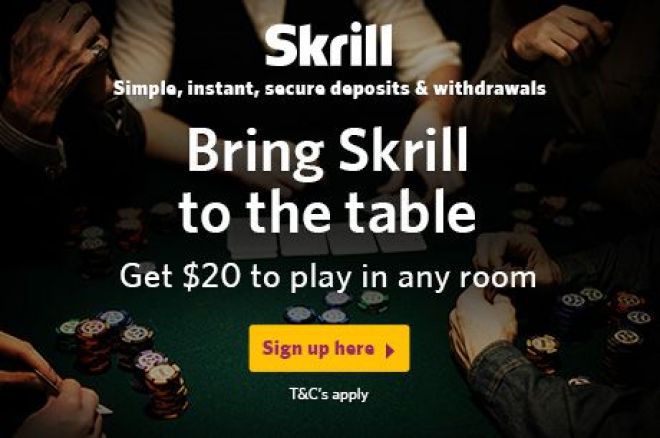 Do you have a Skrill wallet? If not, that's great news because we're going to tell you how to get one and how to open it and use the free $20 that's waiting inside.
How to get your free Skrill wallet
The first step in acquiring your wallet is to sign up to Skrill using our link.
Once you've created your free Skrill account, it's time to decide which online poker room you'd like to invest the free $20 in that you're going to receive from Skrill. After you've made a choice, (and keep in mind all the online poker rooms listed in our top picks will take Skrill as a deposit option), then it's time to deposit $20 in the room of your choice using Skrill. Within one business day, Skrill will place $20 back in your e-wallet.
It's not often that you are given a free money opportunity to take to the online poker tables, but all you have to do is open your wallet and get started.
Keep in mind that you can use that free $20 to make your first deposit in an online poker room you haven't tried yet and receive their deposit bonus at the same time. That means, in most cases, the $20 turns into a $40 opportunity to play your favorite games and see how high you can build a new bankroll! It's an incredible opportunity to build a mountain of cash, literally!
Now that you know how to get your e-wallet at Skrill, we'll tell you why you want you one!
Skrill is a digital wallet that allows you to transact deposits, transfers, and withdrawals. Every transaction you make is safe and secure and your financial details are hidden each time you move funds in and out of your Skrill wallet. To access your funds, simply use your email address and password.
Poker players have relied on Skrill for over 10 years. That alone should boost your confidence level in your new wallet since Skrill happens to be one of the top online payment processors in the world and some of your table mates are already using it.
The best way to begin is to start. Open your Skrill wallet, accept the free $20, and start building your online poker income today.
More information on Skrill's great offer can be found here.
Get all the latest PokerNews updates on your social media outlets. Follow us on Twitter and find us on both Facebook and Google+!