Take the Redbet Poker Experience and Run it into a PokerNews Cup Main Event Seat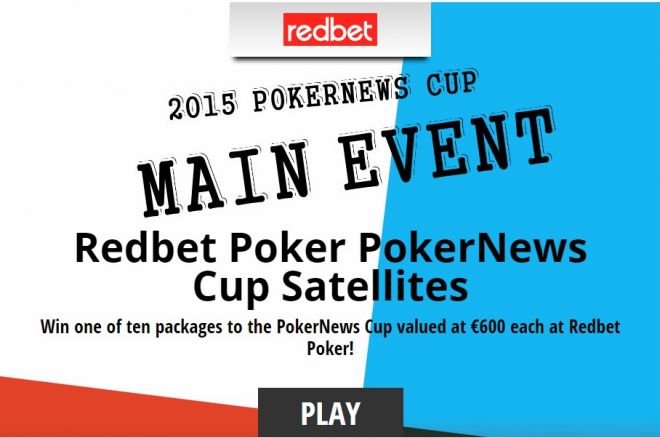 Live poker tournaments are not only a huge part of the mainstream of poker, but the experience can't be measured in a few words, you need to experience it. Subtly put, that means you need to play the 2015 PokerNews Cup Main Event to get the whole picture.
Best of all, you can take the Redbet Poker experience and turn it into a PokerNews Cup Main Event seat!
First, the PokerNews Cup: From November 18 to November 23, the 9th edition of the PokerNews Cup will feature an insane series of action, poker, poker pros, recreational poker players, grinders, fun, excitement, and competition all taking place at King's Casino in Rozvadov, Czech Republic! The Main Event? It has a €200,000 guaranteed prize pool. This highly prestigious event has a €250 buy-in and the winner is going to hit the poker spotlight around the world – and take home a lot of cash!!!
Along with the Main Event, look for more poker stacked, crammed, jammed into side events and cash games! What's not to love about this picture? Don't forget you can just hang out, visit with people from around the world that want to beat you in a poker game but they love the poker experience as much as you do – and you can jam as much poker into your PokerNews Cup series as you want!
Along with the Main Event, you can play the €120 buy-in Opening Event, a €10,000 guaranteed Pot-Limit Omaha €100 buy-in tournament and more. If you miss this event, you're going to pass up a great opportunity to win and write your own piece of poker history.
Second, the Redbet Poker Experience: How much do you know about Redbet Poker? Obviously you need to know that you can play the PokerNews Cup Main Event by starting with qualifiers that start at €1! More on that in a moment! Did you know you can choose your own bonus when you open an account at Redbet Poker? The bonuses range from €10 and go as high as a massive, bankroll-boosting €2,500. It's hard to beat that when you want to maximize your bankroll and build your poker game! There's even more waiting for you at Redbet Poker but to enjoy all that's available, download Redbet Poker through our link and get started. (Read our Redbet Review to find all the information you need and start your Redbet experience.)
Back to the moment — the Qualifiers and how to get to the PokerNews Cup. You've already downloaded Redbet Poker, right? Great, get started. As soon as you have your new account setup, — NOTE: This free satellite ticket offer is only open to new players at Redbet Poker – you're going to find an €11 ticket in your new account! Head for the satellites that are offered in the Redbet Poker lobby, and here's where you can choose to play any satellite with that €11 buy-in or you can play a PokerNews Cup satellite to win a €600 package! That should be a no-brainer! The PokerNews Cup Main Event is waiting…grab the chance to play it and conquer!
If your free €11 satellite ticket ends badly, there are still three steps to play for your seat in the Main Event – and if you already have a Redbet Poker account, PLEASE, join in the fun and win your way to King's Casino through the qualifiers. Everyone is welcome!
When you enter and win a €1 satellite, you'll have an €11 satellite ticket (the same amount you received when you registered) to take you to the next step. Winning the €11 satellite will give you a ticket to the €50 final! Make it to the top two of the final and your prize is a package worth €600! That package is packed with enough cash to give you travel and accommodation expenses and your seat in the Main Event!!!
The dates for the finals are listed below and they all start at 20:30 CET:
October 18, 2015 — Finished
October 25, 2015
November 1, 2015
November 8, 2015
November 15, 2015
Once you hit The Cup series, you are subject to being photographed, interviewed, and recorded in videos and have your story told by the PokerNews Live Reporting Team. This event is going to be available for the entire PokerNews.com international network! If you can't be there, tune in and enjoy the action!
To make sure you get the maximum from your Redbet Poker experience, grab your sign-up bonus, use your €11 satellite ticket and win your way to the PokerNews Cup!
Get all the latest PokerNews updates on your social media outlets. Follow us on Twitter and find us on both Facebook and Google+!