StakeKings Backers Earn 63,288% ROI in Sunday Million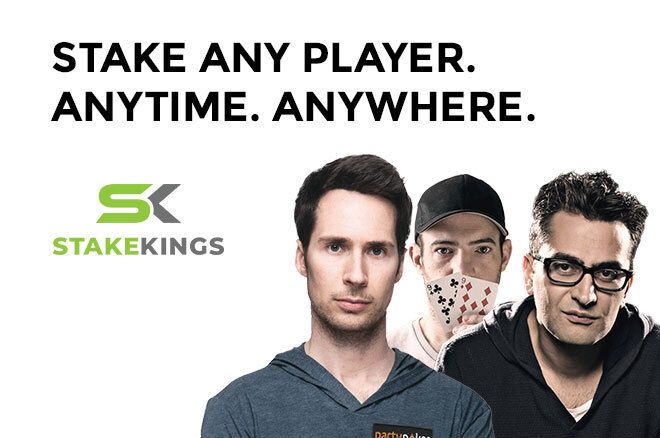 Table Of Contents
Poker staking platform StakeKings.com is one of the few areas in the poker industry that is currently booming alongside the online poker sites. While playing online poker may be a fun outlet for some, many people do not have the time to sit and play a 10-hour poker tournament, and for players in the United States there are simply not a lot of safe options. StakeKings.com solves both of those issues.
It is available worldwide (including the United States), and it allows its users to stake some of the best players in the world on poker sites such as PokerStars and partypoker for the chance to win some huge cash alongside some of the biggest names in the game!
---
---
The StakeKings platform makes it extremely simple to setup a free account and deposit funds onto StakeKings (each user has their own cashier - just like an online poker cashier) and from there users are able to use those funds to stake players who they feel have the best chance of providing them a return on their money. Although everyone would like a profitable return, many users are simply looking for the players who provide them with the most "bang for their buck" when it comes to entertainment. StakeKings allows its users to stake any amount that they are comfortable with - from a single penny to thousands of dollars. Each stake can potentially provide users with hours of entertainment, and sometimes large amounts of cash - which is what took place on Monday!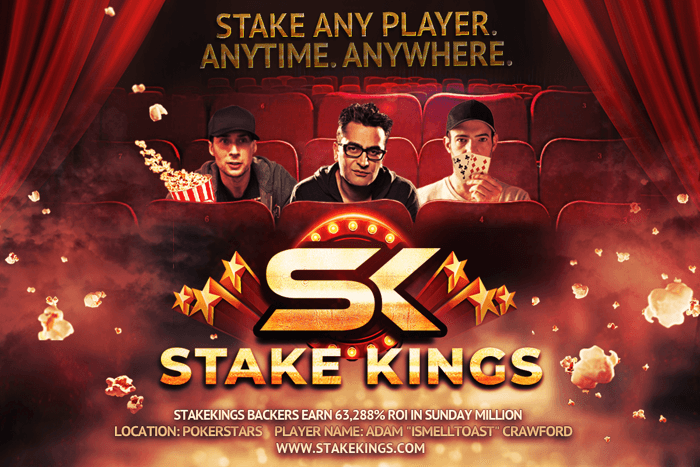 Huge Sunday Million ROI
On Monday, Adam "ISmellToast" Crawford ended up final tabling the $109 2-Day Sunday Million event on PokerStars that had a $3,176,200 total prizepool, and he had everyone in the StakeKings.com Discord channel cheering him on in the process! "ISmellToast" ultimately ended up finishing in 5th place for $69,094.73, which ended up also earning his backers on StakeKings a massive 63,288% return on their stake! The funds were immediately released to the backers cashier's on StakeKings.com and from there the backers can withdraw the money at any time or choose to use the funds to make other stakes on the platform.
With PokerStars SCOOP only a few days away many of the players selling on StakeKings will also stream their action live on Twitch (Joshua "slayer1vfan" Hoesel, Jeff Gross, Jaime Staples & many more all sell tournament action on StakeKings.com & stream it live on Twitch to give their viewers added entertainment value). However, you can also find elite players who do not stream their tournaments selling action on StakeKings, such as #1 ranked GPI Male & Female Player's of the Year Alex Foxen and Kristen Bicknell.
PokerNews Giveaway
In fact, on Sunday StakeKings gave away a piece of Alex Foxen in the Poker Masters 50k Main Event ($2 Million GTD) to one lucky StakeKings user, and now they are providing PokerNews fans with the chance to get in on the action again by giving away a 10% stake in ANY player on PokerStars for the SCOOP $1,050 Main Event $5 Million GTD! If the player selected ends up winning the SCOOP Main Event the cash prize could be worth upwards of $200,000! However, the winner of the giveaway will have the option to take a StakeKings credit instead of the 10% stake in the SCOOP Main Event if they prefer.
The PokerNews SCOOP Hub is Here!
There are several ways to enter this exciting giveaway, and the code below is the most valuable of them all as it provides PokerNews readers with 75 free raffle tickets!
SECRET CODE: PNSCOOP2020
Click this link to enter the secret code!
Sponsor-generated content by StakeKings