The Bernard Lee Poker Show 11-14: Matt Stout and Jacob Zalewski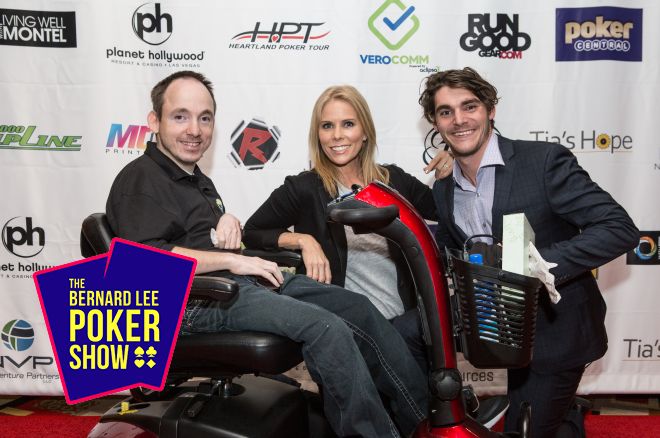 In this episode of The Bernard Lee Poker Show on the PokerNews Podcast Network, Bernard Lee interviews two charity Presidents that are both holding charity poker tournaments this weekend in Las Vegas. First, Bernard interviews Matt Stout, Founder and President of Charity Series of Poker, which will be holding their event on Saturday December 8 at 4:30pm at Planet Hollywood.
Additionally, Bernard interviews Jacob Zalewski, Founder and President of One Step Closer Foundation, which will be holding their event on Sunday December 9 at 1 p.m. at Bally's Las Vegas.
Show Time Stamps
| | |
| --- | --- |
| 0:00 | Welcome to The Bernard Lee Poker Show as the show will interview Matt Stout and Jacob Zalewski, both Founders and Presidents of their respective charities. |
| 0:26 | Matt Stout's charity, Charity Series of Poker (CSOP) will team up with the Golden Knights Foundation this weekend. The $300 buy-in event (with $100 rebuys and add-ons) will be held at the mezzanine level of Planet Hollywood Casino on Saturday December 8, with the reception held at 3pm and the tournament starting at 4:30pm. |
| 1:06 | Jacob Zalewski's charity, One Step Closer Foundation (1SCF) will hold its event on Sunday December 9 at Bally's Las Vegas. The event will be held in the poker room with the red carpet held at noon and the tournament starting at 1 p.m. |
| 2:14 | Before beginning his interviews, Bernard Lee discusses the poker news. WSOP Circuit wrapped up at Choctaw Casino, in Oklahoma and Max Young outlasted a field of 893 entries to win the WSOP Circuit main event for his fifth circuit ring and this time, earning $263,815. |
| 3:28 | Travis Dorsey captures the WSOP Circuit held in Las Vegas at Planet Hollywood, besting a field of 518 entrants for his third career circuit ring and also taking home $168,722. |
| 3:51 | Finally, Jake Bazeley, who won the WSOP Circuit Harrah's Cherokee Main Event back in 2014, has done it again. This time, Bazeley topped a field of 1,127 entrants to earn $311,616. |
| 4:47 | Pavel Plesuv continues his incredible 2018 run by winning World Poker Tour Seminole Rock 'n' Roll Poker Open at the Seminole Hard Rock in Hollywood, Florida. Plesuv outlasted 898 entrants and earned $504,820. |
| 6:38 | RunGood Gear Ad |
| 7:21 | Bernard introduces Matt Stout. |
| 8:03 | Matt Stout joins the show. |
| 8:46 | Matt explains why he began the Charity Series of Poker, whose initial beginning was delayed by Black Friday. "I always wanted to do it as a way to give back." |
| 11:14 | Matt describes how he started the Charity Series of Poker back in 2014. "In the first three years, we ran 12 events around the country…and raised $350,000 that went straight to the beneficiary charities." |
| 14:56 | Matt explains why running this charity poker tournament with the Golden Knights is his dream come true. "I've been a hockey player since I was nine years old. I'm a diehard hockey fan to this day. I was already a (Golden) Knights season tickets holder." |
| 15:39 | Matt explains the coincidence with the number 18 for this event. "It is our 18th event. My hockey jersey number in high school was 18 and my child will also be born in 2018. So, we have just solidified 18 as my favorite number for life." |
| 16:30 | Matt elaborates on the CSOP charity event on Saturday, December 8th at Planet Hollywood, which has a first prize that is a $10,000 WSOP Main Event seat. The event also has ten bounties that include 2018 WSOP Main Event champion, Matt Savage and Daniel Negreanu, who will MC the event. |
| 19:50 | Matt praises Daniel Negreanu for all he does during the CSOP charity events. "He's the best. He really goes above and beyond. His heart is in it for all the right reasons." |
| 20:59 | People/players can preregister and/or bid on a silent auction, go to csopvgkf.givesmart.com. |
| 24:04 | Matt describes what the Golden Knights Foundation does for the Las Vegas community. |
| 27:39 | Matt discusses his future CSOP events that will be held in 2019. |
| 30:17 | Share My Pair Ad |
| 30:48 | Cabot Cheese/Creamery Ad |
| 31:19 | Bernard introduces Jacob Zalewski. |
| 32:17 | Jacob Zalewski joins the show. |
| 32:51 | Jacob explains how he started the One Step Closer Foundation. "I have a poker family. They support me in everything I do. And so, in 2007, when we initially started the organization, I knew that I wanted to help people out. I, as you know, have cerebral palsy. I have been very blessed to be in a position where I can help…I wanted to do something to give back and poker was just a natural fit." |
| 34:41 | Jacob describes how Simpson creator Sam Simon helped Jacob get his first event off the ground in August of 2008. |
| 35:44 | Jacob cites his 2005 WSOP final table appearance as the spark to generate interest in poker to garner donations for his charitable cause. "It was my very first tournament in Vegas." |
| 36:17 | Bernard mentions many of the celebrities and pro poker players that have supported Jacob and the One Step Closer Foundation that include Montel Williams, Cheryl Hines, Elyes Gabel, RJ Mitte, Scott Blumstein, John Cynn and Jennifer Tilly. |
| 37:02 | Jacob explains that he never thought he would continue having these charity poker tournaments year after year. "I didn't expect it to be an ongoing thing. I just wanted to do a good thing for people with disabilities and give the money to a charity." |
| 37:40 | Jacob explains why he started The One Step Closer Foundation. "At the time, poker was taboo so no (charitable) organization wanted to deal with it. They literally rejected my money. So instead of killing the dream, I decided to start my own foundation with the help with Sam (Simon)." |
| 39:40 | Bernard lists some of the prizes for the All-In for CP event, which will be held on Sunday December 9 at Bally's Las Vegas poker room at 1pm (red carpet at noon) including guaranteed $10,000 first prize. Also, second prize will be a seat and buy-in for Friday Night Poker presented by PokerGo and Stadium. Additional prizes include hotel weekend packages at Aria, Bellagio and Planet Hollywood that including hotel stay, dinner and show tickets; additional show tickets and buy-ins into the 2019 Raising the Stakes charity tournament. |
| 41:05 | Jacob describes what he looks forward to during each event. "You see a lot of the same, great faces…It's a really good atmosphere and a lot of fun. And you know that it's all going to a great cause. We are having fun, we're raising money. What could be better!" |
| 42:43 | Jacob discusses possible strategies for charity events. "Come in and have fun. Don't worry about the poker pros." |
| 45:30 | Jacob remembers former Los Angeles Lakers owner Jerry Buss stopping by at one of his events. |
| 47:00 | Jacob lists some of the organizations that the One Step Closer Foundation have donated to including TIRR Memorial Hermann and Shriners Hospital for Children in Houston and, this year, Spaulding Rehabilitation Hospital in Boston. |
| 50:57 | Jacob turns the table on Bernard and asks him what his favorite part of helping the One Step Closer Foundation. Bernard states: "Outside of the poker tournaments, helping out the people...Last year, we were in Houston after the hurricane (Harvey), we helped out four families of people who worked in the hospital…that had their houses destroyed." |
Let us know what you think of the show - tweet about the podcast using #BernardLeePokerShow, and be sure to follow @BernardLeePoker on Twitter or Instagram.
You can follow Matt Stout on Twitter @mattstoutpoker and Charity Series of Poker on Twitter @TheCSOP.
Also, you can follow Jacob Zalewski on Twitter @rollingwithjz and The One Step Closer Foundation on Twitter @1scf.
The Bernard Lee Poker Show is now available on iTunes.
Don't forget to subscribe to the PokerNews podcast on iTunes here.
Finding a trustworthy room to play online poker can be a monumental burden. That's all the more true if you're just looking for a place to play poker for free. We've listed five of the best play-money poker sites to enjoy and help hone your skills.