All In for CP Charity Poker Event to Run at Bally's December 9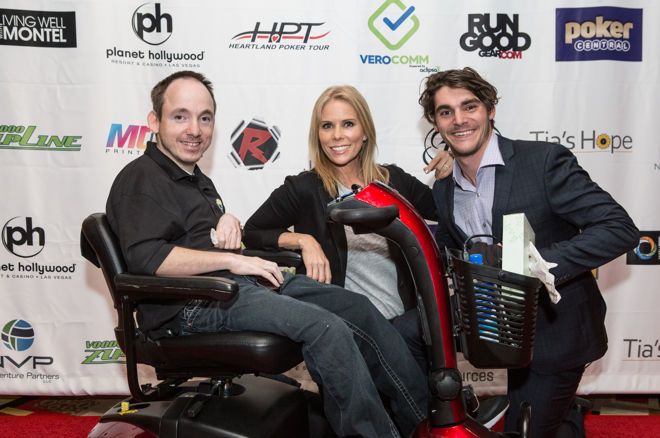 Table Of Contents
'Tis the season to raise some money for charity, and the latest announced poker event for a good cause is to benefit the One Step Closer Foundation. "All in for CP" will be hosted by Bally's Casino in Las Vegas on December 9, 2018 and there will be plenty of poker and other celebrities present to help the cause.
The event represents one of two annual charity poker tournaments the foundation hosts in Las Vegas, the other taking place in the summer during WSOP. Celebrities from poker and beyond will be in attendance, with Curb Your Enthusiasm and Suburgatory star Cheryl Hines (pictured above, center) along with Montell Williams serving as the main hosts.
The One Step Closer Foundation
One Step Closer is a unique organization in that the founder and president of the organization knows firsthand the challenges associated with CP. Born three months premature in 1983, Jacob Zalewski (pictured above, left) was given just a 3% chance of survival at birth. Despite living with Cerebral Palsy his entire life, Zalewski has considered his disease a blessing, using it to positively inspire others. In 2007, he started the One Step Closer Foundation with the help of the late Sam Simon, creator of the Simpsons.
"I never imagined that we would raise over $1 million and be having regular tournaments for the past 12 years."
"I never imagined that we would raise over $1 million and be having regular tournaments for the past 12 years. Every year, I'm truly humbled to see the support that the foundation receives. I want to thank everyone who has ever come out to play in one of our events," said Zalewski.
"I love Jacob," said event host Cheryl Hines. "It is truly inspiring that someone who has cerebral palsy has the resources and the spirit to start a foundation to help other people with cerebral palsy. It's amazing to me and I really admire Jacob and I want to support him in any way I can."
From poker, the last two WSOP Main Event champions, John Cynn and Scott Blumstein, will be in attendance, along many other recognizable faces from the industry.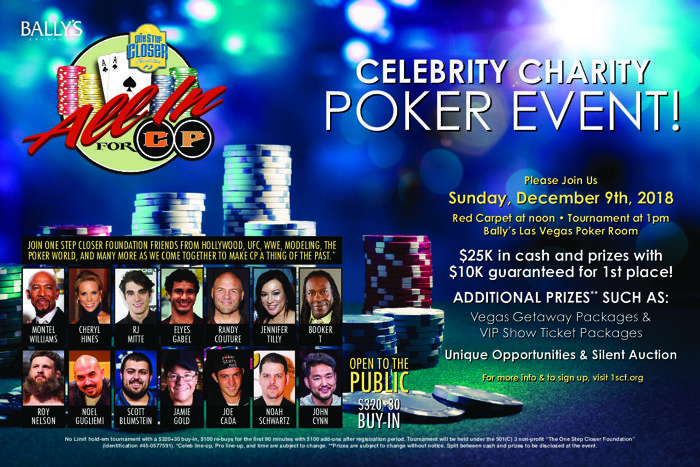 Event Details
The poker tournament features a $350 buy-in with $100 add-ons and re-buys. There will be $25,000 in cash and prizes distributed among the top 15 finishers, with the winner guaranteed $10,000.
Some other prizes include a seat and buy-in for Friday Night Poker presented by PokerGo and Stadium, hotel weekend packages at Aria, Bellagio and Planet Hollywood that include hotel stay, dinner and show tickets, and buy-ins into the 2019 Raising the Stakes charity tournament. There will also be a silent auction during the event where guests can bid on various sports memorabilia.
"Honestly, I believe that we have some of the best prizes around for a charity poker tournament," stated Bernard Lee, VP of Marketing and Operation for The One Step Closer Foundation. "However, I don't think that is the main reason why players come back year after year. The real reasons are that everyone comes to support such a good cause especially Jacob and everyone truly has a incredibly fun time. It is always such a party atmosphere."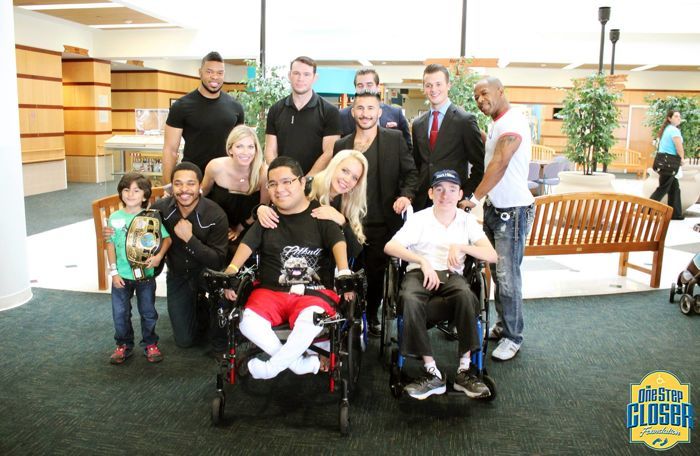 A Charitable Poker Weekend
As described on their website, The One Step Closer Foundation (1SCF) is "a non-profit, charitable organization whose main goal is to impact the lives of those who suffer from cerebral palsy and other afflictions." The organization raises funds to support existing groups and individuals with CP, as well as promoting awareness, education and medical research on CP, and the proceeds from the charity tournament will help support this cause.
It will be an extra charitable weekend in Vegas, this event coming just a day after the recently announced CSOP "Knights of the Poker Table" event that will take place at Planet Hollywood to benefit the Golden Knights Foundation.
For more information on The One Step Closer Foundation or to make a donation, visit 1scf.org. Also, be sure to listen to the PokerNews Family of Podcasts and hear this week's interview with Jacob on The Bernard Lee Poker Show.
Images courtesy of 1SCF.
Everybody needs an account at one of these online poker rooms! They're the biggest, the best, and we get you the best poker bonuses. Check out our online poker section for details on all the online poker rooms around.