The Bernard Lee Poker Show 11-19: 2019 PSPC Champion, Ramon Colillas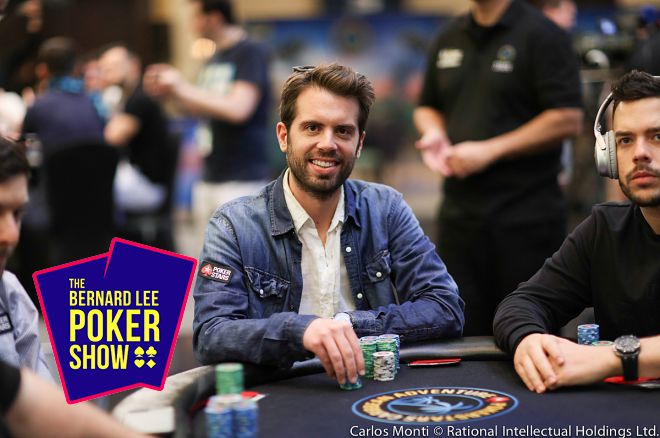 In this episode of The Bernard Lee Poker Show on the PokerNews Podcast Network, Bernard Lee interviews the 2019 PokerStars Players Championship winner, Ramon Colillas. The 30-year old Spaniard earned his entry into the inaugural PSPC by earning a Platinum Pass from the Spanish poker tour, The Campeonato Espana de Poker (CEP).
Ramon not only describes the PSPC tournaments, including a pivotal hand heads-up versus Julien Martini, but also his future poker schedule in 2019 that includes the WSOP Main Event.
NOTE: Ramon uses an interpreter during the interview so please be patient as you listen.
Show Time Stamps
| | |
| --- | --- |
| 0:00 | Welcome to The Bernard Lee Poker Show as this week's guest will be 2019 PokerStars Players Championship (PSPC) winner, Ramon Colillas. |
| 0:04 | Bernard discusses the inaugural PSPC, including its record-breaking field for a $25,000 buy-in tournament of 1,039 and first prize of $5.1 million. Once again, the winner, Ramon Colillas, who was a Platinum Pass winner, will be Bernard's guest this week. |
| 2:04 | Bernard announces the winners of the additional events held during the 2019 PokerStars Caribbean Adventure which include poker pros Sean Winter, Rainer Kempe, Ole Schemion, Sam Greenwood, Timothy Adams and Justin Bonomo. |
| 4:13 | RunGood Gear Ad |
| 4:55 | Bernard welcomes Ramon Colillas to the show. |
| 6:27 | Ramon joins the show. |
| 8:00 | Ramon explains how he felt coming to the 2019 PCA. "This was a dream for him to come to the PCA in the Bahamas, experience this huge tournament, the biggest and most important tournament of his life…enjoy the experience and the resort was already a gift and was already a big deal for him…Obviously, he was aiming to go as far as he could." |
| 9:42 | Ramon discusses the friendships he made with the other Spanish Platinum Pass winners, who were all railing him during the PSPC final table. "They were hanging out during the whole tournament together, cheering each other on and sharing some moments like dinner, the beach and having a good time throughout the tournament." |
| 14:14 | Ramon recalls the last tournament during the The Campeonato Espana de Poker (CEP) in Peralada where he had to cash to win the Platinum Pass. He ended up making it with only five big blinds. "He made a lot of chips during the first part of the tournament. And the during the last two or three hours, he just sat there, folding a lot of hands. The prize of the Platinum Pass was bigger than the prize of the tournament." |
| 17:58 | Ramon discusses how he prepared for the 2019 PSPC and describes his own style of play. |
| 20:46 | Ramon describes how he got started playing poker, while preparing to become a fitness trainer at University. "He was studying and working for a few years, but poker was always in the background of his activities." |
| 21:45 | Ramon reveals what he loves about poker. "(He loves) the competitiveness of the game. He loves competition…He loves to travel also so the mix of those two things is something that makes poker special every day." |
| 23:10 | Ramon explains he was playing poker primarily online, but he felt comfortable playing live as well. "He has always felt good in both, live and online environment. But obviously getting into the live environment is way more fun for him because he can get to know other players, see them face-to-face and travel a lot. It is more enjoyable. When playing online, basically you are sitting behind a screen…but you are on your own." |
| 26:12 | Ramon reveals that he focused on live tells prior to PSPC. "He has been studying a lot and reading many different articles about the topic. He has a book about tells and behaviors that he has read about five times because it is a different environment, but he sees it as more of an opportunity than a challenge." |
| 27:21 | Share My Pair Ad |
| 27:53 | Bernard continues his interview with the 2019 PokerStars Players Championship (PSPC) winner, Ramon Colillas. |
| 29:42 | Ramon recalls his reaction when he first arrived at The Atlantis in the Bahamas. "He was very excited and very emotional…It was a dream come true." |
| 31:44 | Ramon describes how Day 1 of the 2019 PSPC went. "Beginning of Day 1, he tried to take it very, very calm. He tried to identify who the others players were. He didn't see any of the big poker pros. He didn't start very good. Actually, he lost about half of his chip stack because he played a bad hand. But then in the last three levels, he started basically winning more hands and getting some of his chips back. He finished very, very solid." |
| 33:31 | After achieving his dream of qualifying for the 2019 PSPC via a Platinum Pass, Ramon reveals what was his goal/strategy entering Day 1 of 2019 PSPC. "For this tournament which is five-day, Ramon believes that in Day 1, you can't win the tournament, but you can obviously lose it." |
| 35:56 | Ramon recalls how Day 2 of 2019 PSPC went for him as he ended the day among the chip leaders. "As the tournament approached into the bubble, you see a lot of players playing tight so he can put more pressure on them and he can start playing a bit more aggressive." |
| 37:20 | Ramon remembers being able to take advantage on the money bubble of the 2019 PSPC. "In the biggest tournament in the world, pushing other players (on the money bubble) and displaying his best game, it was very enjoyable." |
| 40:08 | Ramon discusses his Day 4 of 2019 PSPC. "He was trying to enjoy the moment, playing his best game and seeing what was going to happen and trying to take advantage of those moments, knowing he needed to play perfectly." |
| 42:34 | Ramon recollects how he felt entering the final table of 2019 PSPC. "He tried to play with a lot of calm, like any other final table that he had played before. Obviously, he did a bit of study about the players that he was going to face at the final table." |
| 45:10 | Bernard describes step by step the pivotal hand heads-up versus Julien Martini, where he flopped a flush, but Ramon backdoored a full house. |
| 48:12 | Ramon describes what was going on in his mind during this pivotal hand. "Luckily, he sees the five (on the river). (All of) Spain was asking for that five." |
| 50:55 | Ramon reveals he had mixed feelings after his incredible victory at the 2019 PSPC. "It was a tremendous joy. On one hand, it was an amazing feeling with his friends, winning this amazing tournament. On the other hand, it was difficult to digest. It was like, 'Is this for real? Is this really happening? It took a few days to understand what's going on." |
| 52:07 | Ramon recalls Chris Moneymaker congratulating him right after his momentous victory. "It was a great moment. Right after he finished celebrating with his friends and his family, Chris was the first one approaching him." |
| 54:24 | Ramon divulges his future 2019 poker schedule which includes playing in the 2019 WSOP Main Event. "Half-joking, half-serious, he wants to do the double win in Spain and now wants to do the double win in America, winning the PSPC and the WSOP (Main Event). He's going to go and try to win it as well and enjoy this ride and enjoy this level of tournaments that he is going to start playing now." |
Let us know what you think of the show - tweet about the podcast using #BernardLeePokerShow, and be sure to follow @BernardLeePoker on Twitter or Instagram.
You can follow Ramon Colillas on Twitter @Mr__Boxes.
The Bernard Lee Poker Show is now available on iTunes.