The Bernard Lee Poker Show 11-07: 2018 WSOP-C Champ Heather Alcorn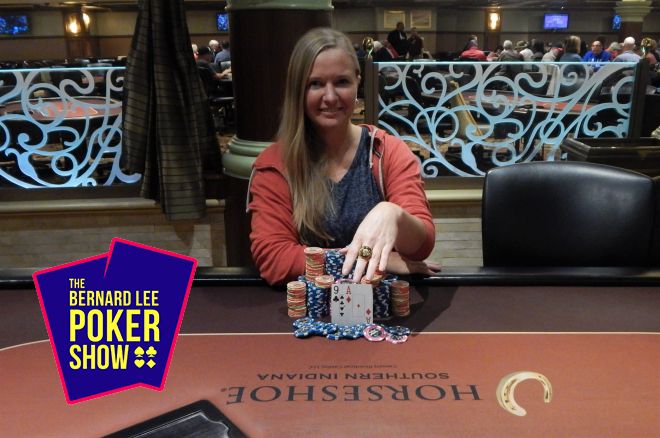 In this episode of The Bernard Lee Poker Show on the PokerNews Podcast Network, Bernard Lee interviews the 2018 WSOP Circuit Horseshoe Southern Indiana Main Event champion, Heather Alcorn. The most recent WSOP Circuit Main Event winner not only discusses her recent victory, but also reflects on being a professional poker dealer who has dealt the WSOP Main Event final table for the last five years.
Show Time Stamps
| | |
| --- | --- |
| 0:00 | Welcome to The Bernard Lee Poker Show as the show interviews Heather Alcorn, who captured the 2018 WSOP Circuit Main Event title at Horseshoe Southern Indiana. |
| 0:50 | Before beginning his interview with Heather Alcorn, Bernard Lee discusses the poker news. WSOP Europe is underway at King's Casino in Rozvadoz, Czech Republic. Tamir Segal bested a field with 2,992 entries and eight starting flights to capture the Colossus event and €203,820. |
| 2:30 | Drew Woodke captured the RunGood Poker Series Main Event at Horseshoe Council Bluffs in Iowa, just outside Omaha, Nebraska in a five-way chop for $25,197. Earlier in the week, Bernard chopped the $180 Deepstack event which had 236 entries for $5,896. |
| 4:27 | RunGood Gear Ad |
| 5:09 | Bernard introduces Heather Alcorn, the 2018 WSOP Circuit Horseshoe Southern Indiana Main Event champion. |
| 6:50 | Heather Alcorn joins the show. |
| 8:02 | Heather explains that she almost didn't play the Main Event. "I had no intention of playing at all. It was just by accident that I was driving though at the right time and decided to stop and say hi to everybody because I have dealt there before and it was my crew that I normally travel with so I wanted to say hi." |
| 8:37 | Heather discusses that she can rarely play since she deals professionally on the Circuit. "I actually started as a player and then once I started dealing, it almost came to a halt. I probably play once or twice a year at most. It's just so hard to fit in. I don't usually have time." |
| 9:33 | Heather describes how she is comfortable playing in WSOP Circuit events. "Yeah, I'm completely comfortable actually because I know the majority of the players and the dealers and the setting. (The) Poker table is home for me." |
| 10:04 | Heather recalls how she first got started dealing poker. "I was playing poker with a friend who offered me a free cruise if I could deal. So, I took a shot." |
| 11:51 | Heather describes final tabling Event #7 at Horseshoe Southern Indiana and how she almost couldn't play due to an illness. |
| 13:19 | Heather talks about final tabling the next event (Monster Stack Event #8) and deciding to take the winnings and buy into the Main Event. "I felt like I was running good and I should continue it and see what happens." |
| 13:45 | Heather recalls playing in the WSOP Southern Indiana Main Event and how everything went well for her. "Once I got into the Main Event, it was like I could do no wrong. And I did do wrong, but it still worked out. It just really went well for me." |
| 14:46 | Heather describes how the tournament started as she fired two bullets, one in each flight. "[In Flight B], I started out right away with a big stack and kept it the entire time. It all just fell into place." |
| 18:04 | Heather recalls the WSOP Circuit final table and was surprised how quickly it ended. "I was definitely prepared for that (a long grind) and never saw it ending so quickly." |
| 20:05 | Bernard describes the crucial hands that Heather played at the final table, including quad jacks. |
| 22:16 | Heather recalls a couple of moments during the final table when players and dealers were rooting for her to win. |
| 23:14 | Heather states it was probably a blessing in disguise that her phone had no coverage in the poker room. "Luckily for me, I didn't have service in the poker room. It was a benefit for me. I had no idea how many people were keeping track and following along as it was happening So, not having that pressure, I think actually really helped me. I was pretty calm considering I had never played for that kind of money. So, had I been getting all of the texts and tweets, who know what could have happened… Afterward, it was pretty overwhelming." |
| 25:27 | Bernard asks Heather how she will prepare for the 2019 Global Casino Championship, as she won a seat into the bracelet event with the Main Event victory. |
| 27:06 | Share My Pair Ad |
| 27:39 | Cabot Cheese/Creamery Ad |
| 28:10 | Bernard continues his interview with Heather, discussing her job as a professional poker dealer and how she got involved with the WSOP Circuit. |
| 29:27 | Bernard asks if Heather knew some of the big name professional poker players when she started dealing. "As a newbie, you are definitely going to be more nervous than a regular. I was really glad I didn't know who I was dealing to at the time." |
| 30:34 | Heather describes a typical week as a dealer during the WSOP Circuit. "It definitely is a lot of work. If it wasn't so much fun and if I didn't enjoy it so much, obviously it would make it a little more difficult. The days go by pretty quickly." |
| 32:04 | Heather describes working the summer at the WSOP in Las Vegas. "It's kind of like the Super Bowl of Poker. You're excited to be there and excited to be involved… I've become friends with so many pros that it's exciting to watch them play and deal to them at a final table because I feel like I'm a part of them winning a bracelet. I really, really enjoy it. So taking days off are very few and far between, but most of the time, that is my preference." |
| 33:44 | Heather discusses some of the things she doesn't like the players doing while she is dealing. "Antes. Antes are such a pain in the butt. Not only getting them out there, but also, putting them in close enough for the dealers to reach." |
| 36:21 | Heather explains how the dealers are chosen to deal the WSOP Main Event final table on ESPN. |
| 37:02 | Bernard asks Heather what her top three moments dealing at the last five WSOP Main Event final tables. |
| 38:39 | Heather recalls dealing the William Kassouf vs. Griffin Benger hand during the 2016 WSOP Main Event. "It blew up so quickly and was just so big that it was such a shock. But it was very entertaining obviously." |
| 39:36 | Heather discusses additional history with William Kassouf after that iconic hand from the 2016 WSOP main Event, where Heather busted him again the next time she dealt to him at 2017 Pokerstars Caribbean Adventure. |
| 41:55 | Heather explains the issues and differences when you deal the WSOP Main Event final table. |
| 43:35 | Bernard asks Heather about her poker dealer school, Poker Life Dealer Academy. Heather has three or four classes per year, preparing dealers to travel across the country and also helping them understand all aspects of a dealer's life. |
| 47:27 | Heather describes how here two sons react to seeing her on ESPN and winning the tournament. "They thought I was the cool mom because I was on TV." |
Let us know what you think of the show - tweet about the podcast using #BernardLeePokerShow, and be sure to follow @BernardLeePoker on Twitter or Instagram.
You can follow Heather Alcorn on Twitter @Alcorn_Heather.
The Bernard Lee Poker Show is now available on iTunes.
Don't forget to subscribe to the PokerNews podcast on iTunes here, or you can access their RSS feed here. The entire PokerNews Podcast family of podcasts is now available on audioBoom.