PokerNews Podcast 495: Adam Pliska, Matthew Waxman & Sam Simmons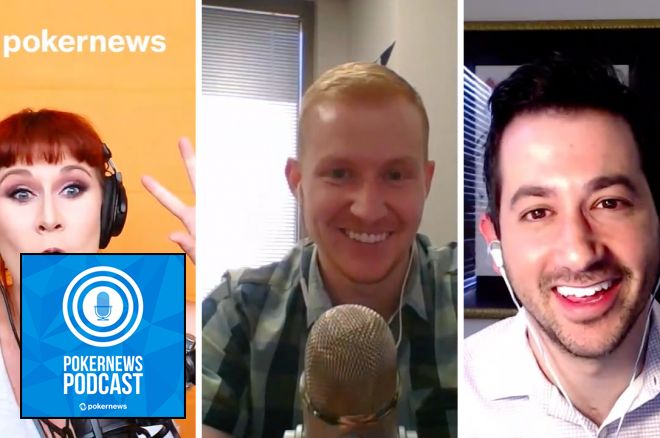 The World Series of Poker is underway! Before Sarah Herring & [Removed:139] jump into their WSOP predictions, they dive into the World Poker Tour's season finale. Big changes are on the way for the WPT, and Jeff sat down with President & CEO Adam Pliska to discuss what will be new and noteworthy for Season 17.
Matthew Waxman takes the final title of Season 16. Waxman won the Tournament of Champions for a cool $463,375. Nice way to start the summer grind. Jeff caught up with Waxman after his big win.
And with such a massive summer planned around the Super High Roller Bowl, and WSOP streaming, Sarah and Jeff brought Poker Central Vice President of Content Sam Simmons on the show to discuss plans for the next couple months. Get ready for a deep dive into what poker viewers can expect!
This week's sponsors: Spades Sun Shades (use the promo code "PokerNews" at checkout), E-Liquid (also use the promo code "PokerNews" at checkout) and Global Poker
Show Time Stamps
| | |
| --- | --- |
| 0:10 | Intro: The World Series of Poker is underway! Podcast plans for the summer. |
| 2:10 | World Poker Tour Moves All Televised Final Tables to Esports Arena |
| 9:45 | Sponsor: Global Poker |
| 10:55 | Jeff sits down with World Poker Tour President & CEO Adam Pliska |
| 11:10 | What the Esports Arena does to enhance the viewer experience: "We've been talking about poker as a sport...when you see an arena like this and you realize poker can have a home that is equivalent to any other sport, it does by its very nature elevate it." |
| 13:00 | The decision to move all WPT televised final tables to the Esports Arena: "We had an amazing asset that we could use. The idea that poker too, could have a home, was appealing. It...allows us to invest in the product, invest in the tour...and bring a final table here that is magnificent so that every one of those players feel like they're a superstar when they come out here." |
| 16:50 | Does having a delay help with storytelling on the televised product? "That little bit of pause allows us to understand everybody at that table, and that will greatly enhance the show." |
| 19:25 | How the sponsorship program on the World Poker Tour has improved: "We developed a sponsorship program that was very responsive to sponsors, and very responsive to the community, so the community could get something out of it." |
| 22:25 | How excited he is for the future of the WPT: "Our primary mission is to make sure that you walk away from the World Poker Tour with a story to tell." |
| 25:25 | Sarah & Jeff recap the Adam Pliska interview |
| 26:30 | Matthew Waxman wins the WPT Tournament of Champions |
| 28:50 | Jeff interviews Waxman, right after he wins the tournament |
| 32:30 | Why aren't we all roommates of Matthew Waxman? |
| 34:05 | Sponsor: E-Liquid (Use the promo code "PokerNews" at checkout) |
| 37:25 | Sponsor: Spades Sun Shades |
| 37:50 | 2018 World Series of Poker Predictions |
| 46:15 | Sponsor: Global Poker |
| 47:50 | Darren Elias Wins Record-Setting 4th WPT Title |
| 52:00 | Poker Central Vice President of Content Sam Simmons joins the show |
| 53:20 | The creation of the PokerGO Studio: "We've had the idea for a couple years now. It became optimal from a production standpoint to create a permanent home for all the events we do (at Aria)." |
| 54:50 | Some of the features the new studio has: "It's very high-end, there's TV monitors everywhere, there's a bar and lounge set up....everything in there is state-of-the-art, top-of-the-line...as much as it's a production studio, it's a destination as well." |
| 57:20 | Plans to develop unique programming: "We talk about ourselves as a live poker platform, a live event platform, but that doesn't necessarily mean all those events have to be sitting at a table playing poker. It's very flexible as far as the type of stuff we can produce there." |
| 59:20 | How Poker Central manages to draw players into their programming: "There's a lot of dynamics, a lot of egos to juggle, it's always a balance...you don't want the amateur players to come in and get slaughtered but at the same time you don't have a bunch of pros who want to come in and compete against one another. It's a back and forth." |
| 1:01:50 | Aria's commitment to poker: "It's unlike anything that we've seen in a while. We started working with them four years ago. They've done a fantastic job of creating that player-conducive environment, and bringing more fans in, more players in to enjoy the space and enjoy their poker room, which is top-notch." |
| 1:03:25 | Incorporating features, like the dress code and shot clock, for the Super High Roller Bowl : "For the entertainment value of the fans at home, there are certain elements...The shot clock is not only great for television, it's great for the players as well." |
| 1:05:10 | What makes the Super High Roller Bowl stand out in this climate of high-roller tournaments: "It's just the prestige of the event. The television aspect is, of course, big...it feels like a 'Casino Royale' environment. Something about this tournament brings it up a notch. At the very core of this, is the Super High Roller Bowl ring." |
| 1:07:35 | What goes into creating the stacked Super High Roller Bowl field: "It all goes back to creating that player-conducive environment....as they say, if you build it, they will come." |
| 1:12:35 | PokerGO's new show, INSIDERS, which followed Brandon Adams, Seth Davies, & Daniel Negreanu as they prepared for the Super High Roller Bowl: "The goal was to highlight the amount of work that goes in behind the scenes as these players prepare for these events." |
| 1:19:30 | What kind of content to expect from Poker Central in the future: "Original programming is a big part of this for the PokerGO platform. We want to create content that surrounds the live-poker programming to satisfy fans and paid subscribers. Our big strategy this year is to program around our major events." |
| 1:23:30 | Shifts in WSOP streaming strategy: "Last year, it was difficult for a number of reasons...we got that deal with WSOP done relatively last-minute. There was a whole plethora of issues that arose. In terms of all-encompassing across the number of events and the events that were chosen, I could see how there could be some criticism. We certainly took that to heart last year, we heard the fans loud and clear. This is our first full year of collaboration with Caesar's and WSOP, which was awesome to have." |
| 1:25:30 | WSOP Main Event streaming plans and collaboration with ESPN: "We're going to have every-day live coverage." |
| 1:27:10 | Poker Central's partnership with Twitch: "It's instrumental. From a spatial standpoint on PokerGO, it's impossible for us, right now, to do multiple events per day. We understand the significance of the Series to the fans and players alike, and we want to do our due part to highlight the events and highlight the players that emerge as the biggest personalities in those events." |
| 1:29:00 | The personalities that will anchor the WSOP coverage this year: "Jeff is going to be one of our play-by-play guys, we're excited to have him...You'll see a lot of the usual suspects too. Ali Nejad is one of our marquee personalities on all of our Poker After Darks, he'll be doing a lot of play-by-play. You'll be seeing the legendary Norm and Lon doing a lot of material...and of course a name synonymous with the WSOP, Dave Tuchman." |
| 1:30:30 | Showing some love for Brent Hanks |
| 1:31:10 | Live coverage of the Main Event: "All things considered last year, it went really well. In terms of quality, it's always been top-notch and that's all the credit to Mori (Eskandani), Dan (Gati), and their team over there." |
| 1:31:50 | Changes in Main Event scheduling: "This year is going to be special because there is no day between Day 7 and the Final Table. It is literally wire-to-wire." |
| 1:38:00 | Wrapping up the show, next week we'll be podcasting from the Rio, covering the World Series of Poker! |
You can check out the full video of the interview with Sam Simmons below or on our YouTube Channel.
Tell us who you want to hear from. Let us know what you think of the show - tweet about the podcast using #PNPod, and be sure to follow Sarah and Jeff on Twitter.
You can subscribe to the PokerNews Podcast on iTunes here, or you can access the RSS feed here. The PokerNews Podcast family of podcasts is now available on audioBoom. Leave us a review and we might read it on the air, or at least give you a shoutout.