Darren Elias Makes History at ARIA WPT Bobby Baldwin Classic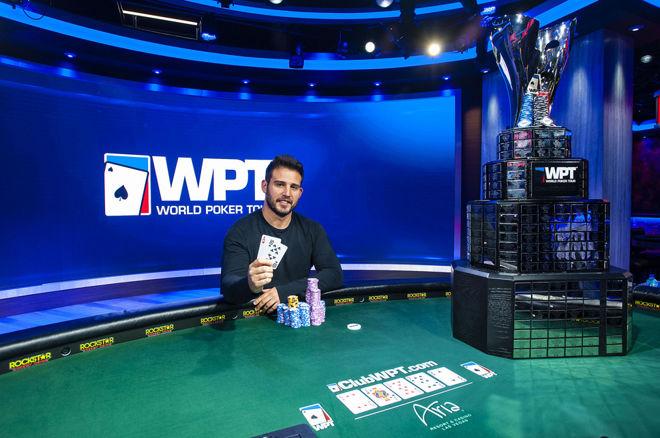 Darren Elias has elevated himself past all other poker players competing on the World Poker Tour, entering a stratosphere by himself as the lone owner of four titles.
Elias already ranked number one for WPT cashes with 28, and had closed out three of the nine final tables he had made. The record-number of WPT titles had been frozen at three since 2010 when Carlos Mortensen won the Hollywood Poker Open to tie Gus Hansen's record. Since then, Anthony Zinno (2015), David "Chino" Rheem (2016) and Elias (2017) all caught up.
Elias had gotten painfully close to breaking the record before today's final table, most notably in the Jacksonville bestbet Bounty Scramble in October 2017 where he entered the final table with a healthy chip lead and was forced to settle for third place and $135,548 after catching the bad end of some negative variance. Incidentally, fellow ARIA final tablist Sam Panzica was also at that final table, outlasting Elias to take second before local amateur player Paul Petraglia closed it out.
This time, Elias would close things out with a dominant performance against a loaded final table, taking home $387,580 in prize money after getting through a field of 162 runners.
WPT Bobby Baldwin Classic Official Final Table Payouts
| Place | Player | Country | Payout |
| --- | --- | --- | --- |
| 1st | Darren Elias | United States | $387,580 |
| 2nd | Kitty Kuo | Taiwan | $248,380 |
| 3rd | Joe McKeehen | United States | $178,610 |
| 4th | Dietrich Fast | Germany | $130,895 |
| 5th | Sam Panzica | United States | $97,795 |
| 6th | Jonathan Little | United States | $74,520 |
Road to the Title
The final regular-season WPT event took place at the ARIA Resort & Casino in Las Vegas, and the final table was an epic one. Four WPT champions club members converged upon the brand-new world-class PokerGO Studio just outside of ARIA, and all eyes were on Darren Elias. Though he would have to get through two-time WPT champions Jonathan Little and Panzica, one-time champion Dietrich Fast, 2015 WSOP Main Event winner Joe McKeehen and Kitty Kuo, he set himself up nicely for success coming in with 44 percent of the chips in play.
Elias got a final Day 3 boost coming from eliminating all-time leading WSOP bracelet leader Phil Hellmuth on the official final table bubble in seventh. He admitted to reporters at the end of the day that settling for less than first this time around would prove, well, unsettling.
The record-seeker had his work cut out for him, though, with a whole host of top-tier tournament players to mow down. Fortunately for him, most of his opponents were relatively handcuffed by middling stacks ranging between 25 big blinds (Little) and 67 big blinds (Fast), all dwarfed by the 177-big blind tower sitting in front of Elias.
It helped also that the short stacks were not running especially hot on their all-ins. In the 15th hand of the day, according to the WPT live updates, Little put in a sneaky small-blind limp with
when action folded to him, calling off the rest to Panzica's big-blind shove. Panzica turned over an inferior
but found a fortunate four on the
to take the lead. No jack on the turn or river for Little sent him out in sixth, ending his bid for a record-tying third WPT title.
That left McKeehen as the lone short stack, but he found a double against Panzica to flip-flop positions. Panzica opened the cutoff and called McKeehen's shove with ace-queen, flipping against the former Main Event champ's deuces. The
gave McKeehen a set, but he would have to fade Panzica's gutshot to Broadway. He turned Panzica dead though, with the
to fill up, and there was a new short stack in town.
Soonafter, Panzica raised under the gun and four-bet shoved over Elias' three-bet. Elias called with pocket sixes to put Panzica and his ace-queen at risk. A ten-high flop and no ace or queen on the runout meant the end of Panzica's tournament in fifth place, and he remains a two-time WPT champion.
Fast was the next player to dwindle into the danger zone and with around 22 big blinds in his stack, he limped the button with two aces and called Kuo's raise from the big blind. Elias, who had completed in the small blind, got out of the way and Kuo continued on the
flop with an all-in shove to put Fast to the test. Fast called for his remaining stack and was up against Kuo's
nut-flush draw. A diamond for the lady on the
turn sealed the elimination of Fast in fourth.
Three-handed, the stacks started to even out a bit as the shortest stack, McKeehen took from big stack Elias. Stacks were quite deep with the three relatively early eliminations, but that didn't stop McKeehen and Elias from getting it in. With an interesting table dynamic where McKeehen had Kuo covered but not by much, Elias elected to put maximum pressure on McKeehen.
Elias opened to 45,000 on the button at 10,000/20,000/3,000 and McKeehen three-bet to 180,000 from the big blind. In a rapid escalation of events, Elias used one time bank chip before announcing all in to put McKeehen to a decision for his stack of 1.465 million. McKeehen made the call with the best hand,
up against
. The massive pot went the way of Elias after a runout of
gave his a pair of deuces to take out the champ.
"We had been battling in that spot, button versus big blind," Elias said of the hand. "I figured I had a good hand to put pressure on him. He made a good call. He was playing for the win, and I respect that. He just got unlucky."
McKeehen, the only player at the final table within reach of the WPT Hublot Player of the Year title, fell in third, short of his first title and PoY honors, which will now go to Art Papazyan. That left Elias heads-up with the self-proclaimed "worst player at the final table," Kuo. While perhaps the least decorated player at the table — but only in terms of tournament titles — Kuo still went into the final table with a respectable $1.6 million in live earnings, a WPT final table, and a lot of heart.
Epic Heads-Up
A nearly 3-1 chip advantage for Elias turned into an almost 10-1 advantage as he chipped away before Kuo called off with a dominating king-jack versus jack-eight and held for the double. From there, an epic battle ensued, Kuo continuing to fight for pots and stay afloat largely in part to the small-ball strategy that both players were employing.
The battle went on for 103 hands, Kuo getting another double toward the end with pocket kings against ace-king, but ultimately got down under ten big blinds and got it in with ace-five, only to run into the ace-ten of Elias, which held up.
"She was short most of the time. With the strategy she was playing, if I didn't get good cards it was going to take awhile. We were both limping. She was limping a ton. I didn't really want to press the action if I didn't have to. The blinds kept going up and she just wouldn't die. She played tough."
Kuo said after the match that he just always had the best hand, and she never had quite the stack to be able to execute bluffs.
Elias has now become the most decorated player in WPT history. The tour often sports some of the toughest fields in poker, making Elias' accomplishments even more impressive.
"I think I do well against the American pros and American recreational players who play in these more so than the European players," he said when asked to explain his success. "These WPTs are mostly in America with mostly American players, so I think that's a lot of it."
Even with the chip lead, Elias had a tough final table to overcome.
"Because it was a $10,000 buy-in, I think we got a little tougher final table than if it was a $3,500 with 1,000 runners. We had some good players make it through to the end. Always feels good to beat good players, but in the end, it doesn't really matter."
Ultimately, a win is a win, and this was a significant one, breaking the record first set by Gus Hansen in 2003.
Darren Elias' Four WPT Titles
| Year | Event | Buy-in | Entries | Payout |
| --- | --- | --- | --- | --- |
| 2014 | WPT Borgata Poker Open | $3,500 | 1,226 | $843,744 |
| 2014 | WPT Carribean Casino Royale | $3,500 | 118 | $127,680 |
| 2017 | WPT Fallsview Poker Classic | CAD$5,000 | 489 | $335,436 |
| 2018 | WPT Bobby Baldwin Classic | $10,000 | 162 | $387,580 |
Runner-Up Kitty Kuo
Before the final table began, Kuo told PokerNews she would never buy in to an ARIA event of this caliber, due to the tough fields. But after getting through on a $1,000 satellite, then navigating her way to the final table, she expressed a fairy tale dream of a WPT win after qualifying via satellite.
While Kuo acknowledged how tough her final table competition would be, she approached it with an attitude that lacked intimidation.
"Just make the right decisions," she said. "There's nothing they can do, if you don't make a mistake, it's fine."
With a coach of the highest caliber in high roller crusher Steffen Sontheimer, a high-level tournament pro husband in Russell Thomas, and a diligence that involves daily poker study and hand review, it's no surprise that she hung around as long as she did with some of the best in the world.
While disappointed with not winning the big title and the Hublot watch that she promised her husband, the quarter-million bankroll boost with the WSOP approaching will probably feel pretty good tomorrow. She also plans to fire a $10,000 satellite for the $300K Super High Roller Bowl, to see if she can't parlay her $1K satty win last Saturday into something a little bigger.
Keep following PokerNews as feature coverage of the season-ending WPT Tournament of Champions gets underway on Thursday, and expect the four-time champ to be in attendance.
Photos courtesy of Joe Giron/WPT