WPT Goes All In on Esports Arena With Delayed Final Tables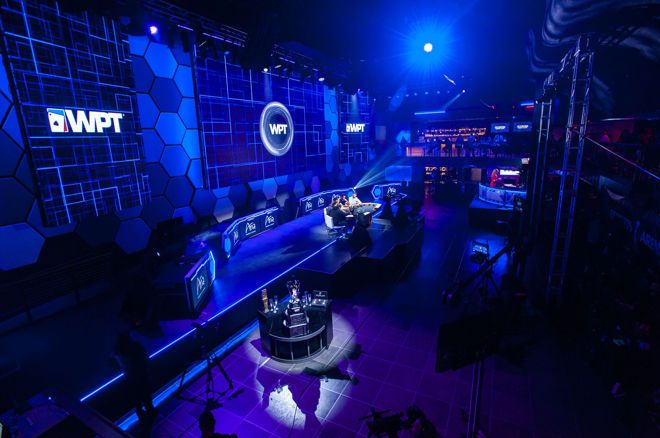 Just as the World Series of Poker pivots away from delayed final tables, the World Poker Tour is pushing all in on them.
When the WPT announced a partnership with Esports Arena Las Vegas to host a series of final tables closing out Season 16, most figured it was an interesting one-off experiment. Take the state-of-the-art arena designed to host some of the biggest gaming competitions on the planet and plant a poker table in the middle. You've got a ready-made arena where poker fans could get a unique viewing experience, while Luxor gets some extra use out of the venue they spent over $25 million to build.
According to company brass at a dedicated media forum a few hours before the WPT Tournament of Champions final table, this is the start of a new direction for the tour's live final tables. Starting in Season 17, all televised WPT final tables will take place in Esports Arena.
"As soon as we saw this space, we knew this could really be a great opportunity," said WPT CEO Adam Pliska. "It allows us to give that sport experience. We are so proud that we will be able to use this facility in the future and do some innovative things coming up."
The Logistics
The WPT will have nine televised final tables in the upcoming season, Vice President of Global Tour Management Angelica Hael revealed. Hael said pending gaming commission approval meant she couldn't reveal which stops would be televised just yet, but the selections wouldn't come as a surprise to most poker fans.
When televised tour stops reach an official final table of six, play will halt, similar to the way things worked with the November Nine. Unlike the Nine, players won't be paid sixth-place money. Instead, they'll wait an unspecified period — Hael estimated three to six weeks — and then travel to Las Vegas courtesy of the WPT. There, they'll play out the final table and be paid at Luxor with Luxor handling applicable taxes.
Final tables can be expected to play out in groups in this fashion. That is, if there are a handful of televised WPT events in January and February, final table participants from those events will all convene in Las Vegas in, say, early March for consecutive final-table play downs.
As an example, look no further than this past week. The WPT Bellagio Elite Poker Championship $25K High Roller began in early May with the final six on pause until Friday. Then, Tom Marchese christened the venue with a victory worth $432,000. The very next day, the Tournament of Champions final table plays down to a winner.
"It makes total sense for the home of WPT final tables to be here," Hael said. "We firmly believe that by having our televised final tables in this facility, it will open a world of possibilities for the World Poker Tour."
The Rationale
Everyone involved understands this represents a huge change and won't be popular with everyone. European players, for example, may not wish to fly back and forth across the ocean more times than needed. Recreational players with a busy working schedule may not be able to finagle two different blocks of days off.
WPT decision-makers took turns passing the spotlight around and explaining the reasoning for the move from various angles.
"We look for a win-win," said WPT Vice President of Marketing David Gitter. "Win for the players, win for the WPT and win for the sponsors."
For the players, especially recreational players, there's the opportunity to find coaching and get better in the intervening weeks. Many will also likely save money on taxes with Nevada having more favorable tax laws than most other states. There will be player parties and other activities set up by the WPT.
"You are going to feel like a star if you make a final table and you come to town," Pliska said.
Sponsors, of which the WPT has racked up an impressive amount — Gitter cited over 2,000 partnerships the company currently counts — will also find the Esports Arena an amenable venue. Video screens throughout the arena, including a massive 50-footer adorning the wall across from the viewing section, can provide a high-value platform for brands like Hublot, Zynga and Rockstar.
For the WPT, and for poker as a whole, the arena represents an opportunity to cross-sell to a wider audience. Savage likened appealing to the esports demographic to online poker connecting younger audiences with the game in the early 2000s.
Pliska concurred.
"They are very complementary in a very unique way," he said. "It's a symbiotic relationship."
Hael said she didn't know how many esports fans would be interested in poker but she feels sure she sees crossover.
"I don't know if it's 50 percent or one percent," she said. "But if it's one percent, that's one percent we didn't have. As stewards of this industry, it's incumbent upon us to try to look for these sources."
Finally, Pliska added, broadcast partner FOX is fully on board.
Nearly every globally popular game, Hael pointed out, has a storied destination venue. Horse racing has Churchill Downs. Basketball has Madison Square Garden. Golf has Augusta National. The WPT hopes the Esports Arena Las Vegas becomes that destination venue for poker, and the company has pushed all in on it for Season 17.
Photos courtesy of WPT