Dennis Blieden Showcases Fearless Style at WPT Tournament of Champions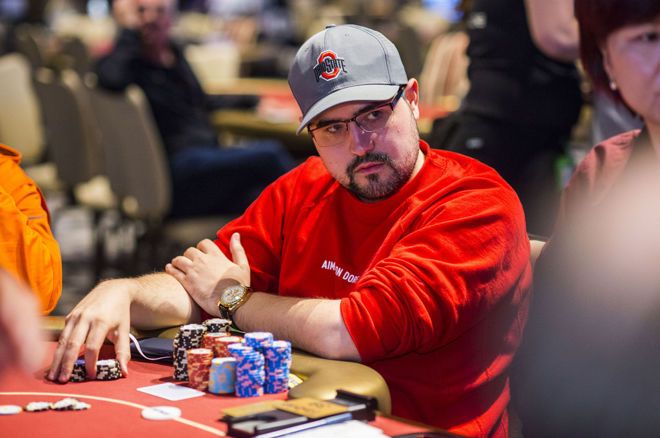 "When someone with my style catches a few hands too, it's really hard to beat me."
These words from recreational poker player Dennis Blieden rang true again as he battled valiantly at the esteemed World Poker Tour Tournament of Champions taking place at ARIA Las Vegas.
The VP of finance for a digital media company in Los Angeles has only been playing tournament poker for about 18 months, and he only does it sporadically. But when he plays, he really goes for it.
Becoming a WPT Champ
Blieden put together a dominating final table performance in his WPT Main Event debut at the Los Angeles Poker Classic (LAPC) three months back, where he ramped up the aggression against seasoned pros, ultimately defeating Toby Lewis heads up to etch his name in WPT history and bank a $1 million payday.
When asked about his hyper-aggressive style in that one, Blieden explained that his good friend and poker pro Mark Herm had given him a bit of advice that he took to heart.
"He was pretty much just like, 'Go out and be a f****** maniac. People aren't playing like that anymore.'"
"[Mark Herm] was pretty much just like, 'Go out and be a f****** maniac. People aren't playing like that anymore.'"
Before the final table, Herm told Blieden not to worry about ICM and just continue to play the aggressive style he had played to get to that point.
"If they play back at you, adjust," Herm said. "But if they're not going to, and I don't think they're going to, because they're just going to wait for you to blow up, you can go out there and you can be crazy, and it might work out for you."
Those words of advice from Herm worked out for Blieden indeed. He won an incredible 54 percent of the 79 hands that played out in that March 1 final table in L.A., and he got it done in less than five hours of play. When asked if he tries to take advantage of players trying to employ a GTO strategy, Blieden laughed.
"I actually didn't know what GTO was before that week at LAPC."
"I actually didn't know what GTO was before that week at LAPC."
What he did use to his advantage was the information of the hole cards being fed to him. He learned that Lewis and Derek Wolters, who took second and third respectively, were flat-calling Blieden's raises with very strong holdings, which he figured was because he was a less-experienced amateur on whom they thought they had a big postflop edge.
"I realized these guys were just going to play small ball and wait for me to blow up postflop," Blieden said. "So I think I just took advantage of that more than anything."
While the massive million-dollar score hasn't changed his life too much, it has made him more comfortable with his game and is allowing him to take shots he normally wouldn't take. One of those shots will be the $300,000 Super High Roller Bowl that kicks off here at ARIA on Sunday.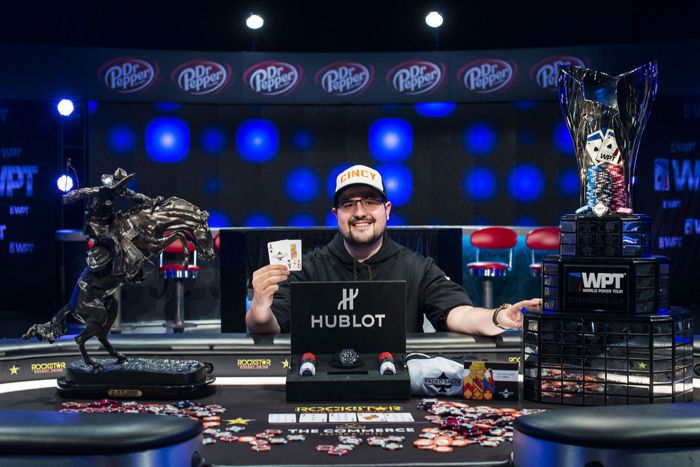 WPT Tournament of Champions
Here at the WPT Tournament of Champions, a prestigious event that he gained entry to with his LAPC win, the Cincinnati native found himself once again battling with top pros, but this time, up against all WPT champions.
Blieden's strategy in this super tough field that drew 80 of poker's finest was to have fun and go with the flow.
"I figure out my game plan by the moment," he said. "I don't really ever have a game plan going into tournaments.
"When someone with my style catches a few hands too, it's really hard to beat me, because you can't put me on a hand. You always want to think I'm bluffing, so when I actually have it, it puts them in a really weird spot."
"I figure out my game plan by the moment. I don't really ever have a game plan going into tournaments."
Blieden had it several times on Day 1. He flopped a set of sixes on six-four-deuce to eliminate Season IX WPT Player of the Year Andy Frankenberger, who held pocket aces, according to the WPT live updates. Soon after, he took a good chunk out of 2017 WPT Rolling Thunder winner Mike Del Vecchio when he picked up aces versus Del Vecchio's kings.
In addition to those set-up hands, Blieden noted that he was able to get some big bluffs through as well, which he showed his unassuming opponents.
"I mean why not, ya know?" he said. "They know that I'm a crazy fish anyway, so like why not? Might as well show them."
Those hands propelled him to nearly even for the chip lead at dinner break and his stack fluctuated little until the final hand of the night, when he soared to a massive lead over the remaining pack of 29. Blieden flopped top set again, this time with pocket sevens on seven-five-three, and two-time WPT champion Aaron Mermelstein found himself on the bad end of a cooler with pocket fives for an inferior set.
"They know that I'm a crazy fish anyway, so like why not?"
On Day 2, Blieden was up to his usual tricks, playing lots of pots and mixing it up. He slipped out of the chip lead early in the day, but later got it back with help of flopping the nut straight with ten-seven against Scott Margereson, who had only an open-ended straight draw and three chop outs. After that, Blieden sent Margereson and Kevin Eyster to the rail and stayed near the top of the counts for most of the day.
Down to two tables, things started going south for him, though, as he lost a series of hands, including a couple of failed bluff attempts. He got his last 27 big blinds in after he completed in the small blind with ace-queen and called it off when Matas Cimbolas shoved in the big blind to put the pressure on Blieden on the money bubble with 11 left.
As we have learned, Blieden plays to win, and his limp-call on the bubble there fits with that strategy. Unfortunately for Blieden, he couldn't best the
held by Cimbolas after a jack fell on the turn, and he would be the bubble boy with the remaining ten guaranteed at least $39,840.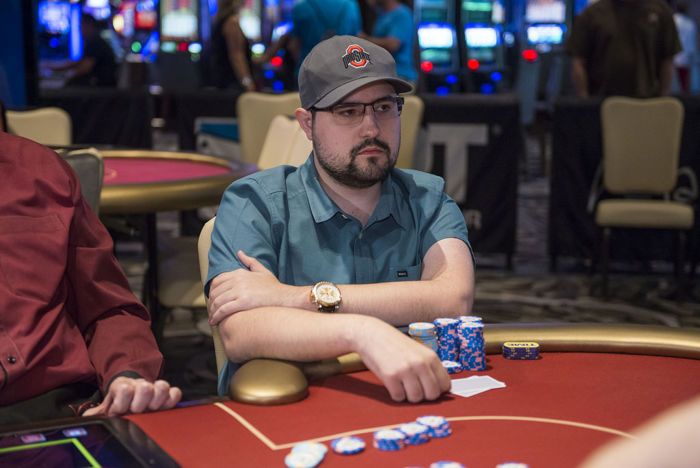 He still has a big weekend ahead of him, though. With 30 friends in town, Blieden is celebrating the 30th birthday of his girlfriend of four years, and their parents will be in town to meet each other for the first time.
According to Blieden, it's a win-win weekend.
"I told my friends, you might not get to see me, but it's good either way. Either you get to see me, or I'm doing really well."
You can bet he will be hoping to not see much of his friends starting Sunday once he hops in the $300K buy-in SHRB, updates for which you will be able to find here at PokerNews.
Photos courtesy of WPT