Mike Del Vecchio's Huge Year Comes Full Circle at WPT Rolling Thunder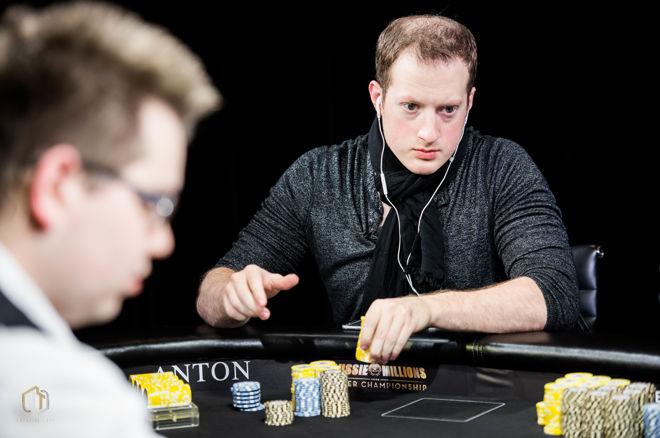 We often hear tournament poker players say cash games are their "bread and butter," as in, their way of making a living and putting food on the table. Yet these same players show up time and time again to big buy-in events, through long stretches of downswings, putting their hard-earned money at risk on a long shot.
While perhaps counterintuitive to those outside of the poker world, those within it understand very well what makes the usually disappointing tournament grind worth all the pain: the big score.
No one knows this reality better than Mike Del Vecchio. At 29 years old, Del Vecchio has been on the full-time grind since dropping out of college at 21. He has made a steady living as a cash game player in Las Vegas for the last eight years, but always found time to invest in plenty of tournaments.
After nearly a decade of chasing titles, Del Vecchio finally broke through with a win in the WPT Rolling Thunder Main Event for $284,638 almost exactly one year ago. With Rolling Thunder right around the corner March 2-6, it's a fitting time to look back on the roller-coaster of a year he has had since that epic run in NorCal.
WPT Rolling Thunder Win
On his way to victory, Del Vecchio had to navigate through a 421-player field and beat one of the toughest final tables you'll see in a WPT Main Event. Sure, he went into the final table with a huge chip lead, but still: he had to get through Olivier Busquet, Connor Drinan, Sorel Mizzi, and Steven Tabb to secure the title.
"If it weren't for playing cash games, I would have been dead broke before Thunder Valley happened from all these tournaments."
"Yeah, that was a tall task," Del Vecchio told PokerNews as he reflected on that moment months later.
Leading up to the final table, he explained that he felt destined to win, especially when on Day 3, as the field was nearing a final table, he found himself not only running good in the sense of just winning every pot he played, but also in the fact that most of the really strong players, including Busquet, Drinan, Mizzi and Mandavia, were always at the other table.
The final table started off rocky for Del Vecchio as he went from big stack at the start to short stack three-handed. After doubling up with aces through Tabb, he kept the momentum going and ended up finishing off Mizzi heads-up on a cooler with trips against an open-ended straight flush draw that bricked.
It's been 12 months since that win, but for Del Vecchio, it feels like it happened a million years ago.
"Thunder Valley was such an amazing moment for me. I had won a 100-person tournament for like $51K before that, so beating the final table I beat — and getting my first six-figure score — it was really incredible."
Playing mid- to high-stakes cash games in Vegas has always been Del Vecchio's bread and butter, but getting the big score was always the dream. He admitted, "If it weren't for playing cash games, I would have been dead broke before Thunder Valley happened from all these tournaments."
It took Del Vecchio four to six hours to reply to all the congratulatory messages after the win.
"I have such a good support system. I'm so truly lucky. I just have the greatest people in the world around me."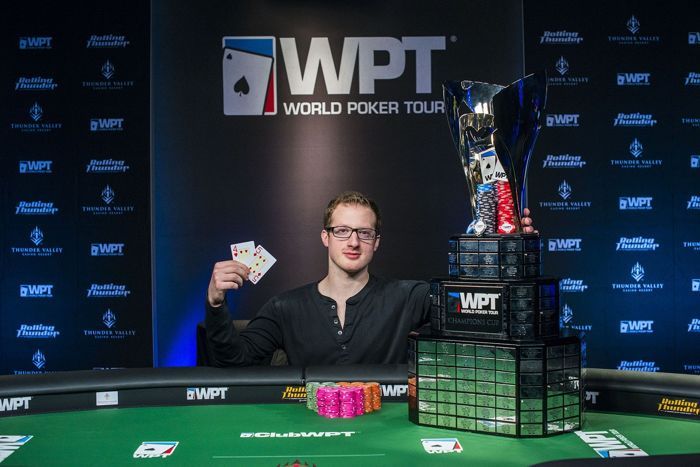 One-Hit Wonder or Breakout Player?
After Thunder Valley, Del Vecchio was determined to follow up with more tournament scores in 2017; he knew he had two options: be a one-hit wonder or a "breakout player." He set out in the following months to make it a breakout year, traveling to poker stops in Montreal and Macau, buying into event after event, only to come up short time and time again.
"I'm so truly lucky. I just have the greatest people in the world around me."
He kept at it and had a handful of cashes in Las Vegas that summer, including a couple pretty deep runs in WSOP side events, but nothing major. A few more min-cashes at Borgata and Planet Hollywood followed in the fall, but Del Vecchio had already resolved to accept his one-hit wonder status.
By the time WPT Five Diamond rolled around, Thunder Valley was a distant memory for the 29-year-old poker pro, and he had bricked so many tournaments in the ensuing months that he planned to put off his dream of going to the Aussie Millions yet again.
Five Diamond was quite a bit larger than Rolling Thunder with a bigger buy-in at $10,400 versus $3,500, and almost double the number of entries at 812. Del Vecchio had the benefit of playing in his own town at one of his regular casinos, Bellagio.
He put together an impressive run and went into the final six third in chips with a very healthy 124-big blind stack. Despite falling in third place, the finish was worth $752,196, more than double what he earned in his WPT victory.
"Final tabling Five Diamond with all my friends there was so amazing. I'll always remember that."
That score not only catapulted him over $1 million in tournament earnings for the year but also revived his Australia dream. His next event would be played Down Under.
"Final tabling Five Diamond with all my friends there was so amazing. I'll always remember that."
Still looking for his first cash outside of the U.S. despite having played events in more than five other countries, Del Vecchio got off to a bad start in Australia. He bricked something like eight bullets in $1K events and also a $25K buy-in, and began to ask, "What do I have to do to cash a tournament outside of America!?"
He gave it one more go in the A$10,600 Main Event and made his first cash outside the U.S. count with a final table that resulted in fifth place for a payday just under $300,000.
He's happy to report, "I'm now officially in the elusive two-flag group."
While it looked for a while like he may fall into the one-hit wonder category, the deep runs at Five Diamond and Aussie Millions salvaged his year in a big way, validated by his nomination for Breakout Player of the Year at the American Poker Awards.
"It's just really cool. I mean a year ago, I couldn't have even envisioned it. It's just like a nice little extra thing, a little bonus."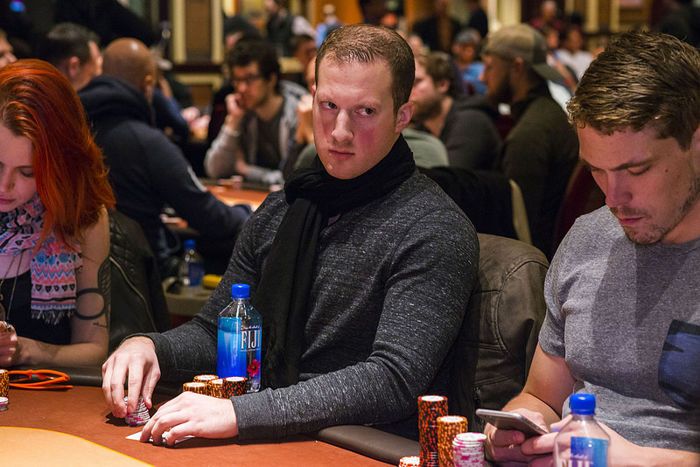 A Little Help from his Friends
Del Vecchio admits that he doesn't have the full fire and passion for the game that he once had, and doesn't put as much time into studying as some others do. He says he is lucky to have friends that are really really good at poker who talk very high-level strategy around him, including Jesse Sylvia, Russell Thomas and Ankush Mandavia.
"I get to steal bits and pieces of their knowledge all the time. And they're all good at their own things. Russell is technically perfect and has solid fundamentals, Ankush knows exactly how to break fundamentals to exploit people, and Jesse is in the middle. It gives me all the extremes and helps me immensely. If not for them around me, to talk hands with, I do not think I would be where I am today."
Two weeks before the Thunder Valley event last year, Del Vecchio got to sit in on a 90-minute talk with Mandavia, who discussed strategy specific to softer, good-structured tournaments. Del Vecchio remembers one point he hammered in about trusting your reads in order to make ridiculous folds.
"You have to be willing to make some unconventional plays. I'm always willing to look stupid at the table."
"There are some spots where you're supposed to go broke, but people don't bluff enough [so you should just fold]. It all comes down to confidence. You get in these spots, you know the right play technically, and the right play in practice will often be different; It's really hard to fold in those spots."
Del Vecchio said on Day 4 of the Aussie Millions Main Event, he made a big river call that was the right call in theory, but not in practice, and he immediately thought, "Ankush would have folded there."
"You have to be willing to make some unconventional plays. I'm always willing to look stupid at the table."
Staying Grounded
While his tournament winnings this year have allowed Del Vecchio some additional luxuries like being able to travel more, he has made a point to not let the money or notoriety change him and his approach to life.
"I was really happy with how I had been progressing in my life, so I made it a goal to not change."
That progression had to do mostly with his focus on constant self-improvement. With discipline being one of his weaknesses in poker, he has worked hard to develop more discipline off the felt, especially when it comes to working out and eating healthy. He finds that the discipline outside of poker carries over to his game.
A movie quote that Del Vecchio tries to live by comes from Blow, where Johnny Depp's character remembers the words of his father, played by Ray Liotta.
"Sometimes you're flush, and sometimes you're bust. And when you're flush, it's never as good as it seems. And when you're bust, you feel like you'll never be up again. But life goes on. Remember that. Money isn't real, George. It doesn't matter. It only seems like it does."
The quote resonates with Del Vecchio. "It's something I try to remind myself of … You feel like things will never get better but they always do. I try to keep myself grounded, but that's much easier when you're up."
What's Next?
"At some point, I want to see what else I'm capable of doing — what else is out there for me."
While poker has been his primary passion for more than a decade and he still loves the game, Del Vecchio has been thinking lately about what other things he wants to spend time on.
Like many other poker players, he's been getting more into investing and trading cryptocurrency over the past year, and may want to go further with that and see where he fits into that space. Or maybe he'll find something else… who knows?
"At some point, I want to see what else I'm capable of doing - what else is out there for me."
As far as a repeat Rolling Thunder title goes, Del Vecchio remains realistic.
"It will be really nice going there and playing it again. At the end of the day, it's just another tournament. I'm going to go, and I'm probably going to lose. It would be great to repeat, but it's unlikely. I'm a realist - you gotta be honest with yourself."
Mike Del Vecchio Stats
| | |
| --- | --- |
| United States All Time Money List | 520th |
| All Time Money List | 923rd |
| Global Poker Index Ranking | 49th |
| Total Live Earnings | $1,704,434 |
Mike Del Vecchio's Biggest Scores
| Year | Buy-in | Event | Country | Entries | Place | Prize |
| --- | --- | --- | --- | --- | --- | --- |
| 2012 | $1,500 | Grand Challenge Tournament Series | United States | 107 | 1st | $51,377 |
| 2017 | $3,500 | WPT Rolling Thunder | United States | 421 | 1st | $284,638 |
| 2017 | $10,400 | WPT Five Diamond | United States | 812 | 3rd | $752,196 |
| 2018 | A$10,600 | Aussie Millions | Australia | 800 | 5th | $299,033 |
* Lead photo courtesy of the Aussie Millions. Middle photos courtesy of the World Poker Tour