Ryan Tosoc Wins WPT Five Diamond at Back-to-Back Final Table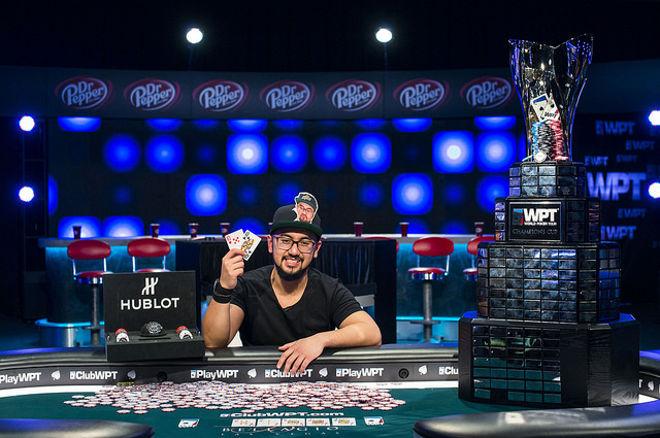 The record-breaking Season XVI World Poker Tour Five Diamond World Poker Classic at the Bellagio is a wrap, and it ended with Ryan Tosoc amazingly besting his $1.124 million runner-up finish from last year. Tosoc beat out the biggest WPT $10K field in history — 812 entries — to win the $1,958,065 first-place prize, which includes a $15,000 seat into the WPT Tournament of Champions.
Final Table Results
| Place | Player | Payout |
| --- | --- | --- |
| 1st | Ryan Tosoc | $1,958,065 |
| 2nd | Alex Foxen | $1,134,202 |
| 3rd | Mike Del Vecchio | $752,196 |
| 4th | Sean Perry | $504,090 |
| 5th | Ajay Chabra | $350,500 |
| 6th | Richard Kirsch | $271,736 |
After five days of play, the final six returned for the televised final table Sunday at 4 p.m. to battle it out. The first elimination came in the 38th hand of play when South Florida pro Richard Kirsch busted to Mike Del Vecchio after his pocket tens couldn't catch up to the pocket queens of Del Vecchio. Kirsch took 6th place for $271,736 in his second WPT final table appearance, the first being ten years ago in the WPT Mirage Poker Showdown that Jonathan Little won.
Next out was Ajay Chabra seven hands later. Chabra, who finished Day 4 with the chip lead and came into the day fourth in chips, defended his big blind with 7♣2♣ against Perry's button raise with A♠10♠. Chabra check-called Perry's continuation bet on 9♣8♣J♥ and check-raised the 8♠ turn.
When Perry shoved over the raise, Chabra's stack was more or less committed and he indeed put in the rest, needing a club or a ten on the river to stay alive. The 8♥ didn't do the trick and Chabra was the fourth-place finisher.
Chabra earned $350,500 for his deep run, drastically padding his previously $39K in live tournament winnings as a primarily online cash game grinder based in New Jersey.
A momentum-changer happened with a hand between Del Vecchio and Tosoc where Tosoc raised on the button with K♣7♣ and Del Vecchio defended his big blind with jack-nine. Del Vecchio check-called the K♠9♥4♣ flop, led the 9♣ turn and also led on the 2♣ river. Tosoc raised with his flush and Del Vecchio found a fold, but took a hit to his stack as Tosoc climbed up the counts.
Another momentum-shifter, after holding the chip lead throughout the final table, Sean Perry lost the lead to Alex Foxen in a big hand where Foxen turned trip sevens with 6♠7♥ against Perry, who missed his flush draw with Q♠10♠ but hit a pair of tens on the river and paid off Foxen's river bet.
Perry then became the fourth-place finisher when he four-bet jammed 42 big blinds from the small blind after Foxen raised under the gun and Del Vecchio three-bet from the button. Tosoc quickly called from the big blind with A♦J♠ and Foxen and Del Vecchio both folded. Perry was behind with A♣9♣. Both players found a pair on the 9♥J♦3♦ flop, but Perry couldn't find another nine and he had to settle for a 21-birthday-week gift of $504,090.
Del Vecchio busted soon after when he three-bet jammed with king-jack over Tosoc's button raise. Tosoc called with ace-queen and won the hand when they both went unimproved. Del Vecchio finished in third for $752,196, taking his WPT earnings for 2017 over $1 million after winning the WPT Thunder Valley in March for $284,638.
Before the final table, Del Vecchio expressed gratitude for the support from his parents and sister, who follow the updates, and all of his friends in poker who are like family.
"I have such a good support system. I'm so truly lucky. I just have the greatest people in the world around me."
Heads-Up
Last year's Five Diamond runner-up went into heads-up with the chip lead with 14,995,000 (187 big blinds) to Foxen's 9,370,000 (117 big blinds). In the seventh hand of heads up, Foxen took the chip lead from Tosoc.
Tosoc raised to 400,000 on the button at 50,000/100,000/15,000 and Foxen defended. On the 6♦3♥A♥ flop, Foxen check-called the 400,000-chip continuation bet from Tosoc. They both checked the K♥ turn and the 7♥ river put the fourth heart on the board.
Foxen checked and Tosoc put out a bet of 2.4 million into the 1.7 million. Foxen let his time expire, used a time extension chip, and check-raised to 5.5 million.
Eventually, Tosoc closed the gap and then he won a massive pot to take a four-to-one chip lead at 75K/150K/25K. Tosoc raised to 425,000 on the button and Foxen defended. On the 3♣J♥7♥ flop, Foxen check-raised Tosoc's 450,000 continuation bet to 1.4 million and Tosoc called.
The turn was the 4♦ and Foxen led 1.6 million. Tosoc called again and on the 10♥ river, Foxen bet 4.5 million. Tosoc used two time extension chips, something you won't see very often from the quick-acting Tosoc, and eventually Tosoc called. Foxen tabled the K♥9♦ bluff and Tosoc's K♣7♠ for a pair of sevens was good for the huge pot.
From there, it was mostly Tosoc chipping away and despite getting a double-up, Foxen was unable to build back into contention. In the final hand of the match, Foxen got it in good for 14.5 big blinds with ace-ten against Tosoc's queen-ten, but the 9♥3♦K♦ J♥ J♣ runout gave Tosoc a straight on the turn to lock up the win.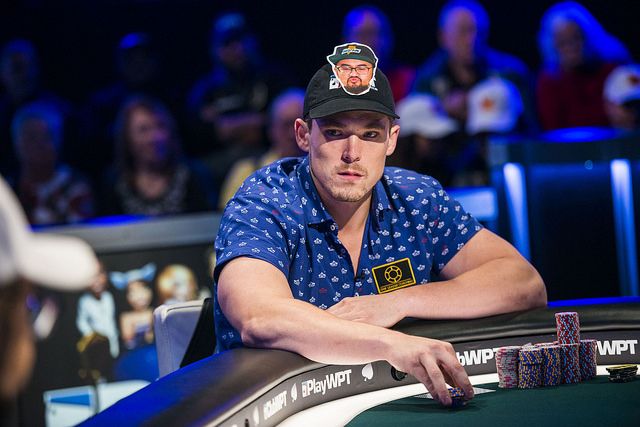 Foxen adds $1,134,202 to his impressive $525K in earnings in his breakout year of 2017 where he made a run at WSOP Player of the Year, finishing in seventh. This cash also represents more than five times his biggest score to date, and doubles his career earnings. It would be a good bet that we will be seeing more of Foxen on the tournament circuit.
Tosoc said after the win, "It feels unreal. It kind of feels like I'm in a dream right now."
It's obvious to anyone watching Tosoc that the pressure doesn't get to him and he said he keeps an "even keel" during tournaments. He said that even when he took a big hit to his stack early on, nothing changed in his mind and he was able to maintain his focus. Plus he had the experience of being in the same spot already, just a year before.
"Last year I wasn't very nervous. I had some nervousness last year, but this year, going back-to-back I mean there's no nervousness whatsoever."
Heads up, he knows that anything can happen. "I lost a big hand early and he took a big chip lead on me, I just stayed focused."
Tosoc was happy to have a big rail of family and friends to cheer him on, especially his best friend, who didn't get to have a piece of him or sweat him the previous year.
"Having my grandma here meant a lot too."
As a high-stakes PLO cash player, Tosoc finds tournaments to be extremely draining and says he isn't sure yet whether he will be playing more tournaments going forward or not. " I'llprobably dabble here and there on the shorter ones, but I'm just like, if I can continue this streak, why not just wait til December?"
Photos courtesy of WPT/Joe Giron