Ryan Tosoc is Back at WPT Five Diamond Final Table, Sean Perry Leads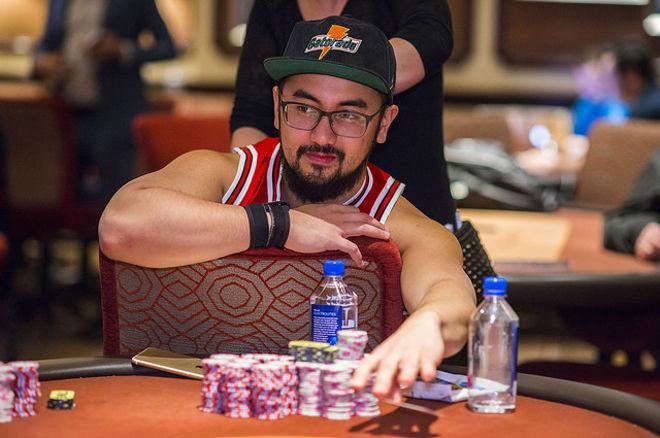 After an action-packed Day 5 that saw the final 18 players trimmed down to six, the official final table in the largest-ever WPT $10K Main Event is set. The final six in Season XVI's World Poker Tour Five Diamond Poker Classic have at least a payout of $271,736 locked up, while the winner will walk away with $1,958,065. Following is the table draw with chip counts.
| Seat | Player | Chips | Big Blinds |
| --- | --- | --- | --- |
| Seat 1 | Mike Del Vecchio | 4,970,000 | 124 |
| Seat 2 | Sean Perry | 7,650,000 | 191 |
| Seat 3 | Ryan Tosoc | 5,105,000 | 128 |
| Seat 4 | Ajay Chabra | 3,065,000 | 77 |
| Seat 5 | Richard Kirsch | 2,620,000 | 66 |
| Seat 6 | Alex Foxen | 955,000 | 24 |
Leading the way in chips is none other than the 21-year-old Sean Perry, who told PokerNews on Day 4 with 81 players left, "I just figure there's no way I don't win."
The confident, talkative Perry turned 21 on the day the event started, and said that as soon as he found out about the timing six months ago, he's been telling everyone he's going to ship it.
The son of seasoned high stakes cash game player and WSOP bracelet winner Ralph Perry, the younger Perry had a dream fulfilled getting to play next to his dad on Day 4 before Ralph busted in 47th place. Though Sean had to fire three bullets before he could get traction, he was okay with it because of the massive first-place prize he could win.
His style definitely shows a playing-to-win mentality as the WPT live blog has shown him keeping the pressure on his opponents. In one of the last few hands of the night, Perry ran a big bluff against Mike Del Vecchio and Ryan Tosoc and ended up showing it after both opponents had folded.
At the final table, we can expect Perry to keep up the aggression as he goes for the win in his first live tournament since turning 21. It would be a nice belated birthday gift indeed.
Back-to-Back
Second in chips to start the day is Ryan Tosoc. If you followed the coverage last year, you may recognize this name. That's because Tosoc final tabled this same event in Season XV, finishing in second place for $1.124 million behind James Romero. Tosoc said before the event, his friends were making comments about him going back-to-back final tables but he thought they just believed in him too much.
"But I'm just living it. It's crazy."
Tosoc plays more PLO cash than no-limit Hold'em tournaments, but he loves playing this event at the Bellagio.
"I just run good here. I feel so confident playing here. It doesn't matter what I have in the hand, I just feel really locked in here."
He said going into the tournament the goal was to make the money, and on Day 5 it was to make the final table. Coupled with the fact that Tosoc has been here before and he is "very confident in pressure situations," he thinks he will have an advantage at the final table. No matter what the result is, his back-to-back run is already incredible, and he is surely looking to best last year's finish.
Going for Second WPT Title
The only player left who can become a two-time WPT champion in the event is Mike Del Vecchio. Del Vecchio won WPT Rolling Thunder back in March and had to beat out a top-tier final table that included the likes of Olivier Busquet, Conor Drinan, Steven Tabb, Sorel Mizzi and Ankush Mandavia (seventh place). He came in with a massive chip lead in that one and was able to close it out after having very little tournament success prior.
Del Vecchio got emotional telling the story of how he and fellow final tablist Alex Foxen played with ClubWPT qualifier Bill Mynatt on Day 2, and after Mynatt busted, he told Del Vecchio and Foxen, "You two are both going to make the final table. I'm sure of it." Obviously, they were unconvinced, but he said Mynatt proceeded to return every day to cheer them on, and now his premonition has come true.
"It's just so wild."
With some good, aggressive players on his left, Del Vecchio says, "I pretty much just need to play my game, and see what happens."
Bottom Three Coming In
Ajay Chabra will begin the final table fourth in chips and already has locked up a cash worth nearly seven times his previous live tournament earnings. Despite the apparent lack of experience, Chabra has been playing poker seriously since 2010, mostly plays cash games online in New Jersey, and his only two cashes have come in the WSOP Main Event.
If that's not enough proof, several of his tablemates have referred to Chabra as a good, aggressive opponent and he finished Day 5 with the chip lead.
Richard Kirsch is the next biggest stack, coming in with a respectable 66 big blinds. Primarily a high stakes cash game pro based in South Florida, Kirsch has also been playing high stakes tournaments for years and final tabled a WPT Main Event a decade ago in the Mirage Poker Showdown. He got fourth at a final table that included Phil Ivey, Amnon Philippi and Jonathan Little, who won the event.
Kirsch said the tournament has been "pretty smooth," with his stack steadily on the rise throughout with no really big swings. His goal today was to "get back" to the final table, which he has successfully done.
He said that he has some history with Sean Perry as they recently played some big pots in big cash games down in Florida, which explains some of the table antics between the two. But according to Kirsch, "There's no bad blood there, but he definitely is the kind of person that is not going to be afraid to put the chips in, so someone to watch obviously."
In terms of the final table, Kirsch is just going to take a shot and see what happens. "I'm a big believer that it doesn't really matter if you have 50 bigs or 100 bigs or 200 bigs, anybody has a chance to win when you get down to six."
Alex Foxen is coming in as the short stack, but don't count him out. With over $1 million in live tournament earnings before this event, and more than half of those coming from 2017, Foxen has been on a tear.
His cash in the WPT Five Diamond marks his 34th cash this year alone and he also made a run at 2017 WSOP Player of the Year, ultimately finishing seventh in that race. He is looking for a big boost to his career earnings at this final table.
Busting on Day 5
Notables who fell short of the final table on Day 5 included Michael Ruane (15th - $61,436), Dan Colman (14th - $61,436), Blake Bohn (13th - $61,436), Matthew Moss (11th - $77,189), Mel Wiener (10th - $77,189), Lauren Roberts (8th - $153,590) and Daniel Zack (7th - $208,725). There was also Satish Surapaneni, who turned a $535 qualifier win from playMGMpoker.com into a payday of $51,984 for his 17th-place finish.
The televised final table kicks off at the Bellagio Sunday at 4 p.m. local time and you can follow the live updates from WPT here.
Photo courtesy of WPT/Joe Giron
Finding a trustworthy room to play online poker can be a monumental burden. That's all the more true if you're just looking for a place to play poker for free. We've listed five of the best play-money poker sites to enjoy and help hone your skills.