PokerNews Podcast 521: WSOP Europe Main Event Recap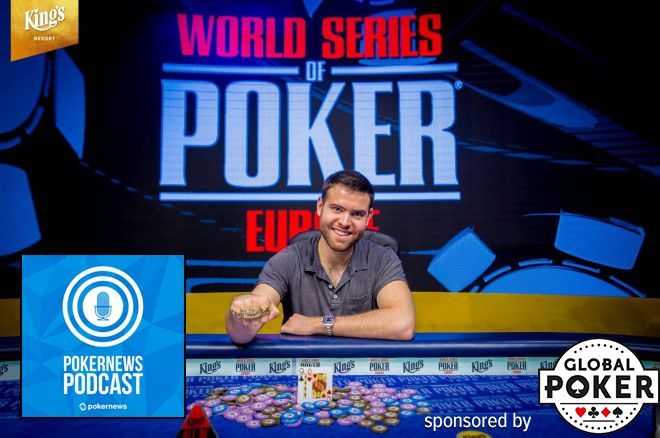 It's episode 521 of the PokerNews Podcast! PokerNews Live Reporting Manager Yori Epskamp fills in for Sarah Herring, as she's on her way to the Bahamas for the partypoker Caribbean Poker Party!
Yori and [Removed:139] wrap up the World Series of Poker Europe Main Event. They rave about the year the champion Jack Sinclair has had, and also give some major props to fourth-place finisher Ryan Riess. You'll hear Sarah's interviews with both players from King's Casino.
Plus, what a win for Patrick Serda at WPT Montreal after making an incredible hero call in heads-up play against Ema Zajmovic.
Jeff and Yori also take a look at the aggressive guarantees partypoker has placed on some of their tournaments at the Caribbean Poker Party, and speak highly of Jaime Staples after the popular streamer shared an honest update on how poorly his "Ultimate Sweat 2" prop bet is going.
Then, Global Poker streamer Brian Frenzel, "The Golden Blazer", joins Jeff for a quick chat about his Twitch broadcast!
This week's sponsor: Global Poker.
Show Time Stamps
| | |
| --- | --- |
| 0:30 | Intro: Yori filling in for Sarah, who is off to the Bahamas! |
| 1:30 | What Yori does for PokerNews in his role as Live Reporting Manager |
| 2:30 | Don't underestimate Yori's poker skills! |
| 3:50 | Jeff got to fill in for Ali Nejad to host Poker After Dark! |
| 4:40 | "888 Poker Week" on Poker After Dark, a qualifier had his $10,000 SNG buyin paid for after winning a $1 tournament! |
| 5:00 | And what a tournament it was for that qualifier, Peter Martin |
| 6:30 | Sponsor: globalpoker.com |
| 7:30 | Jack Sinclair Wins 2018 World Series of Poker Europe Main Event |
| 9:20 | Sarah chats with Jack Sinclair after he wins the WSOPE Main |
| 12:50 | Ryan Riess finishes in fourth place, what a year it's been for him |
| 15:10 | Riess talks with Sarah after he's eliminated from the WSOPE Main |
| 19:00 | You want WSOPE bloopers, featuring Sarah Herring? You got 'em |
| 21:00 | The Caribbean Poker Party Starts This Friday |
| 23:30 | How in the world Yori figures out which reporters get to go to the Bahamas |
| 24:30 | Shoutout to Mo Nuwwarah for crushing the poker scene, both playing and reporting |
| 25:30 | Patrick Serda Bests Ema Zajmovic Heads Up to Win WPT Montreal Title for $668K |
| 26:30 | Serda's sick hero call to win the tournament |
| 30:20 | Matt Affleck Wins Coast 2 Coast Classic Tournament |
| 31:30 | The future of online poker in the United States |
| 32:30 | Ultimate Sweat Challenge 2.0 Not Going As Planned For Jamie Staples |
| 36:30 | Friday Night Poker talk! Some drama between Frank Kassela and Randall Emmett! |
| 39:30 | Sponsor: globalpoker.com |
| 40:45 | Brian "The Golden Blazer" Frenzel joins Jeff to chat about his Global Poker streaming |
| 41:00 | What made him want to start broadcasting on Twitch? "I started broadcasting back in February, at the time there weren't really any players streaming on Global Poker...I kinda liked the idea of 'here's what I'm doing, if you guys want to watch, feel free'...you start to build a community." |
| 42:30 | His connection with the audience: "It's really cool, there are a bunch of people that hang out." |
| 43:30 | Is his broadcast different today than when he started? "Absolutely, when I started back in February, I just had no idea what I was doing." |
| 44:10 | Moments from the stream that stand out to Frenzel |
| 45:30 | His poker background: "I think you're going to see an evolution moving forward. I'm one of not that many post-Black Friday players." |
| 47:30 | Next week: Sarah and Jeff reunited (we think), Sarah will talk with some players at the Caribbean Poker Party! |
Tell us who you want to hear from. Let us know what you think of the show - tweet about the podcast using #PNPod, and be sure to follow Sarah and Jeff on Twitter.
You can subscribe to the PokerNews Podcast on iTunes here, or you can access the RSS feed here. The PokerNews Podcast family of podcasts is now available on audioBoom. Leave us a review and we might read it on the air, or at least give you a shoutout.