PokerNews Podcast 517: Amanda Leatherman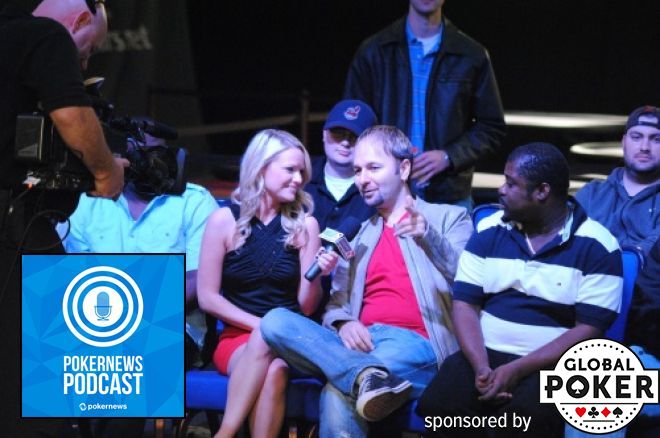 We are now 517 episodes into the PokerNews Podcast. It's Sarah Herring and [Removed:139] taking a look at what's going on in the poker world. And there's plenty to keep them busy.
The Main Event at the partypoker LIVE MILLIONS UK stop in Nottingham came to a close. Ioannis Angelou-Konstas is the champion after beating Alex Foxen heads-up to cap off a star-studded final tale. Plus, Steve O'Dwyer won two high-roller tournaments in one week at the festival.
The World Series of Poker Europe is now underway at King's Casino, Sarah and Jeff look into the value (or lack thereof) in this tournament series. One of our favorite dealers from the WSOP, Heather Alcorn, wins a WSOP-Circuit Main Event! Jeff recaps the action-packed week of Friday Night Poker, which included Antonio Esfandiari walking away with a $35,000 profit at a $5-$10 game.
Then, we bring on Jeff's Friday Night Poker co-host, Amanda Leatherman! Amanda takes us through her broadcasting career and discusses what it's like being back in the poker world.
This week's sponsor: Global Poker
Show Time Stamps
| | |
| --- | --- |
| 0:30 | Intro: Sarah on the move to Houston, Jeff went to UFC 229, and discusses the craziness that ensured after the Main Event |
| 4:30 | The public relations impact the UFC melee has |
| 9:20 | Sponsor: globalpoker.com |
| 10:40 | Angelou-Konstas Wins partypoker LIVE MILLIONS UK, Foxen second |
| 12:10 | Is Alex Foxen the most intimidating player to go heads-up against? |
| 13:20 | O'Dwyer Wins Back-to-Back High Rollers at partypoker LIVE MILLIONS UK |
| 16:50 | Tsoukernik Looking Forward to Another WSOP Europe at King's |
| 17:20 | What kind of reputation is WSOP Europe developing? |
| 19:20 | Should the WSOP Player of the Year race include WSOP Europe? |
| 22:50 | WSOP Dealer Heather Alcorn Wins Main Event at Southern Indiana |
| 24:50 | Greg Raymer on Upcoming Book Fossilman's Winning Tournament Strategies |
| 28:50 | A Friday Night Poker recap: Antonio Esfandiari puts on a show |
| 30:00 | Previewing this week's Friday Night Poker lineup |
| 31:20 | Amanda Leatherman joins the show! |
| 32:30 | What Amanda has been up to since leaving the poker world |
| 34:00 | What brought her back to poker: "Brent Hanks!...he asked me if I would be interested in doing Friday Night Poker, he told me all about it...and that was that." |
| 34:40 | The differences in the poker scene now: "Back in the day when it was booming, everybody was making lots of money. Now, jobs are few and far between." |
| 35:30 | How she found herself transitioning to radio: "I saw there was an audition for iHeart Media, and then I did it, and then I got it. It happened really fast." |
| 36:30 | Was finding her footing in radio difficult? "No, it was really, really easy...you just have to be yourself, really, on the radio." |
| 37:30 | Looking back on The Big Game: "The Big Game was like a dream job, are you kidding me?" |
| 38:10 | Moments on The Big Game that stood out to her |
| 38:45 | On hosting Friday Night Poker: "It's a little more laid-back, and that's what I was expecting...it's going to be the feel of hanging out with players at a home game, which is more fun." |
| 40:50 | Walking into the PokerGO Studio: "It's beautiful, it's gorgeous, it's crazy that we have a setting like that for poker." |
| 43:40 | What is Jeff like behind the scenes? "I'm trying to push the boundaries with Jeff, he's pretty straight but we're going to turn him around." |
| 44:10 | How Jeff tries to reign in both Amanda and Brent on Friday Night Poker |
| 46:15 | Engaging with the Facebook audience during the show |
| 46:30 | Daniel Negreanu will be on Friday Night Poker this week: "Daniel and I are good friends...we hang out, we hadn't seen each other in years. And, yea, he's single now." |
| 49:00 | Jeff explains why Amanda and Brent work so well for this show |
| 54:20 | Follow Amanda on Twitter, follow Friday Night Poker on Facebook |
| 56:30 | Sponsor: globalpoker.com |
Tell us who you want to hear from. Let us know what you think of the show - tweet about the podcast using #PNPod, and be sure to follow Sarah and Jeff on Twitter. You can watch Arlie Shaban on his Twitch channel.
You can subscribe to the PokerNews Podcast on iTunes here, or you can access the RSS feed here. The PokerNews Podcast family of podcasts is now available on audioBoom. Leave us a review and we might read it on the air, or at least give you a shoutout.