PokerNews Podcast 503: WSOP Main Event Plus Phil Hellmuth & Shaun Deeb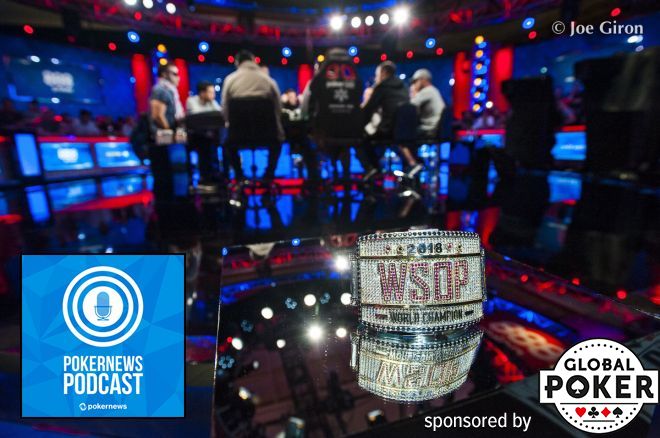 It's Sarah Herring and [Removed:139] coming at you from the Rio All-Suites Hotel & Casino in Las Vegas during the best time of the year: the World Series of Poker Main Event Final Table!
They break down the biggest storylines from the biggest tournament of the year.
Also, Phil Hellmuth wins his 15th World Series of Poker bracelet. Hear from one of poker's biggest superstars after he wins the $5,000 NL Hold'em Turbo event.
Shaun Deeb is on top of the WSOP Player of the Year rankings, Sarah caught up with him before his win in the $10,000 Six-Max tournament.
Plus, John Hennigan and Mori Eskandani are the newest inductees into the Poker Hall of Fame. Sarah and Jeff take a look at who could be in next year's class.
It's the top stories in poker broken down as we get closer to crowning the game's newest ambassador.
This week's sponsor: Global Poker.
Show Time Stamps
| | |
| --- | --- |
| 0:10 | Intro: From the World Series of Poker Main Event! Jeff is back with Sarah at the Rio |
| 1:10 | Jeff runs deep in the Little One for One Drop |
| 3:10 | The atmosphere at the poker tournaments Jeff has played in this year |
| 4:00 | Dressing up a little bit when deep in tournaments |
| 5:00 | Phil Hellmuth Wins His 15th WSOP Bracelet |
| 5:50 | Hellmuth on winning his 15th bracelet: "13 in Europe was really humbling for me and so is 14 and so is 15. It's humbling. I haven't had a really good summer, but I've kept things positive." |
| 8:10 | His heads-up match vs. Steven Wolansky: "Listen, he wouldn't give an inch. I knew he wouldn't give an inch." |
| 9:10 | What does this bracelet mean to him from a legacy perspective: "Everything, because my life is poker number-one...I want to be remembered in two ways: one, for having 24 bracelets, and two, for starting the positive movement and influencing people's lives." |
| 11:00 | Dealing with the criticism on social media: "I was completely out of line...when I busted out that day and read that the poker room was cheering, I was crushed. I was like 'oh my god, what did I do?' It just felt like such a low point for me in my career." |
| 13:00 | On James Campbell: "I think he's a great guy...we were texting back and forth for an hour the other day. It was nice." |
| 13:31 | Plans for the rest of the summer: "I promised myself that if I make a really deep run, that I'd take the next day off, but this was only two days. So I'm not going to do that...I still have a lot of energy." |
| 14:30 | Who this bracelet will be given to: "This bracelet will be going to one of my best friends, Bill Lee. Bill Lee is the best angel investor in history." |
| 16:00 | The WSOP incorporating more events into the schedule after the Main Event, including the $10k Six-Max |
| 19:20 | The $50k High-Roller taking place prior to the $1 Million Big One for One Drop |
| 22:10 | Sarah catches up with Shaun Deeb, who is at the top of the WSOP Player of the Year rankings |
| 22:50 | On the POY race: "It definitely affects some of the play and decisions with the formula, I think the formula has a lot of errors." |
| 23:20 | How he feels about his summer so far: "It's just awesome, I've had a great time, winning one of the biggest events of the year (the $25k PLO High Roller) is insane, I can't believe I'm in this spot." |
| 24:20 | Playing multiple events at the same time: "It's crazier than you think it is. I bagged Day 4 of the Main Event, and bought into the $3k PLO. And I went over there, went all-in blind the first hand, three-bet the next one, went back to the Main Event, played thirty minutes, bagged." |
| 25:00 | Making the trip to WSOP Europe: "If I don't get a big enough lead, I'm going to have to go...I really don't want to go...financially there's no reason to go, but I'm going to have to." |
| 25:40 | Competition for Player of the Year: "The camaraderie between the POY guys is great. Every couple days, Hennigan sends me a text, just a needle or some video." |
| 27:00 | Sponsor: globalpoker.com |
| 27:50 | Diving into the (somewhat strange) odds of the WSOP Main Event Final Table at Caesars sportsbooks |
| 31:10 | Joe Cada's attitude coming into the Final Table: acknowledges he's not the favorite |
| 32:10 | Thoughts on the Main Event coverage on ESPN and ESPN2 |
| 33:50 | Surprises from this year's final table |
| 35:30 | Differences this year without a break between Day Seven and the final table |
| 39:00 | The wildly entertaining rails for this year's final table |
| 42:30 | Getting to know the final nine, and how the lack of a break might've hurt media coverage for some players |
| 44:10 | The massive pay jumps at the final table |
| 45:30 | Poker's popularity rising throughout America, legalized sports betting will help |
| 47:30 | Sponsor: globalpoker.com |
| 48:20 | John Hennigan and Mori Eskandani in as Poker Hall of Fame Class of 2018 |
| 49:20 | Who could get into the Poker Hall of Fame next year? |
Tell us who you want to hear from. Let us know what you think of the show - tweet about the podcast using #PNPod, and be sure to follow Sarah and Jeff on Twitter.
You can subscribe to the PokerNews Podcast on iTunes here, or you can access the RSS feed here. The PokerNews Podcast family of podcasts is now available on audioBoom. Leave us a review and we might read it on the air, or at least give you a shoutout.