Jack Sinclair Wins 2018 World Series of Poker Europe Main Event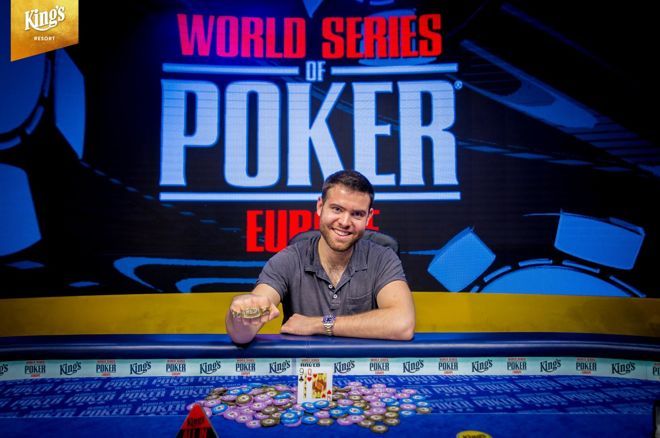 Jack Sinclair has won the 2018 World Series of Poker Europe Main Event for €1,122,239. He saw off a field of 534 to banish memories of his eighth-place finish in the WSOP Main Event in 2017 and win his first WSOP gold bracelet.
Coming into the day fourth in chips, he doubled through the second biggest stack at the start of the day, Milos Skrbic in the second level. Later, Sinclair eliminated Krasimir Yankov to bring the tournament to a heads-up against start-of-day chip leader, Laszlo Bujtas of Hungary.
Former WSOP Main Event Champion Ryan Riess had a frustrating day and eventually finished fourth for €337,778.
2018 WSOPE Event #10: €10,350 No-Limit Hold'em Main Event Final Table Results
| Position | Player | Country | Prize in € | Prize in $ |
| --- | --- | --- | --- | --- |
| 1 | Jack Sinclair | United Kingdom | € 1,122,239 | $1,279,352 |
| 2 | Laszlo Bujtas | Hungary | € 693,573 | $790,673 |
| 3 | Krasimir Yankov | Bulgaria | € 480,028 | $547,232 |
| 4 | Ryan Riess | United States | € 337,778 | $385,067 |
| 5 | Milos Skrbic | Serbia | € 241,718 | $275,559 |
| 6 | Ihor Yerofieiev | Ukraine | € 175,965 | $200,600 |
Sinclair's Reaction to the WSOPE Main Event Victory
It was a dominant heads-up performance from Sinclair, limiting his opponent to two small doubles - for just 12 and 22 big blinds - but each time Sinclair came roaring back to have Bujtas on the ropes.
On his third try, Sinclair got it in ahead and after he flopped a pair, he sealed the deal on the turn to take down the title and his second career seven-figure score.
"It's like being in a dream at the moment," said Sinclair after taking down the tournament. "The whole week has been absolutely insane; just super smooth and not like any other tournament I've ever played. I never really lost a big pot as far as I can remember and just got all the hands when I needed them.
"Every time I felt like things were getting precarious, I instantly won a big pot. I'm very happy with how I played and even more happy with how I ran!"
"Every time I felt like things were getting precarious, I instantly won a big pot."
In winning this event, Sinclair becomes only the second UK WSOPE champion after James Bord took down the title in 2010. He also joins Antoine Saout (2009 & 2017) and Ben Lamb (2011 & 2017) as players whose top two career cashes have come at the WSOP Main Event final table.
"I thought about [the 2017 WSOP final table] once at the final table when I had jack-four off-suit against Laszlo. That was a somewhat important hand at the WSOP last year and I got the bluff through this time, which was good.
"But apart from that, I wasn't thinking about it. It was a completely different tournament. Vegas was huge for me but it's in the past now and I don't think about it now. Vegas was my first ever time playing a $10k and the first time in Vegas in general. The whole thing has been so surreal from the start of my poker career until now.
"I'm not used to it really but...I don't wanna get used to it!"
Most poker players have aspirations of winning a major Main Event and winning a WSOP gold bracelet, and Sinclair has now done both in a single tournament.
"I haven't come to terms with it yet. It's just ridiculous but I'm kind of getting used to these ridiculous things happening."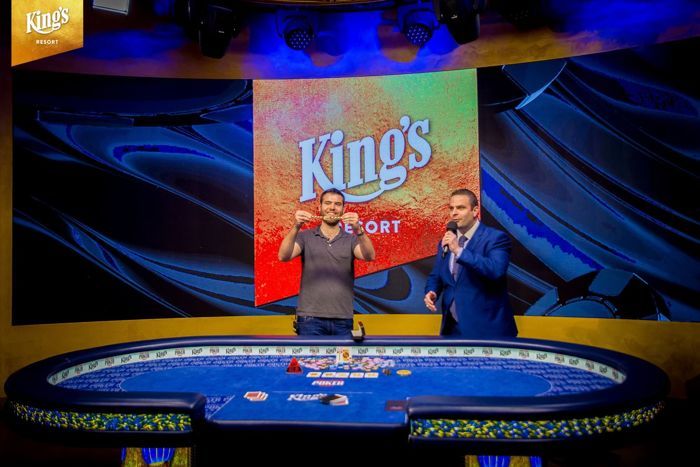 Bittersweet Ending for Bujtas
Runner-up Laszlo Bujtas was left devastated after finishing in second place.
"I'm sad at the moment," he told PokerNews. "Going into heads-up confident but card dead. My opponent played well so congratulations to him. Of course, I'm not 100% happy at the moment but...it happens."
Railed all the way by two-time WSOP bracelet winner Norbert Szecsi, Bujtas ran out of steam heads-up to finish as runner-up to Sinclair, taking home €693,573.
"He helped a lot," said Bujtas, "He's been watching the stream telling me the hands some of the time. He helped me with how to adapt to the opponents and it helped a lot."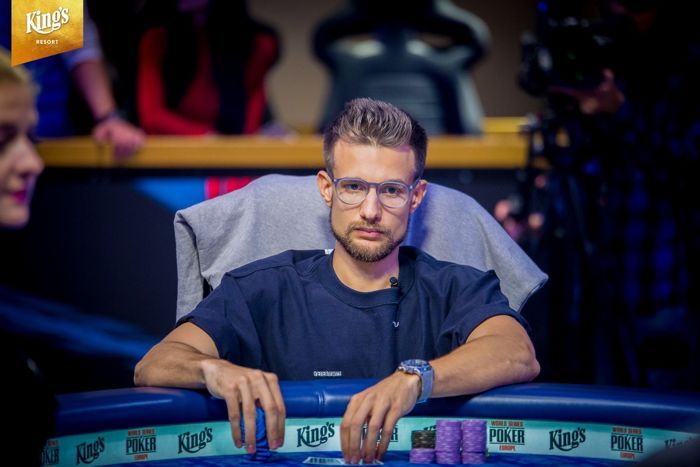 2018 WSOPE Rozvadov Main Event Final Day Recap
Play got underway with six players left, all guaranteed at least €175,965, and with an average of 55 big blinds, it seemed like a long day's play was in store.
The short stack coming into the day was 34-year-old Ihor Yerofieiev, who didn't have to wait long to pick his spot. In fact, he shoved three times in a row to take down the blinds and antes and chip up by over one million in chips.
However, on the very next hand, he picked up sixes under the gun and shoved once again. He was called by the ace-queen of Milos Skrbic, who flopped two pair to eliminate the Ukrainian.
This put Skrbic in the chip lead but that was about as good as it got for the Serbian. First, Yankov's shove with king-ten bested Skrbic's ace-jack after a king hit the flop. Then in the very next hand, Jack Sinclair opened pocket aces from the button and Skrbic three-bet with queens from the small blind. Sinclair four-bet all in and was called by Skrbic. Aces held to send Skrbic tumbling down the leaderboard.
"I think I made a good decision to go all in there instead of calling," Sinclair told PokerNews. "I think calling would be a common play in that spot. But obviously, the luck was clearly on my side. I had to play pretty tight at the start of the day which I think is the correct strategy in that scenario."
And a short while later, after Skrbic shoved the button for 18 big blinds with king-jack, Bujtas called with ace-queen in the big blind to send Skrbic out; from 80 big blinds to out inside two and a half hours.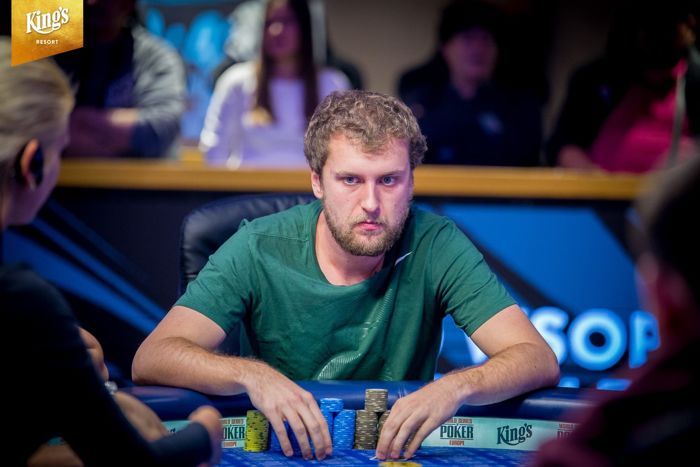 The big story coming into the day was former WSOP Main Event champion Ryan Riess, who entered the day third in chips. However, just like Skrbic, Riess fell to pocket aces, limp-jamming with sevens into Krasimir Yankov, who called and eliminated Riess.
"I'm kind of bummed that I didn't go deeper or win," Riess told PokerNews shortly after his elimination. "But I don't think I made as many mistakes today like I made yesterday, so I'm happy about that.
"I just didn't get good cards. There's not much I could have done [...] maybe fold the last hand because it's against him. I don't know, I'll have to think about it."
With so much action at the table, Riess said he was happy to sit back and be the beneficiary of some pay jumps.
"It's good for me if everyone else is getting it in all the time. It means people are busting and we're laddering, and making more money. I just wish it was me getting the good cards and the action. Maybe next time."
With these eliminations, the average had soared to almost 75 big blinds and an even slower-paced day looked in the offing. Three-handed, it was Bujtas who ran the show, moving up to almost half the chips in play, with Sinclair just behind him.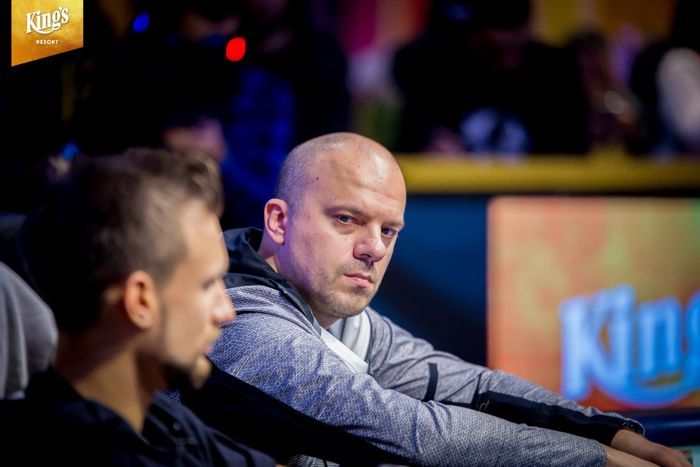 Bringing up the rear was Yankov, but he was not exactly a short stack with in excess of 40 big blinds. But in poker, there are always hands that see two players get it in, and that's exactly what happened. After both Yankov and Sinclair flopped sets, the Brit check-raised on both flop and turn, with the turn bet enough to put the Bulgarian all in, and he called with a second-best hand that sent him to the rail.
Despite this cooler, Yankov said that he still felt "very good" about his performance in the WSOP Europe Main Event.
"You know that every time you cash at a final table and you're not first, you're very disappointed," he said. "But for my first WSOP final table, because it's very good. It's not easy to win when you get to the final table. I'm very happy."
Yesterday, Yankov said that he felt his tight approach would benefit him, but he said that his approach changed, especially after doubling through Skrbic.
"[My double] was the main aim for me today, because I could bust in sixth or fifth and there is a very big difference [between the payouts]. I can't really be disappointed, because I got lucky in other spots and I lost in the final spot. That's the game!"
With the elimination of Yankov, the stacks were level with over 220 big blinds in play.
WSOPE Rozvadov Main Event Finale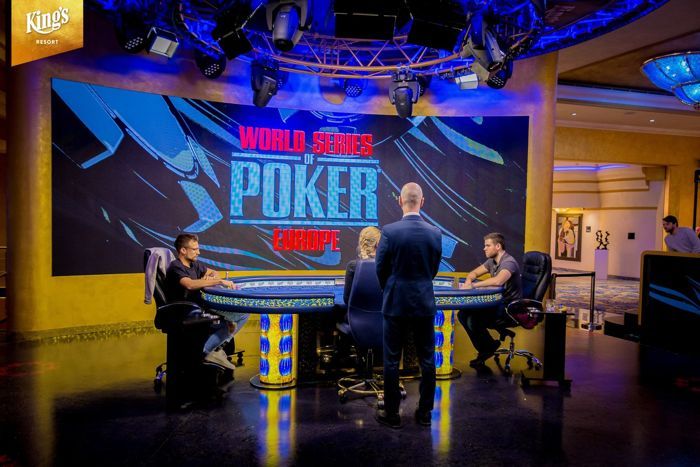 "I would rather have played heads-up against Krasimir [Yankov] than Laszlo [Bujtas]," said Sinclair. "But obviously I'm not complaining! Having level stacks heads-up was really important. But losing a pretty big pot at the start of heads-up gave him a lot of momentum and I had to sort of comeback from a deficit anyway.
"I think I played heads-up well. After I lost the big pot at the start, I knew that I was going to have to go for it and not hold back at all."
However, a mistimed bluff picked off by Sinclair meant he opened a sizeable gap over his opponent and the Brit continued to press home his advantage. One of the key pots at the final table came when Sinclair opted to four-bet five-six suited, which he says was based on the situation heads-up.
"After I lost the big pot at the start, I knew that I was going to have to go for it and not hold back at all."
"I think that was one of the key pots. I wouldn't do that against most people heads-up," said Sinclair. "but I just had decided by this point that I had to go for it and take all the spots that I had."
After the early setback, Sinclair was in control of heads-up throughout, despite his opponent scoring two small doubles through him.
"It certainly felt like [I was in control]; I don't know what he had most of the time. We were both bluffing a lot, but every time he bluffed I had a good bluff catcher so it sort of seemed like I was running him over, but it's entirely possible that it would have been the other way around if we had the opposite cards.
However, a third double for Bujtas was a step too far. On the first hand back from a 15-minute break, Bujtas got his stack in once more, only this time Sinclair was ahead. The Englishman flopped a pair and had his opponent drawing dead by the turn to be crowned the World Series of Poker Europe Main Event champion.
This wraps up the live reporting coverage of one of the most successful WSOPE festivals in history. Be sure to return to PokerNews for more updates on the biggest poker festivals in the world.
Will Shillibier is based in the United Kingdom. He started working for PokerNews as a freelance live reporter in 2015 and joined the full-time staff in 2019. He graduated from the University of Kent in 2017 with a B.A. in German. He also holds an NCTJ Diploma in Sports Journalism.