PokerNews Podcast: Here's Johnny!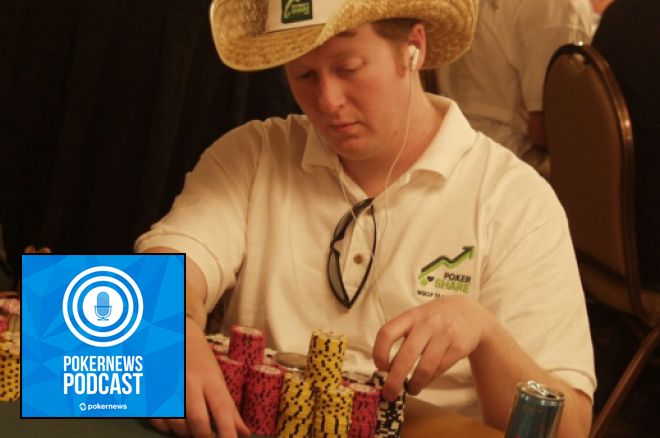 Sarah Herring and [Removed:139] are back again for another episode of the PokerNews Podcast. 
They take a look at the drama that's surrounded JohnnieVibes's WSOP package and the "markup police" led by Shaun Deeb and Doug Polk. 
Plus, PokerStars has a new ambassador, and draws an absolutely insane amount of entries for its Sunday Million Anniversary. 
Maurice Hawkins wins another WSOP Circuit ring, and Maria Ho finds herself in good shape to nab her first WPT Main Event title. 
Jeff chats with poker author/writer Johnny Kampis about how to plan your summer poker trip to Vegas. 
And Sarah brings on Geoff Exstrom and Alec Rome from the University of Nebraska-Lincoln Poker Club to discuss their Grand Championship, which will raise money to help flood victims in the Nebraska area. On April 27th, PokerNews's Twitter, Facebook, & YouTube pages will host the live stream of that tournament.
Show Time Stamps
| | |
| --- | --- |
| 0:20 | Intro: More tales from the GPA ceremony, table talk turned to Jeff's dating life... Jeff wanted to turn the talk to Sarah's Journalist of the Year win! |
| 3:50 | Poker Twitter drama: Sarah and Jeff discuss the "Markup Police" and their take on JohnnieVibes's WSOP Package at 1.38-1 markup |
| 8:20 | Do Sarah and Jeff fault JohnnieVibes for charging that kind of markup? |
| 10:30 | What he's done for the poker community |
| 13:00 | Next week, Ryan Laplante will join the show to share his thoughts on poker staking/markup |
| 13:20 | Phil Hellmuth charged 1.8-1 last WSOP for the $10k Omaha Hi/Lo Championship, is that the same thing? (Jeff says no) |
| 15:15 | Randy Lew AKA "nanonoko" Says Goodbye to PokerStars, Kalidou Sow Patches On |
| 21:05 | The value of online ambassadors |
| 23:05 | China's "wangli0402" Wins the Sunday Million 13th Anniversary for $611K |
| 25:35 | Maurice Hawkins Wins Record-Tying 12th WSOP Circuit Ring in Cherokee |
| 27:35 | Jeff chats with poker author/writer Johnny Kampis about summer poker planning |
| 27:45 | More on his book, Vegas or Bust: A Family Man Takes on the Poker Pros |
| 29:35 | Convincing the family to come along to Vegas for the 2016 WSOP |
| 30:15 | Planning your summer poker trip, what goes into a solid planning process? "I got a blank calendar, I got the tournament list from the various casinos...I looked at all the schedules, the buyin sizes, the structures, and just tried to figure out what fit my schedule." |
| 32:05 | Travel tips to Las Vegas: How to save money on flights, rooms, transportation, food (Johnny is staying at the Wynn for free for four nights this summer) |
| 35:05 | Recommending a Las Vegas Advisory membership for slots/video poker free play |
| 36:05 | Finding value in different poker tournaments |
| 37:25 | Planning your summer with different bankrolls: $1k, $5k, $15k-20k |
| 42:55 | Playing satellites during the summer: "They're quite valuable...there's a reason people go in there and grind them, because they are so soft." |
| 44:05 | Sarah chats with Geoff Exstrom & Alec Rome from the University of Nebraska-Lincoln Poker Club. On April 27th, PokerNews's Twitter, Facebook, & YouTube pages will host the live stream of the UNL Poker Club's Grand Championship, which will raise money for the United Way of Lincoln and Lancaster County to help aid flood victims. |
| 45:05 | Forming the University of Nebraska-Lincoln Poker Club, and the story of their first poker game (a long, long, long one) |
| 50:05 | How their journalism degrees are tying into the Grand Championship: "We've been in front of cameras for years and we've done so much together...We're organized, we're detail-oriented, all of this is tied together to make this process so much easier." |
| 54:25 | The flooding in Nebraska: "It just jumped on everybody, it's so hard to prepare for it." |
| 58:15 | The Grand Championship on April 27, details on the event's broadcast |
| 1:00:05 | Goals for the event: "Let's do this not only to help out people, but to really show our club is dedicated to making an impact for both students and the people around us...we're gonna get to April 27th and put on the best show we possibly can." |
| 1:04:25 | The tournament structure: "When you watch this, you might see some things that we've taken from different places or we've decided to come up with that you may not have seen on a normal poker broadcast." |
| 1:08:25 | Follow the UNL Poker Club on Twitter |
| 1:10:25 | Next week: Jeff is off to Kansas City for the Run Good Poker Series, Sarah will talk with Ryan Laplante |
| 1:11:45 | WPT Seminole Hard Rock Poker Showdown: Maria Ho Makes Delayed Final Table |
Tell us who you want to hear from. Let us know what you think of the show - tweet about the podcast using #PNPod, and be sure to follow Sarah and Jeff on Twitter.
You can subscribe to the PokerNews Podcast on Apple Podcasts here!