Kojack's Poker Club Details
Kojack's Poker Club in Midland, Texas is one of those hidden gems of Texas poker. The room has so many juicy cash games, a live-streamed poker show, and a welcoming and friendly staff.
During the March 2022 PokerNews Texas week, a week-long journey across the Lone Star State visiting dozens of card rooms, we encountered a number of surprises, one of them being just how solid the poker rooms are in some small towns in West Texas. One of them being Kojack's, a poker club that stood out to us.
There's a lot of oil money that flows into the Kojack's poker economy. Many oil workers in the area come in after a shift while they're in town to get some action, and they help create some of the best games in the state.
Midland, and nearby Odessa, doesn't get the publicity of bigger cities like Dallas and Houston. But it's an underrated town that has good food, good folks, and good poker.
Joining the Club
Kojack's is a legal poker room. As such, due to Texas state gambling laws (See: Texas Penal Code 47.04), they operate as a club instead of a traditional card room. Since taking rake is illegal, the room charges membership fees (daily, monthly, annually) and hourly seat fees.
It's simple to become a member of Kojack's. You'll be greeted upon entrance into the room and a staff member will get you signed up in just a few minutes.
There are numerous perks to becoming a member of Kojack's Poker Club, one of them being that you'll have access to the kitchen, which is usually stocked with sodas, drinks and snacks. You can also request a dedicated space to store your alcoholic beverage. Beer, liquor, and wine is B.Y.O.B. at Kojack's and most Texas poker rooms.
Cash Games at Kojack's
One of the main reasons to play at Kojack's if you're in West Texas is because the games are juicy no matter the stakes. Even the main game — $1/"$2 no-limit hold'em — brings out the loose action players, which makes the game fun and also profitable if you're a professional.
The buy-in for the $1/$2 game is $50 to $200, which means even players on a limited budget can afford to play. As the game progresses, the stacks begin to get much deeper, and that's when the action really picks up.
Kojack's offers poker games at higher stakes inside the eight-card table room, along with some Omaha games. The following is a complete list of cash games that are available regularly (ask the staff to spread additional games and they may be able to accommodate).
$1/$2 No-Limit Hold'em ($50 to $200)
$5/$5 No-Limit Hold'em ($200 to $500)
$2/$5 No-Limit Hold'em ($100 to $500)
$5/$10 No-Limit Hold'em ($500 to $3,000)
$5/$25 No-Limit Hold'em ($500 minimum, no cap)
$5/$5 Limit Big O - Five Card Omaha ($200 to $500)
$5/$5 Limit Omaha 8/B ($200 to $500)
$5/$25 Limit Big O - Five Card Omaha ($500 minimum, no cap)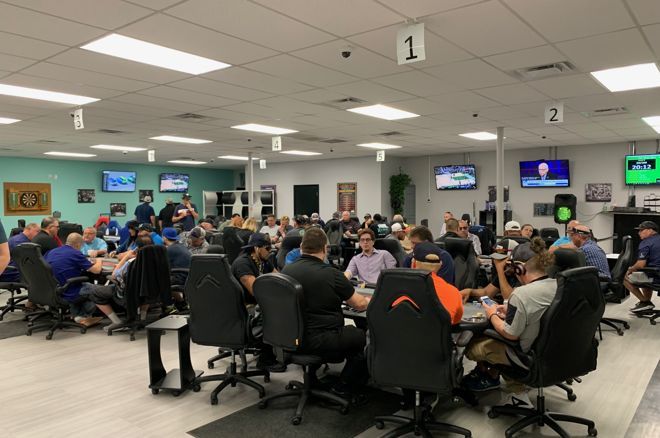 Tournaments at Kojack's
Kojack's Poker Club also features some exciting poker tournaments, including some juicy tournament series that take place every few months. In October 2022, the card room has scheduled a $250,000 guaranteed series over 10 events. The series is highlighted by a $720 buy-in Main Event (October 13-16) with $60,000 in prize money to be awarded, at minimum.
Kojack's has quite a few regular tournaments as well, and they tend to attract 10-30 players, depending on the day. On Sundays at 2:30 p.m., there is a $220 bounty no-limit hold'em event with $100 or $200 add-ons. On Tuesdays at 6:30 p.m., Kojack's hosts a $280 freezeout no-limit hold'em tournament. There are also often Omaha or mixed events (usually $200-$300 buy-ins) on Wednesday and Thursday, and a $280 satellite tournament on Saturday when leading up to an upcoming series.
Always check the Kojack's website for current schedules and promotions.
Frequently Asked Questions
Is Kojack's a legal poker room?

Yes, because they don't take rake, which would illegal in Texas.
Does Kojack's Poker Club offer adult beverages?

No. Most Texas poker rooms don't serve alcohol, but customers are free to bring their own beer, wine, and liquor.
Does Kojack's have a live-streamed poker show?

Yes they do, and you can watch it on YouTube.
Where in Texas is Kojack's located?

Kojack's is located in Midland, a small-ish town out in gorgeous West Texas (oil country).
How many poker tables are available?

There are eight tables in the room.
What is the most common cash game played at Kojack's?

$1/$2 no-limit hold'em ($50 to $200 buy-in)