PokerNews Texas Road Trip Day 6: Wrapping it Up in H-Town at Prime Social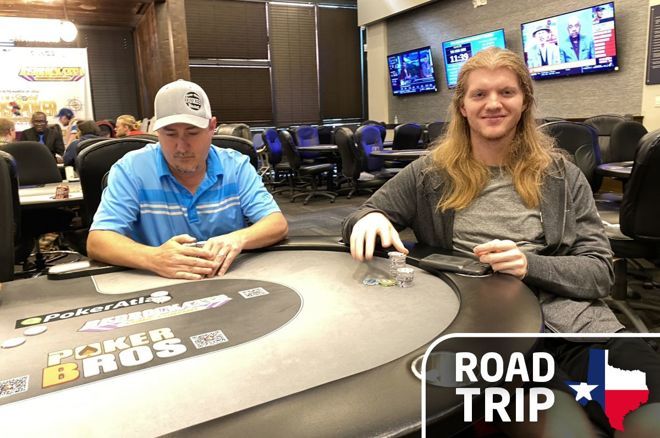 When it comes to poker, few places in the world are as hot as Texas! That's why we're kicking off Texas Week here on PokerNews from March 24-30. That will include a ton of new Texas-focused content, a dive into the PokerNews archives, and a special PokerNews Texas Road Trip throughout the Lone Star State!
Approximately five years ago, cardrooms started popping up around the Lonestar State, and right now they've grown to the point where they're hosting both massive tournaments and cash games. While such rooms started out operating in a bit of a gray area, it seems lawmakers are becoming more accepting of local card business, which was recently evidenced when the Dallas Board of Adjustment (BOA) ruled in favor of Texas Card House.
Even Doug Polk, Andrew Neeme, and Brad Owen have gotten in on the Texas action by investing in Austin's The Lodge Poker Club, which you can read about here, while Justin Hammer and his team are offering monster guarantees at Houston's Prime Social, including in The Texas Poker Championship happening now.
Texas Poker
Discover all you need to know about Texas Poker right here.
Poker in Texas seems to be in the headlines on a daily basis – from big six-figure winners to authorities raiding rooms; from shootings to Sammy Farha getting punched in the face – and there's no doubt our readers love the content.
That is why PokerNews has decided to send a trio of reporters – Executive Editor USA Chad Holloway, Senior Editor Jon Sofen, and Community Manager Jesse Fullen – down south for a weeklong road trip throughout Texas. They'll visit cardrooms in Houston, Austin, Midland, Dallas-Fort Worth, College Station, and more, while also visiting various historical places associated with the game of poker (you know Doyle Brunson is from Texas, right?).
This article will be updated regularly with highlights, stories, and images from their adventures, which will include interviewing industry insiders, notable players, and taking photos of the various rooms. Be sure to check back regularly so that you can live vicariously through PokerNews' Texas Road Trip.
Additionally, be sure to follow PokerNews' various social media
Day 6 – Wrapping it Up in H-Town with Prime Social's Final Table
What a week it has been, but all good things must come to an end. On that note, we concluded our trek across the beautiful state of Texas in Houston, where it all began.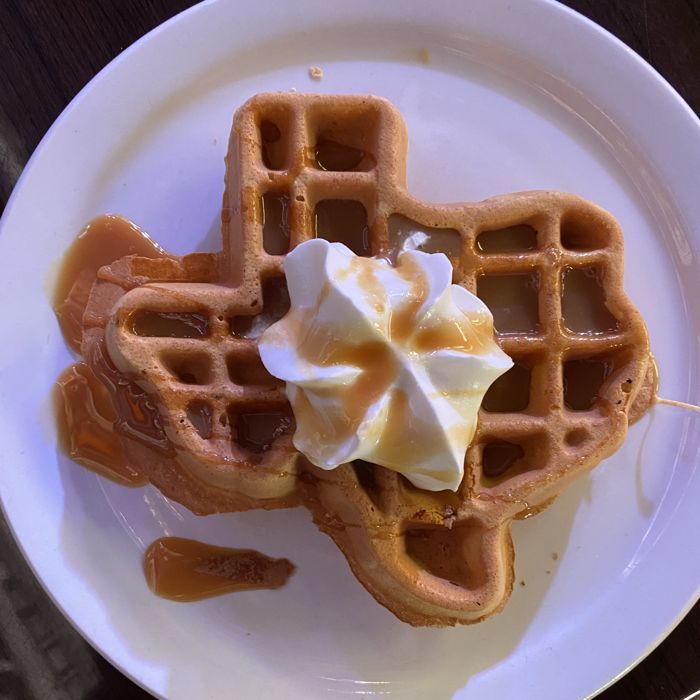 Our day began by meeting up with a familiar local – our very own Sarah Herring — at a cool rock n' roll themed coffee shop where we chowed down on some delicious and healthy (okay, maybe not so much) Texas shaped waffles.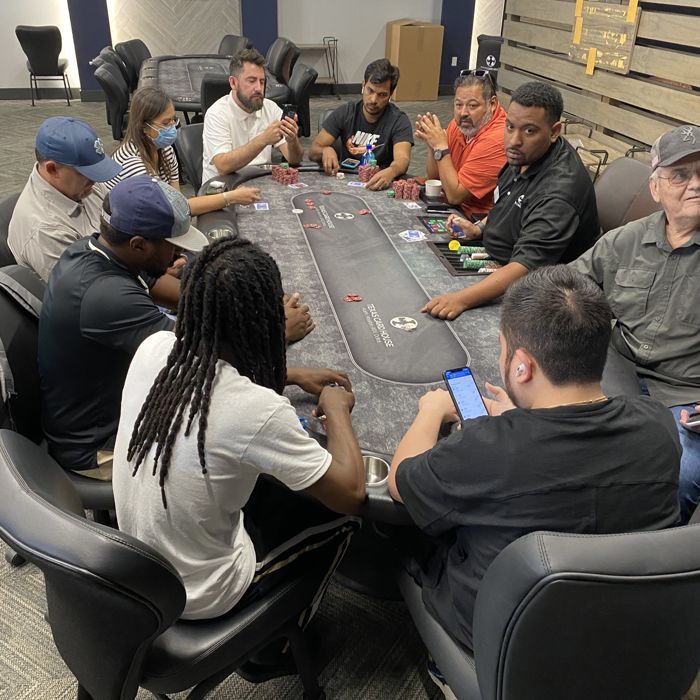 After getting our morning fuel, we stopped at our third Texas Card House of the trip, this one in Houston (they also have a Rio Grande Valley location, but couldn't make it down there). As was the case with the first two TCH's we visited, this room was top-notch and we weren't surprised.
The room was nice and spacious and the staff welcoming. We were pleasantly greeted by the general manager, Alan Ly, who passionately supports Texas poker.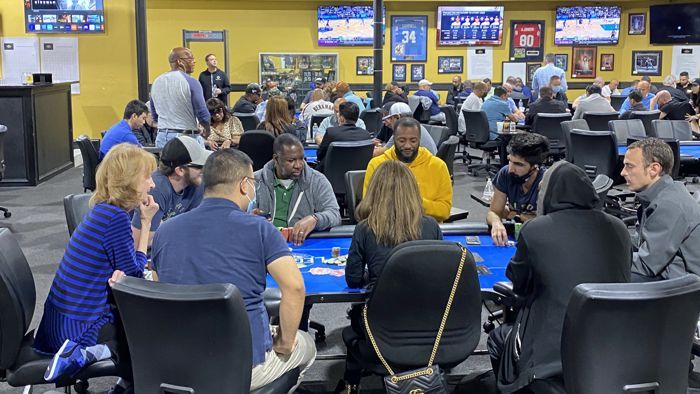 We then headed over to a pair of poker rooms within the same neighborhood. The first was Legends Poker Room, a hotspot for cash game pot-limit Omaha. When we arrived, there were a dozen PLO games running inside the crowded card room.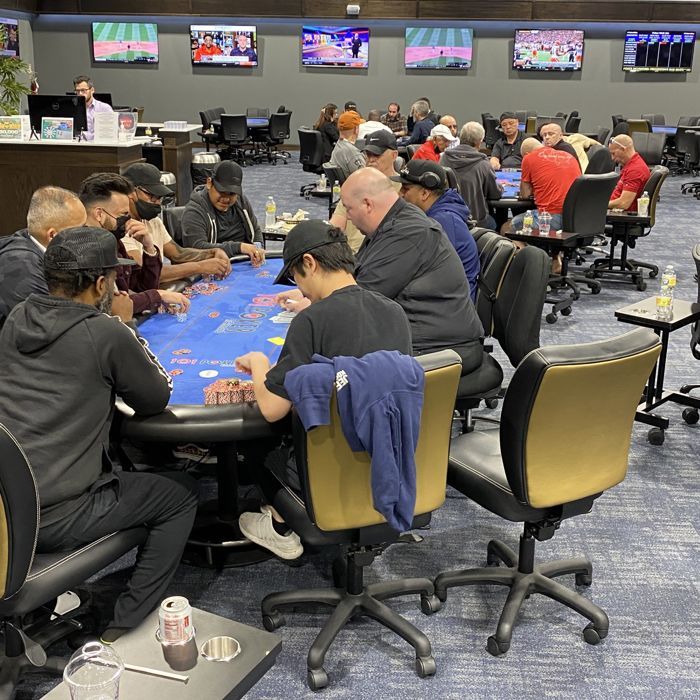 Across the street was a hidden gem, 101 Poker Richmond, previously Johnny Chan's 88 Social. PokerNews interviewed the new owner, Sanjeev Vora, back in December and met up with him at his newly renovated card room.
Our first impression was that the room was massive and clean, and the poker tables looked great with a shiny blue felt. The 101 Richmond location has struggled to compete with nearby Legends for business, but that could change in time with a bit of creative marketing.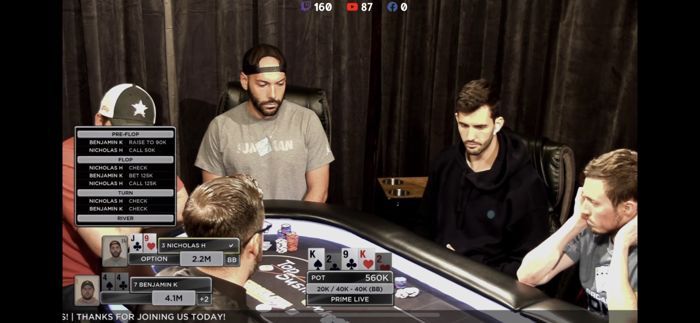 The fourth destination was to Prime Social, the cream of the crop for poker in H-Town. We stopped by to catch an in-person glimpse of the $2 million guaranteed Texas Poker Championship final table. Congrats to James Carroll for his $455,000 victory in the biggest event in Texas poker history.
Prime Social is a classy room with an experienced and professional staff that we could easily tell cares deeply about poker. The room is so beloved that it brings out some high-profile players. We spotted Landon Tice, political polling expert Nate Silver, among others competing in side events.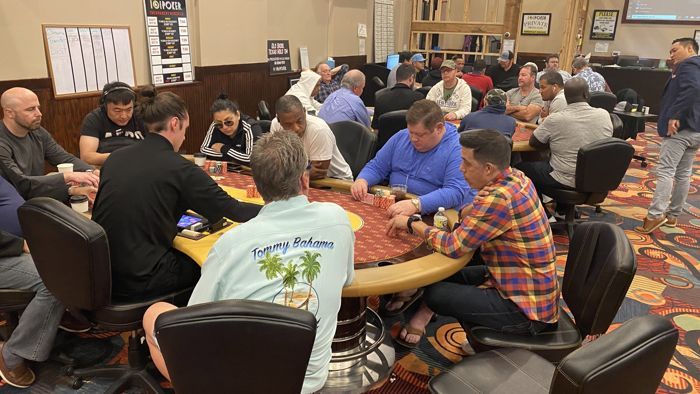 Texas Poker week wrapped up with a visit to the original 101 Poker Club, one last epic room to see before we called it a trip. One of the 101 Poker Club owners, Doug Freiss, couldn't have been any friendlier and more inviting. He even offered to put us into the daily tournament for free, and we would have loved to have taken him up on his offer if not for the crew desperately needing to get some rest before heading to the airport on Wednesday.
As Porky Pig likes to say, that's all folks!
Day 5 - Finding the Gold Standard for Poker Rooms
On Day 5 (March 28), PokerNews' team made our way to Aggieland – College Station. But before we hit the road, we roamed around Dallas finding the best places in town to play some cards. And, to put things bluntly, we were blown away with the quality of the rooms.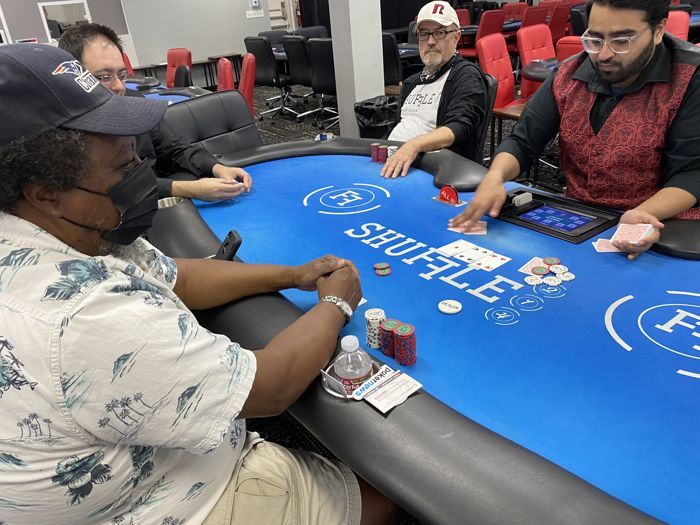 The first spot we discovered was Shuffle 214, a sister property of the Shuffle 512 we visited in Austin. Shuffle 214 is a spacious room with 31 card tables.
The room has plenty of cash games running but is also focused on spreading regular tournaments. It was a great start to the day finding such a high-quality card room in East Dallas.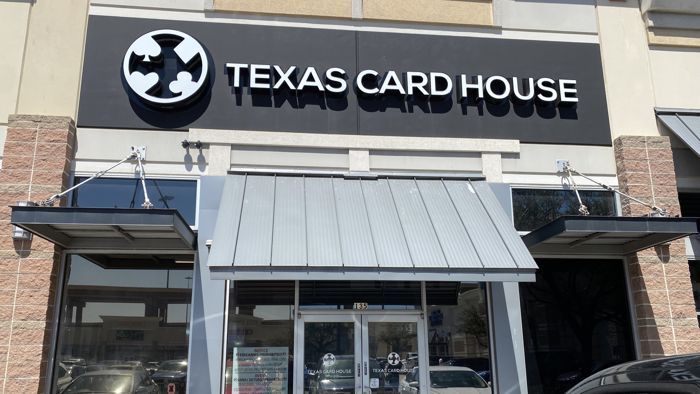 Our second poker club for the day was to Texas Card House, one of the best poker rooms you'll ever encounter. Not only was this place aesthetically pleasing a spacious, it was jam-packed on a Monday afternoon.
TCH Dallas made the news recently for having its Certificate of Occupancy revoked by the city. But CEO Ryan Crow won his appeal with the Board of Adjustments last week, a huge victory for the room and Texas poker in general.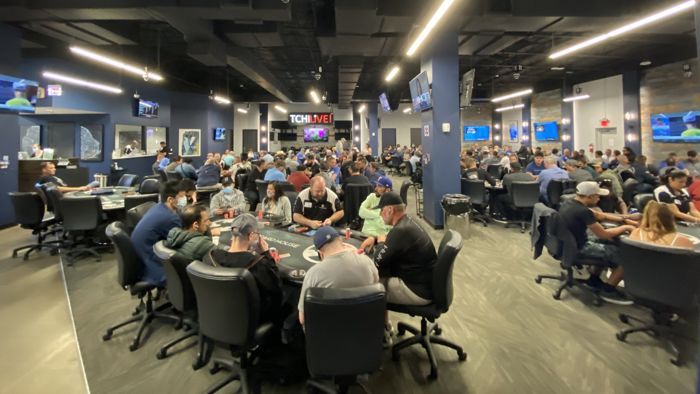 If ever there was a gold standard for poker rooms in Texas, this might be it. Texas Card House, which also operates rooms in three other cities in the state, was gorgeous inside and out.
The final stop in Dallas was to another incredible poker room over at Poker House Dallas. We had already visited their sister property in San Angelo, Roosevelt Club, and this one was even more impressive.
Poker House had stylish tables and a friendly staff that is committed to taking care of customers. The room is perfect for tournaments and cash games.
We were blown away in Dallas and would have loved to stay longer, but we had to hit the road to College Station to spend the evening in one of the best college towns in America (Gig 'em Aggies!).
There were only two rooms in College Station, both small but inviting. The first was Game On Social, which only has three card tables, and the players are a mix of Texas A&M students and retirees.
We first visited the room for a friendly conversation with the owner and his general manager, and then returned later to play in a fun and relaxing cash game.
Texas Ave Social Club was our other destination in College Station, another small but inviting room that had a home game feel. The room also sold sports cards in conjunction with a local sports card shop.
The game running was a low-stakes game, but action-packed. There appeared to be some solid grinders in the game, along with some chill recreational players.
On March 29, we head back to Houston for the Prime Social for the final table of the $2 million guaranteed Main Event.
Day 4 – Visiting Doyle Brunson's Hometown
The fourth day in our trek across the great state of Texas was less focused on visiting poker rooms, and more about getting to know where the most legendary player of all-time came from.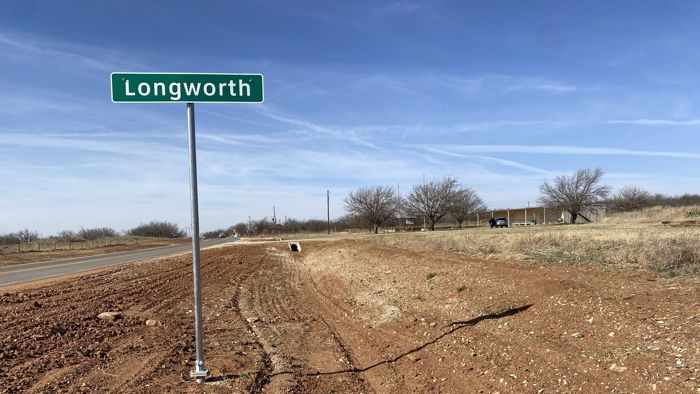 Doyle Brunson was born in Longworth, Texas in 1933. The town was so small if you blink, you'd miss it, but it was a peaceful and scenic spot, and a visit we won't ever forget.
We then drove to Abilene to visit a mall that check out the Big Country Athletic Hall of Fame. Why were we so interested in learning about some Texas sports history? Because Doyle was enshrined in the HOF for his prowess as a college athlete at Hardin-Simmons College.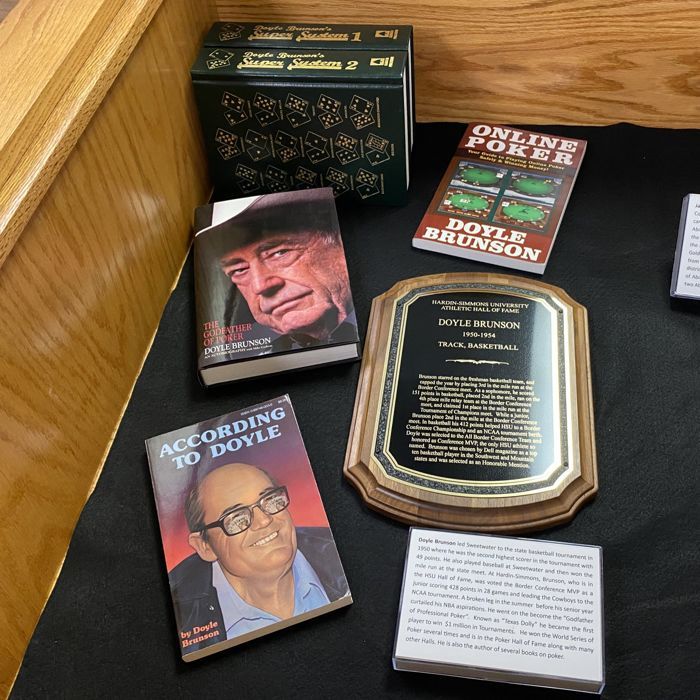 Speaking of that school, we then stopped by for a visit with the college's president, who was gracious enough to show us around the athletic offices. We'll have more on this story in a future feature article, so we don't want to spill the beans, but we can say that it was an honor. We spotted Doyle's Hall of Fame plaque with his name inscribed.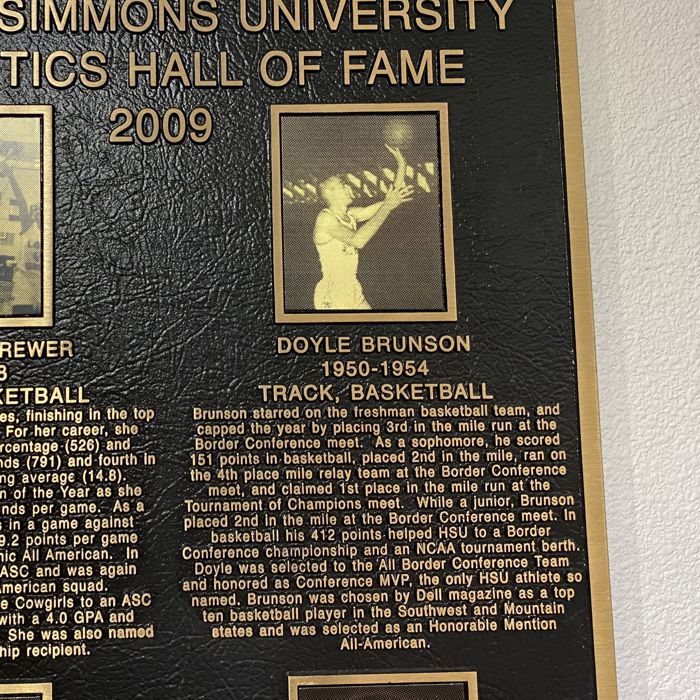 Our only poker room visit was to Watauga (near Fort Worth), more specifically the Watauga Social Lounge. Once again, we were welcomed with open arms by the friendly staff.
Watauga Social Lounge is a nice spacious room with nine tables, but plenty of room to expand if they so choose. We gave out a signed copy of Brunson's Super System 2, a valuable gift to any poker enthusiast.
On Day 5, we'll be driving around Dallas to find all the top poker rooms in town.
On Day 3 (March 26), we discovered that even though the population in West Texas is lighter than the cities we'd previously visited, there are some surprisingly solid poker rooms that you should check out.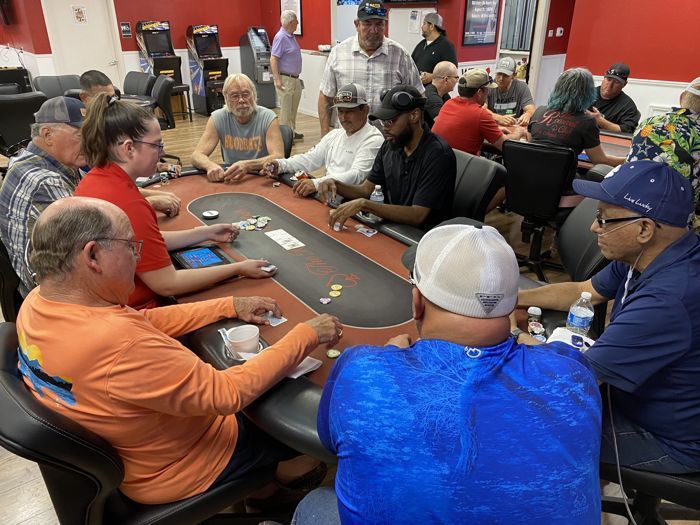 The day began with a stop at San Angelo's Roosevelt Club. Although the room was small, it was modern and packed with some friendly players who were excited to receive some free PokerNews swag.
At the time of arrival, they were hosting their big monthly tournament. We've been collecting $1 chips at every room we visit, and we must say the chips at the Roosevelt Club are among the best.
The second stop of the day was in a town called Odessa. It's a historic town you may have read about or seen in the movie Friday Night Lights (or read the book). High school football in Odessa is king, but poker is also clearly a favorite hobby of the locals who are true blood small-town Texans.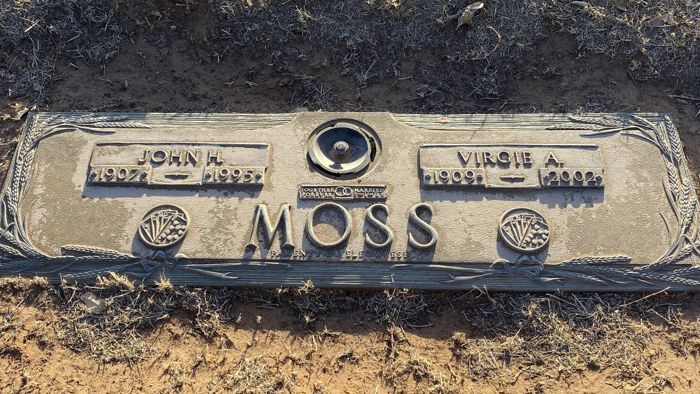 While in Odessa, we paid our respects to another poker legend, Johnny Moss, the inaugural WSOP Main Event champion in 1970. We visited the gravesite of the Poker Hall of Famer for some pics.
We walked into the Celebrity Card Club, another small but really cool place to play poker, and everyone was extremely friendly and welcoming, even though they weren't too familiar with PokerNews. They gave us the grand tour and then sent us on our way.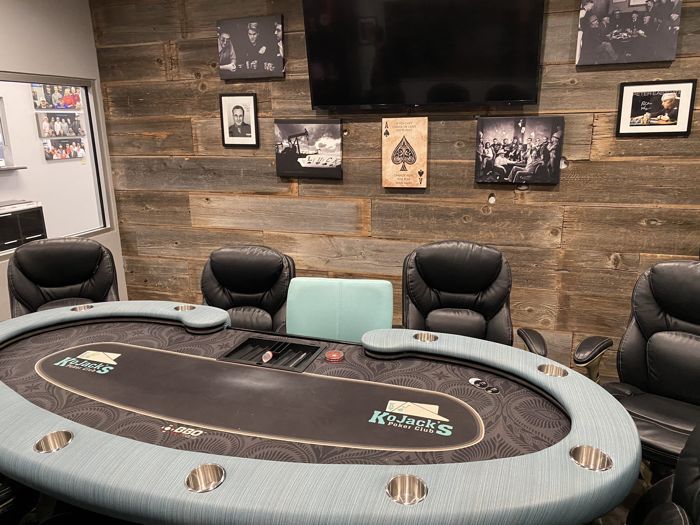 The final poker room visit of the day was to KoJack's Poker Club, a poker room in Midland that has its sights set on doing big things. They have a $200,000 guaranteed series coming up in April and have a regular live-streamed cash game show running on YouTube.
Jesse Fullen, our social media guru, was welcomed into the booth during the Friday night live stream to provide some commentary. KoJack's is run by industry experts with experience building top-notch card rooms.
Day 2: Austin
The PokerNews crew left Houston early morning on March 25 to head to Austin, one of the fastest growing cities in the country. On our Day 2 journey through the Lone Star State's gorgeous capital city, we visited awesome poker rooms, and caught up with Doug Polk, co-owner of The Lodge Card Club. We also visited the gravesite of a poker legend to pay our respects.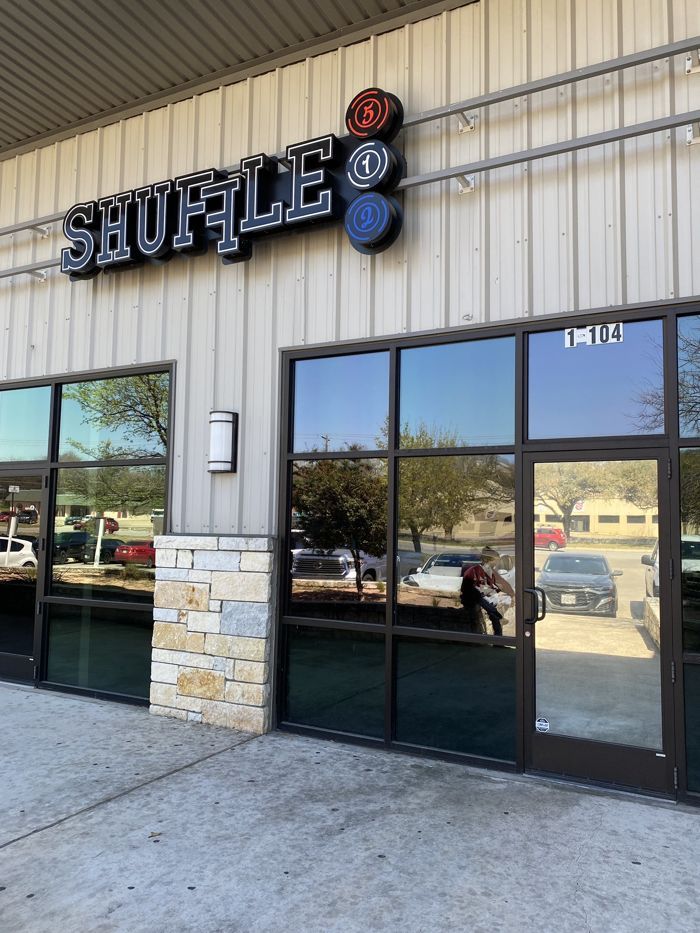 Our first stop was to Shuffle 512, and it was a cool place to start the day. The gorgeous room featured a welcoming staff that graciously showed us around the establishment.
When we arrived shortly after the room opened for the day, they already had two games running. That was the first sign that we were visiting a legit card room built to last. Shuffle 512, unsurprisingly, has been in operation already for four years and clearly has a loyal customer base for reasons that were obvious to us. They offer daily cash games, weekly tournaments, and have a spring poker series coming up soon.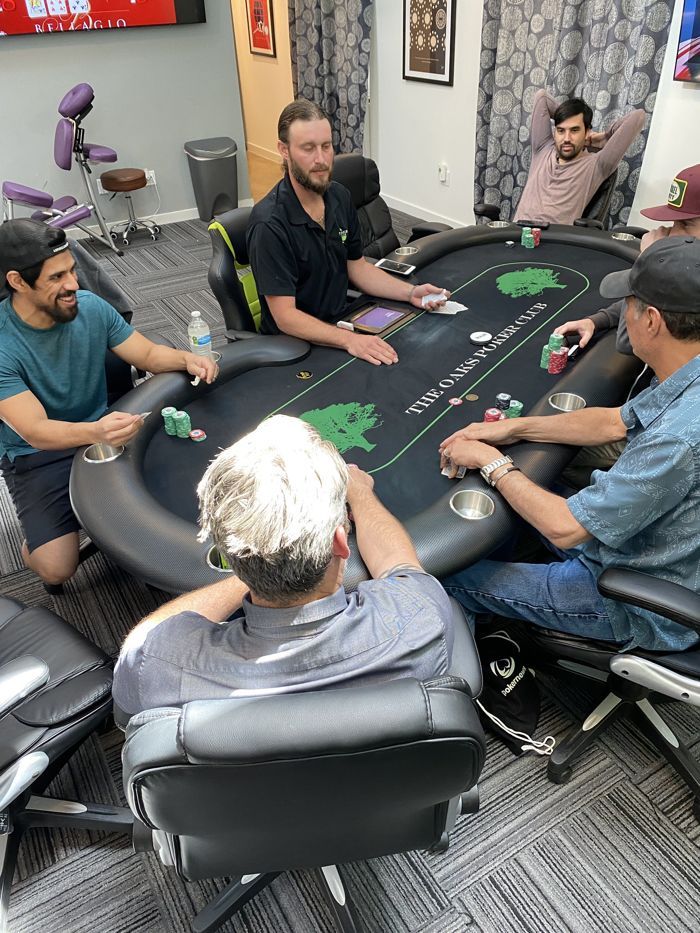 Next up was a drive to visit The Oaks Poker Club in Southwest Austin. If ever there was a poker room that had the perfect home game type setting, it's this one, and that's certainly a positive. The venue itself was unique given it was set up inside a former church.
We arrived early afternoon and they already had a juicy cash game running. The room featured eight tables in a comfortable setting, and the players all seemed to feel right at home.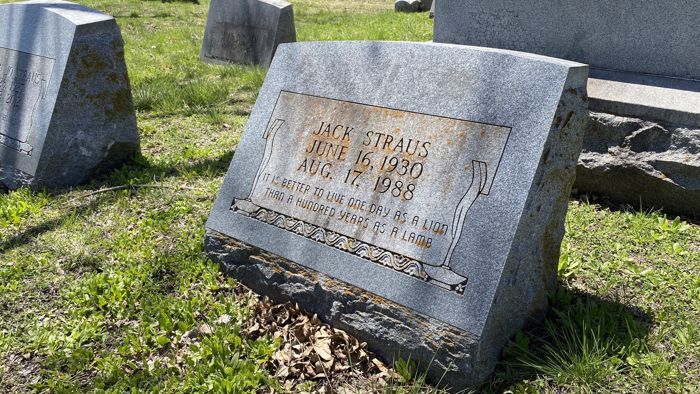 Upon leaving Oaks, we paid a visit to the gravesite of 1982 WSOP Main Event champion Jack "Treetop" Straus, who passed away in 1988. Straus, a Poker Hall of Famer, was an iconic Texas poker pro who famously unintentionally invented the "chip and a chair" phrase. He was down to a single 500 chip in the Main Event and would miraculously come from behind to win. He still is and forever will be missed by the poker world.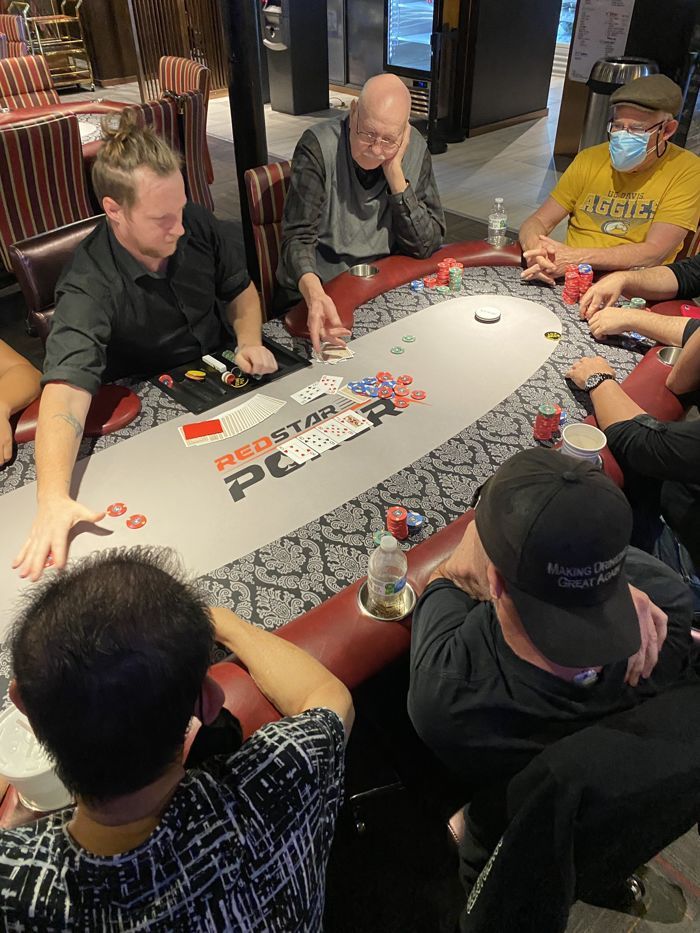 Next up was a visit to a brand-new card room called Red Star Social, and it was a delight. The room was quite luxurious and had a bit of a Las Vegas feel to it.
The staff wasn't just passionate about their room. They're passionate about the game of poker in general, and that's typically what makes for a solid poker room. It was already a luxurious set-up having taken over a former room, but there are plans to do some remodeling in the near future to give Red Star a bit of its own personality. This place is undoubtedly going to take off soon, and we look forward to our next visit to Red Star down the road to witness its growth.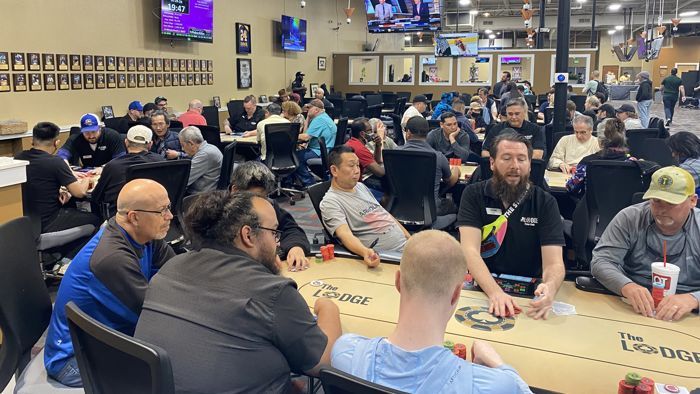 Our travels would next take us to The Lodge Card Club, owned in part by Doug Polk, Brad Owen, and Andrew Neeme. The latter two weren't in town, but we did catch up with the Upswing Poker founder for a nice visit.
When we arrived, Polk was locked into a game of Texas Stand-Up, a new side game that every poker player must try at least once. Here's how it works: Every player at the table stands up, and you can't sit down until you win a pot. If you're the last player standing, you owe everyone else at the table $50 (or more or less, depending on the stakes).
Polk told PokerNews players are incentivized to call light as no one wants to be the last player standing. The game creates action and also a fun atmosphere at the table. The Lodge "Mahal" is the largest room in Texas with over 60 tables, and Polk informed us they're about to add another 30 or so on top.
We arrived early in the evening Friday night and there were already dozens of games running along with a $600 buy-in tournament. The chips were chirping like crickets, a sound one might expect at The Commerce or World Series of Poker. PokerNews will return to The Lodge in May for its $2 million guaranteed Main Event. Make sure you check out our live updates during that monster event.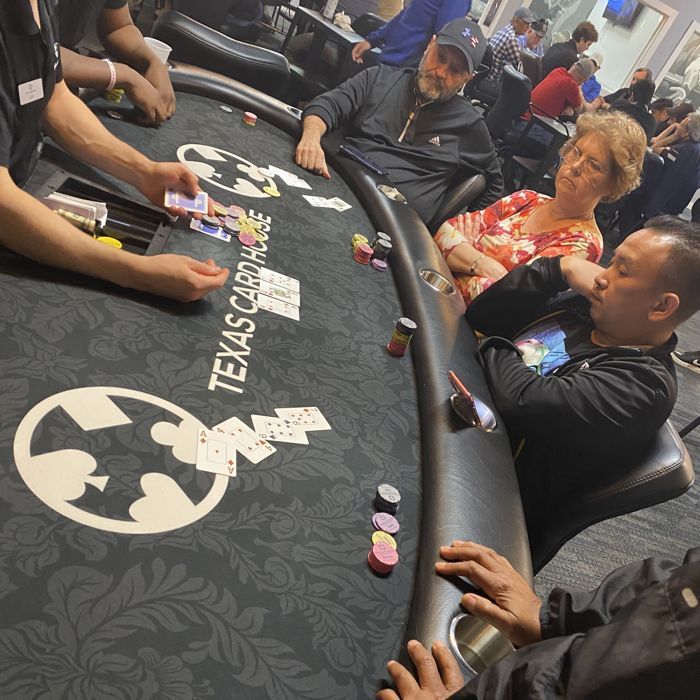 Our final stop for the night was at the Texas Card House (TCH), one of the top poker rooms in the state. TCH operates four locations — Austin, Dallas, Houston, and Rio Grande Valley. You may have seen our recent story on the favorable ruling from the city of Dallas in regards to the room's Certificate of Occupancy.
The TCH in Austin was as impressive as advertised. The PokerNews crew competed in a daily freeroll while we were there but didn't have any luck. Still, we were impressed not only with the atmosphere and quality of games, but also by the quality of the welcoming staff.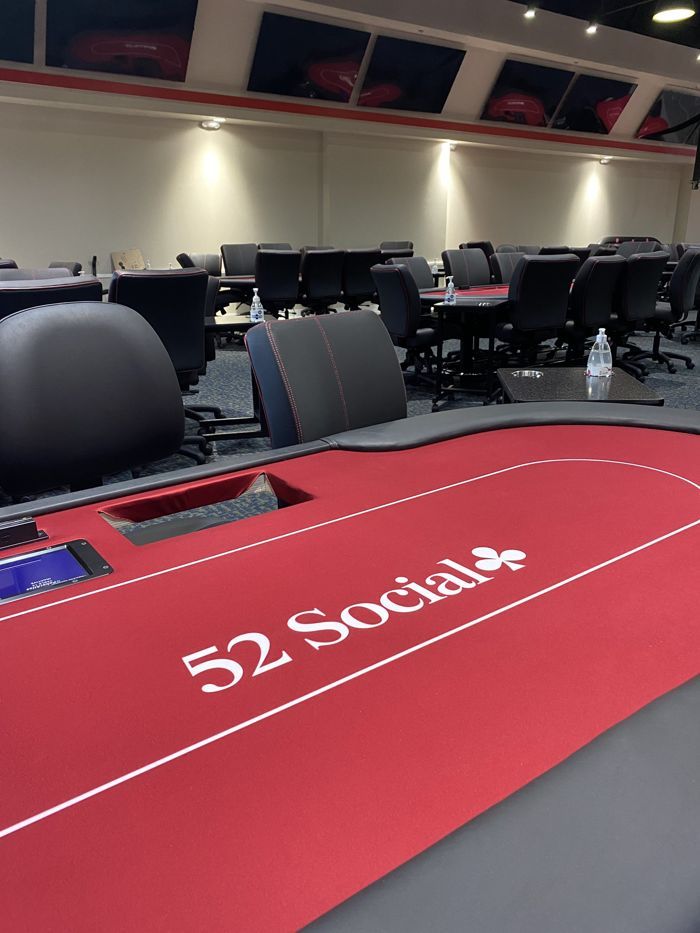 Okay, we lied (kind of). We ran out of time as we had dinner plans Friday night, but we couldn't leave town Saturday morning before stopping by 52 Social. The room hadn't opened for the day but they were still gracious enough to let us come in and tour the place, and we're glad they did.
This room features 28 stylish tables with comfortable chairs in an aesthetically pleasing room. There are televisions, including one big screen, all over the place, so you can watch a ballgame while you're playing poker.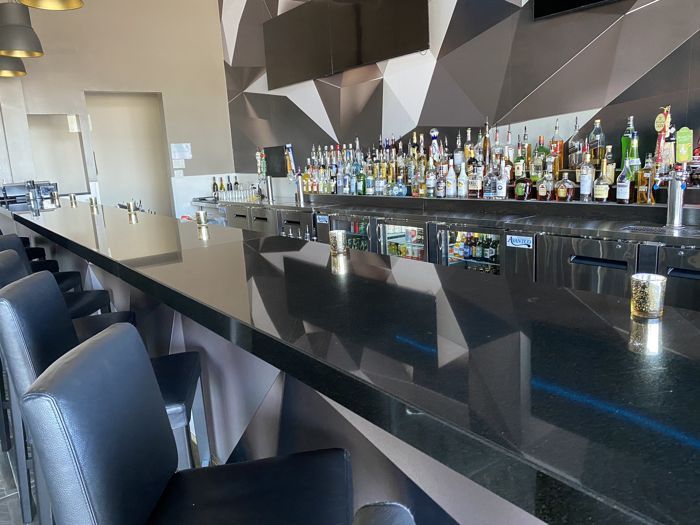 On top of the poker, 52 Social is a unique poker room in that they offer a full-scale kitchen and bar with a patio and plenty of tables. From appetizers, soups and salads to pizza, burgers, and even steak. And the prices are reasonable. Players can earn comps, and the owners told us that some customers only come in for the food and beverage.
But, of course, the bread and butter of 52 Social is the poker. They offer some exciting tournaments and cash games, and are working hard to get the word out around town. It's very close to The Lodge, which means players can experience two of Austin's biggest cardrooms with relative ease.
After departing 52 Social on Saturday, it was off to the middle of the state for, let's say, an off-the-beat-path poker adventure. Stay tuned!
Day 1: Houston
Texas Week kicked off March 24 with the crew flying into Houston to visit the first three card rooms – Spades Poker Room, Gin Mill Card Club, and Empire Poker Club.has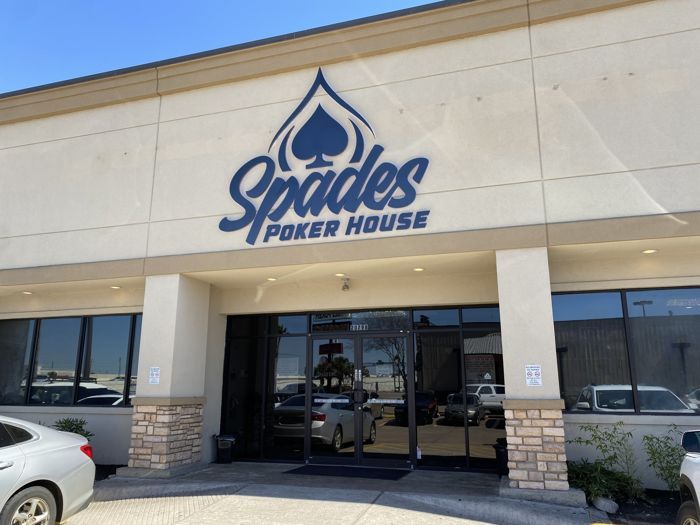 We quickly learned that each room has its own uniqueness. Our first stop was Spades, an established room that had around six games running on a Thursday afternoon, which was quite impressive.
What made Spades stand out was the room's warm, inviting feel and the loyal customer base. The poker room merchandise for sale was also pretty slick.
PokerNews awarded a lucky player in one of the games a Phil Hellmuth-signed playing card via a drawing. As we are doing at every room, we also passed out some PokerNews swag to the staff and players. We were informed by the owners of Spades that they will be opening a new, bigger location soon.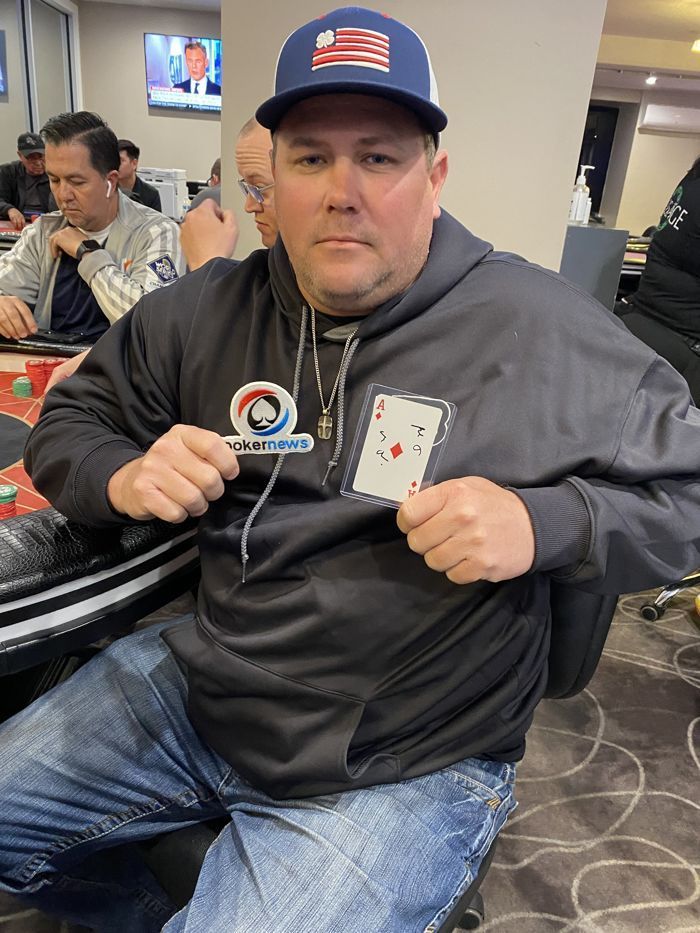 Our next stop was at a brand-new card room called Gin Mill Card Club. Only one game was running at the time, but we have a good feeling about the future of this business.
Gin Mill looks like a old-fashioned Texas saloon had a baby with a modern poker room. If you're in the area, give it a shot because it truly is one of the most unique poker rooms you'll find anywhere.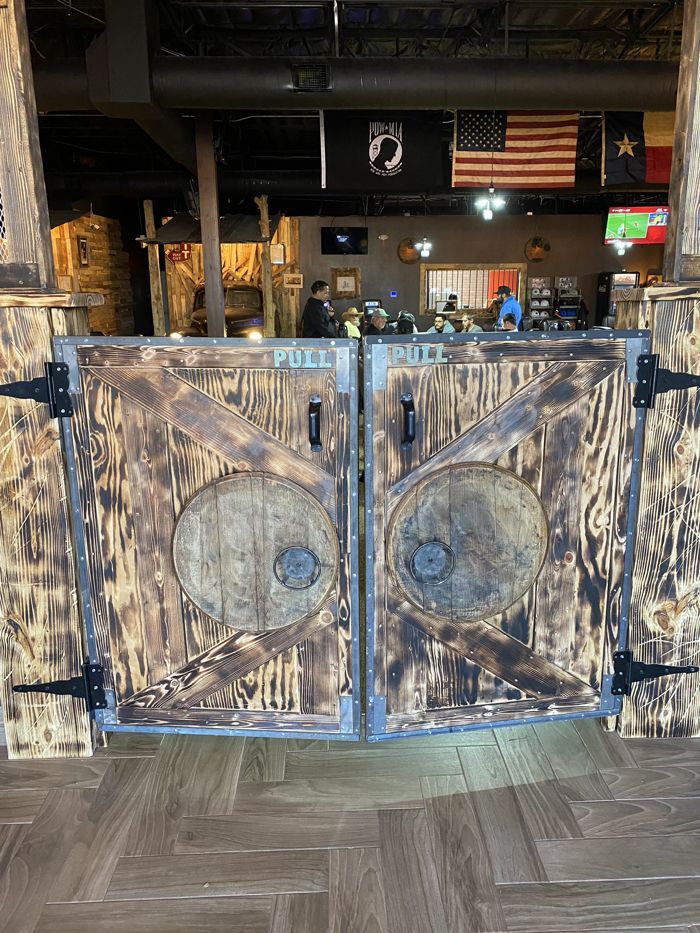 The third and final stop of the day was at the Empire Poker Club in Katy, Texas and it was an enjoyable experience, especially for one member of our group (more on this in a bit).
Empire has a true home game environment, and the games are laid back. Most players seem to know each other, and the owners actively engage with the customers. Players were served a free tasty steak dinner, a nice perk.
We competed in the $40 daily tournament (plus $40 add-on) and our community manager, Jesse Fullen, took it down for $550, beating out 19 players. The daily tournaments are fun and chill, and will only take a few hours out of your day.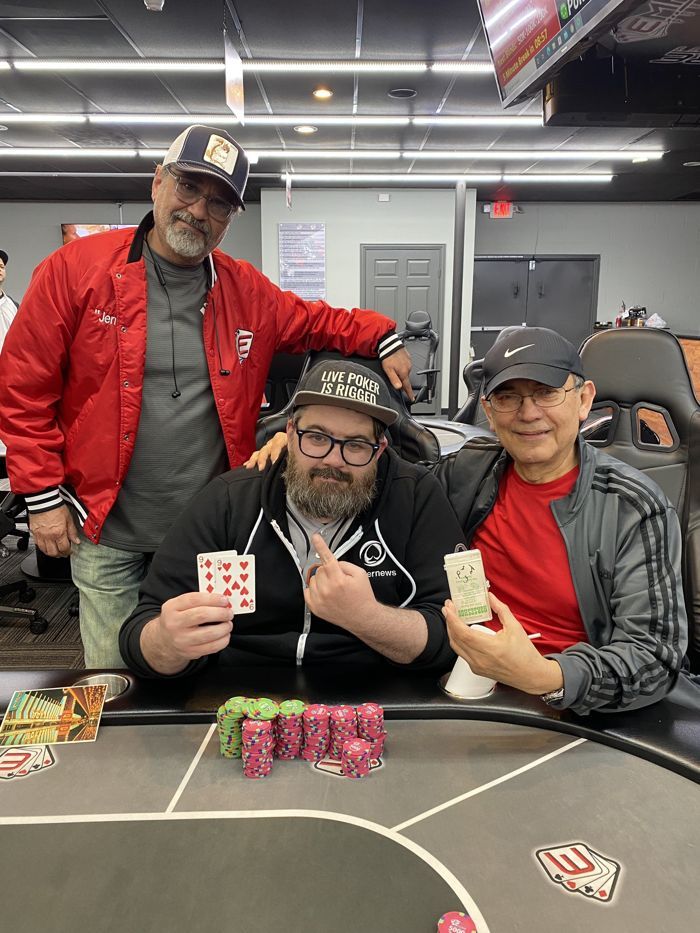 We'll be back in Houston March 29. Our next stop is Austin, Texas on March 25.
--------------------------------------------------------------------------------------
Texas
Online Poker is forbidden
Online Casino is forbidden
Sports Betting is forbidden
In the meantime, check out some of our recent news articles regarding the Texas poker scene:
Remember to refresh this article often as it will be constantly updated with fresh content from the PokerNews Texas Road Trip.
---
Free to Play Slots in the US
Executive Editor US, PokerNews Podcast co-host & 2013 WSOP Bracelet Winner.