Texas Card House Dallas Details
Texas Card House Dallas is one of the top places to play in Texas, and one of the more aesthetically pleasing card rooms in the United States. Part of the TCH brand chain of poker clubs, all in the Lone Star State, the poker room is a premier destination for poker.
In Texas, poker rooms operate a bit differently than in most other states and countries. It is illegal in the state to take rake out of any pot. So, to compensate and function legally, these rooms operate as social clubs, charging membership fees and seat fees instead of rake. Doing so, however, hasn't kept all lawmakers away, as Texas Card House Dallas has learned the hard way (see articles below).
READ: Government Crackdown? Texas Card House in Dallas Loses Permit, Owners Baffled
READ: Texas Card House CEO Taken Aback by Dallas City Threat
Despite the politically motivated attacks on poker clubs around the state, rooms such as TCH Dallas have continued to operate within the wording of the law — (See: Texas Penal Code 47.04).
What makes Texas Card House Dallas such a perfect place to play poker is the action is great and the club is aesthetically pleasing. Poker players also rave about the quality of the dealers and staff, another bonus.
Ryan Crow, CEO of Texas Card House, operates four card rooms in the state — Austin, Dallas, Rio Grande Valley, and Spring. Each club is considered by local players to be among the best places to play poker in town.
Cash Games at Texas Card House Dallas
| Game | Stakes |
| --- | --- |
| Limit Hold'em | $4/$8 |
| NL Hold'em | $1/$2 |
| NL Hold'em | $2/$5 |
| NL Hold'em | $5/$10 |
| NL Hold'em | $25/$50 |
| PL Omaha | $1/$2 |
| PL Omaha | $1/$2/$5 |
| Mixed Limit Dealer's Choice | $1/$2/$5 |
| Mixed Limit Dealer's Choice | $5/$10 |
| Limit Big O Hi-Lo | $1/$2/$5 |
Like any great poker room, TCH Dallas is a prime destination for cash game poker. Series card players in northern Texas and southern Oklahoma travel here to play cards because the action is off the charts. One of the main reasons to play poker in Texas is due to the loose action all across the state, and TCH Dallas is no different.
Throughout most of the day, especially during prime time hours, most or all of the 26 tables are full of various poker games. The most common game is $1/$2 no-limit hold'em, and you'll almost always find at least a handful or more of that game spread just about any hour of the day at Texas Card House Dallas.
You will also find a $2/$5 no-limit hold'em game at all times, typically a few or more games running. Another popular game at TCH Dallas is $1/$2 pot-limit Omaha. There are many other cash games available on a daily basis, or at least most days. That includes $25/$25/$50 NLH, $5/$5 PLO, $1/$2 PLO5 8, and others.
If you've ever watched the TCH Live stream, TCH Dallas' YouTube poker show, you know that the games play bigger than in most other states. Everything in Texas truly is bigger, and poker is no outlier.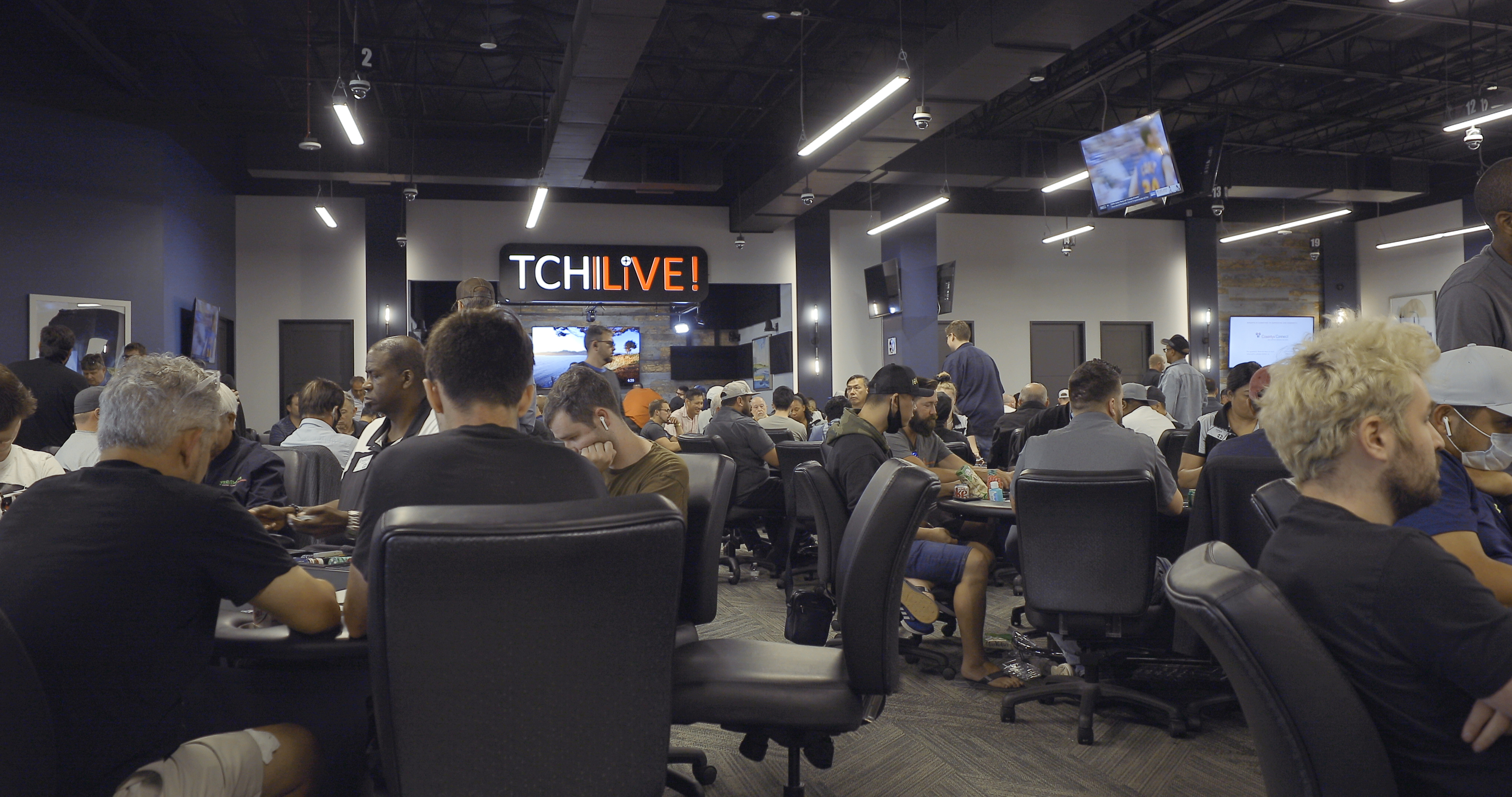 Tournaments at Texas Card House Dallas
Texas Card House Dallas has daily tournaments with some juicy guarantees. Most tournaments are inexpensive and provide excellent value for pros and recreational players alike. The tournament schedule is subject to change, but here is the most recent schedule:
For a full updated list of tournaments, as they change from month to month, make sure you visit the Texas Card House Dallas website. There are always a solid mix of tournaments for players at all bankrolls.
Examples of the events you'll find at TCH Dallas include $130 no-limit hold'em turbo, $200 no-limit hold'em re-entry, $300 pot-limit Omaha Black Chip Bounty, and many more. There are two tournaments on most days — one in the morning and one in the evening. On Fridays, there is usually just one tournament, but again it's always best to check the current schedule at the TCH Dallas website.
Cost of a Membership
Unlike poker rooms in other states, it costs money to enter a poker game in Texas. But don't let that turn you away from playing cards in the Lone Star State. Over the long run, you'll actually pay less or equal to what you do at regular poker rooms in other states and different countries.
Instead of the dealer taking rake out of the pots at TCH Dallas, customers are charged both a club membership and hourly seat fee. The hourly rate to play at the gorgeous card room is $13 and players can purchase as many hours as desired before getting into a game. As for the membership fees, they are charged based on daily ($10), monthly ($30), or annual ($300). If you're a regular player, it's best to just buy your annual membership upfront to save a significant amount of money over the course of a year.
Frequently Asked Questions
Is Texas Card House Dallas a legal poker room?

Yes. Under Texas Penal Code 47.04, poker rooms can operate legally so long as they use the social club business model and don't take rake out of pots.
Where are the other Texas Card Houses?

Austin, Spring, and Rio Grande Valley.
Who is the CEO of Texas Card House?

Ryan Crow.
What is the cash game rake?

None. It is illegal to take rake out of pots in Texas.
How many poker tables does the room have?

26.
Does Texas Card House Dallas offer any other casino games besides poker?

No, only poker.
How much is the hourly seat fee?

$13 per hour.
What is the membership fee to play at Texas Card House Dallas?

$10 for one day, $30 for an entire month, and $300 for the full year.