College Football Picks Explained: How To Bet Smart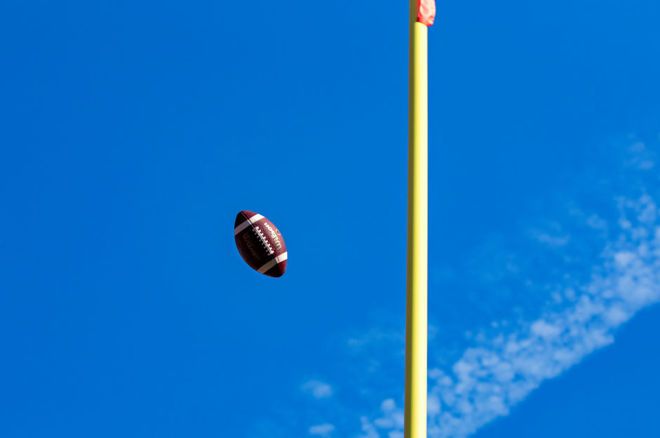 College football is different to any other sport, and is certainly very different to the NFL. It's unique and because of that, you need to be prepared with specialist information if you want to win as a bettor. We're going to show you how to find the best college football picks, and how to win at betting college football.
The main difference, aside from on-field rules, between college football and the NFL is that the NCAA system has so many more teams. In the NFL, across both conferences, there are 32 teams, whereas in college football there are 130 teams. This inevitably means that it's almost impossible to keep abreast of all the best players in all the college football teams. We told you in the article about how to find the best NFL picks that the best way of getting to know how to win at football betting was to become an expert yourself in the teams and players, but in college football this is a tougher ask.
There are other differences too. Players in college football only generally stick around for a maximum of four years, because that's the length of time they're in college; after that, for the most talented few, there's the chance to graduate to the NFL, but for fans looking to make great college football predictions, it all means there's a need to stay up-to-date on a constantly shifting pool of players, for more colleges than even the biggest sports aficionado could ever claim to know all about.
What does this all mean? It means that as a bettor, it's preferable to focus your college football picks on a number of colleges for which you find it easy to watch the games, on TV or online, and to focus on their performances. Given the time differences in the United States, it's again better to focus on games in your time zone.
Where can I find the best college football odds?
FOX Bet is one site where beginners at sports betting should go. This is because of the way it's laid-out, as it's clear and allows easy navigation to ensure the best bets are easy to find.
You may also want to check out BetAmerica - they've got excellent odds and picks, plus in-depth analysis on the players and teams to watch when you're setting up your wagers for the weekend.
BetMGM is another site with great college football odds, and it's perfect for those quick bets, with all the information laid-out in a way that makes it a cinch to find.
You can look around for odds on these sites using Oddschecker, your one-stop shop for the best bets and picks for college football, whatever your level of betting expertise.
Should I be betting against the spread?
Betting against the spread refers to when a bettor puts a bet on teams winning or losing by more than a specific margin. As an example, if you're planning on watching the annual Army-Navy game, and you place a bet on the Army with a spread of -8, that means that Army starts the game with a points deficit of 8 points. As such, to get a payout on that bet, you'd need the Army to beat the Navy by a margin of 9 points or greater.
Why is betting against the spread interesting? It spices up games that might have an imbalance. For example, when a college is on a long, long losing streak, you can still place bets and have fun with games involving them, by betting that teams either will, or will not, beat them by a certain margin. Betting against the spread, then, is a useful way of making college football picks.
Is it possible to win betting on college football?
It is, but you need to take care to watch the scene carefully. Here are some tips for winning on college football bets.
Be neutral - bet like an expert, not a fan
Don't be afraid to bet against the spread in mismatched games
Always watch the games you've bet on
Daily fantasy sports can give you another factor to think about
Stick to teams you know enough about to make authoritative bets
Remember that college football rosters change far faster than those of the NFL because of the naturally limited tenure of college players. This means you've got many more variables to take into account with college football. Add to that the relatively small margins between success and failure in the NFL, and the more open nature of college football, and you can see how to win bets on college football. You need to stay really sharp on the vagaries of form, and the trends that teams and players go through.
If you love college football betting but want something more, why not try daily fantasy sports? If you really know your college football players, picking a fantasy team of the guys you expect to make the difference in the next match might be the thing to do. Both FanDuel and DraftKings are easy to join and easy to use as a beginner or a college football expert.
Why is it important to watch the games you're betting on?
Because you'll learn far more from watching than you will from merely listening to or reading the expert picks from college football pundits. It's also much easier to bet on something you're a fan of, as it makes it easier to get to know and understand the sport.
Another thing: don't bet like a fan, bet like a college football expert, and make expert picks. This means taking out of the equation any support you might have for one side or another, and instead looking at the facts and stats of a game, not getting upset if "your" player doesn't have a great performance, but instead assessing his overall contribution to the team's performance.
This approach counts double in daily fantasy sports. DraftKings and FanDuel both have excellent sites that offer all sizes and kinds of leagues for people who want to test their college football picks against other players. Remember for fantasy sports you're picking players you think will achieve a positive outcome in a game day, rather than whole teams, and so it's crucial you know those players' facts, stats, and numerical accomplishments up until that point, so you can pick the guys for your team who will make the difference.
Always make sure you know enough about the sport you're betting on to be able to place your bets with authority. If you win, you can thank yourself for doing the groundwork, but if not, there'll be no temptation to blame the pundits - it's got to be your responsibility whether you win or lose, because that's sports betting.
Important overall highest CFB win percentages to note:
| | |
| --- | --- |
| Team | Percentage |
| Boise State | .732 |
| Ohio State | .730 |
| Michigan | .730 |
| Notre Dame | .727 |
| Alabama | .727 |
| Oklahoma | .726 |
| Texas | .704 |
| USC | .699 |
| Nebraska | .690 |
| Penn State | .689 |
Data correct and available at time of publishing 12/02/2019.