20 Rounds Part IV: Yakovenko's Step-by-Step Strategy Guide for Pineapple OFC Poker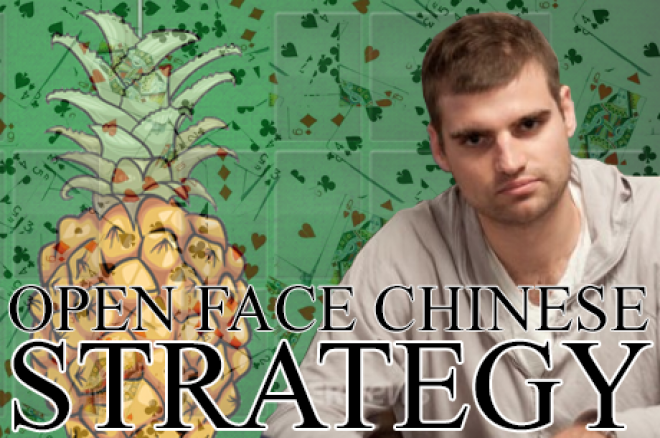 Open-face Chinese has become one of the most popular games in poker. Top pros like Jason Mercier, Barry Greenstein and Shaun Deeb have become unofficial ambassadors for the game, while dozens of other pros can be found playing the game either late into the night or on their tablets. One of those players is Nikolai Yakovenko, who helped create the ABC Open-Face Chinese Poker iPhone app.
Yakovenko, also known as "Googles," is originally from Moscow, Russia and is now a poker player and software developer that resides in Brooklyn, New York. After several years at Google New York working on ranking algorithms, he's been developing independent software projects ever since while making both World Series of Poker and World Poker Tour final tables. Here Yakovenko, who has $313,598 in WSOP earnings, walks you through 20 rounds of pineapple OFC (which he actually played) and offers strategy and his thought processes throughout. This is the fourth piece in a series of articles that will run every Tuesday and Thursday on PokerNews
To catch up on the action, and to learn how these articles are formatted, check out the first three pieces in the series:
For more on Yakovenko, check out the recent in-depth interview he did with PokerNews.
Round 644 (button) – No More Backing Down
This time there aren't any questions. The small pair going middle and king goes top. Let's do this!
1.
/
/
,
/
/
I'll be the first to admit that my computer AI goes gaga for straight flushes, and when those don't come in, it can look a pretty silly. Then again it doesn't help that we are drawing many of the cards that the computer needs.
1.
/
/
,
/
/

2.
/
(
)/
/[?],
/
/
/
With the bottom hand so far from making anything likely to beat two pair in the middle, the computer wisely backs off from Fantasyland.
We, on the other hand, jump in it.
1.
/
/
,
/
/

2.
/
(
)/
/[?],
/
(
)/
(
)/

3.
/
/
(
)/[?],
/
/
/
Sure, the
that we really want is dead, and with the computer's discards, possibly other hearts as well. But we can also qualify with two live tens, two live sevens, as well as those straight and flush draws.
In order for two of clubs in the middle to be better than making trips there, we'd need to pair the deuce or trey AND make exactly two pair on the bottom. Otherwise, we either make it, we don't make it, or worse yet, we make it with trips in the middle, but don't make it otherwise.
In short, sometimes it's easier just to go for it, and you can do a lot worse than having a straight flush draw on the bottom. Even if the actual straight flush card is dead.
This is a tough one.
1.
/
/
,
/
/

2.
/
(
)/
/[?],
/
(
)/
(
)/

3.
/
/
(
)/[?],
(
)/
(
)/
/

4.
(
)/
/
/[?],
/
/
/
Normally it wouldn't be tough, as it's likely that our opponent threw away a ten by now, in which case I'd much rather draw two cards for a straight or a flush.
As a simple rule, your odds of pulling a one-outer with one Pineapple round to go are about 10%. So if both tens are live, we have about 20% odds to get there on the last round. If one ten is dead, then it's 10%. At that point, we're better off playing the jack-bottom and hoping for one of two nines.
Flush odds are harder to estimate, since we need two cards out of three. But if there are seven hearts left, our odds of getting two hearts on the last draw are also just under 10%. To say nothing of the odds of hitting
or a straight on the last draw.
Therefore, if we knew that both of our tens were live, we'd pair the bottom, but since we don't know, it's better to keep the bottom open, and try to pull two lucky cards rather than one.
1.
/
/
,
/
/

2.
/
(
)/
/[?],
/
(
)/
(
)/

3.
/
/
(
)/[?],
(
)/
(
)/
/

4.
(
)/
/
/[?],
(
)/
(
)/
/
And, for the fourth hand in a row, our decision doesn't pay off.
1.
/
/
,
/
/

2.
/
(
)/
/[?],
/
(
)/
(
)/

3.
/
/
(
)/[?],
(
)/
(
)/
/

4.
(
)/
/
/[?],
(
)/
(
)/
/

5.
/
(
)/
(
)/[?],
/
/
/
For cases like these, I'm thinking of adding a feature in the ABC Open Face Chinese app that lets you see the computer's discards after a hand it over.
Early in the hand, the computer would have played a
or
on his bottom, so it's a fair guess that neither of these cards were discarded, but we have no way of knowing if that
we pulled last card was the case ten or not. As it turned out, that was the difference between leaving the bottom open, or pairing the ten on the penultimate draw.
All of this said, we definitely played this hand the right way. It's usually a strong play to go for big hands, and to keep the bottom as flexible as possible, with a three-card straight flush being a very strong play. OFC isn't gin rummy. Even Stu Unger couldn't know for sure whether the computer discarded a ten or not.
However, had he lived to try it, I'm sure that Stu would have loved Open Face.
Round 645 (first to act) – Cruise Control
After all of those long and stressful rounds, it's time for a simple hand. No reason to over-think this one. No reason to play sixes the middle, as we can't pair them with a straight flush draw on the bottom.
1. /
/
,
Which is exactly what the computer gets, so he plays the middle pair.
1. /
/
, /
/

2. /
/
/
,
Since we don't have a chance for a middle straight, we play the two lives cards in the middle instead. Our goal is to make straight/two pair, and have a chance for big cards up top for Fantasyland.
The computer reminds us that the purpose of straight flush draws on the bottom isn't to make straight flush, but to have flexibility early in the hand.
Our play is easy.
1. /
/
, /
/

2. /
(
)/
/
, /
/
(
)/[?]
3. /
(
)/
(
)/
Our opponent makes his flush, but we catch a live queen.
1. /
/
, /
/

2. /
(
)/
/
, /
/
(
)/[?]
3. /
(
)/
(
)/
, /
(
)/
(
)/[?]
4. (
)/
/
/
We never had a chance at Fantasyland. Meanwhile, our opponent is backing into one heck of a hand…
And he drills it. Unbelieveable!
We're reeling, down -55 points over the last five rounds, and it could have been worse had the computer made bigger hands in Fantasyland.
Sometimes, that's just how it goes. Hand-to-hand variance in OFC is high, and most short-term results come down to luck, not skill. That said, in four of the five rounds, we had crucial decisions, or crucial decisions in retrospect, that made the difference between Fantasyland and ordinary land. All of these decisions were close, and on some of them, I'm sure future computer analysis would suggest that I made the wrong play.
After the break, we come back in what wrestlers call the "referee's position." Our opponent is in Fantasyland, but it only takes one lucky break to turn this match around.
Check back on Tuesday for even more great Pineapple OFC strategy as Yakovenko's match continues.
Get all the latest PokerNews updates on your social media outlets. Follow us on Twitter and find us both Facebook and Google+!