Advice From Two New WSOP Circuit Winners Who Work in Poker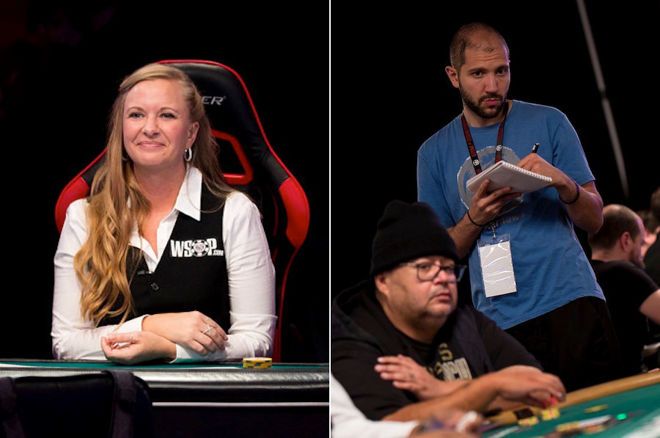 Last month, two individuals captured their first World Series of Poker Circuit rings, both in Indiana. The first piece of hardware was won by Heather Alcorn in the $1,700 buy-in Main Event at the Horseshoe Southern Indiana, while the other was won by Mo Nuwwarah in the $600 preliminary H.O.R.S.E. event at Horseshoe Hammond.
While both Alcorn and Nuwwarrah spend the majority of their day jobs near a poker table, neither are professional poker players. Each has direct involvement with professional poker players, which has helped improve their game and ultimately helped lead to their recent victories. Alcorn is a professional poker dealer, who among her experience has dealt at the WSOP Main Event final table each of the last five years, while Nuwwarah is an editor/reporter for PokerNews.
Both Alcorn and Nuwwarah began their involvement in the world of poker as players. However, each chose a unique path leading to their respective careers. Alcorn was playing poker with a friend, when she was offered a free cruise if she would deal. Her interest having been piqued, she decided to take a chance. As she became more comfortable dealing on cruises, Alcorn began to ask fellow dealers about dealing on the circuit, including at the WSOP, and the rest is history.
As for Nuwwarah, the Omaha, Nebraska native was grinding poker online and at his home casino at Horseshoe Council Bluffs. However, after earning a major in journalism at the University of Nebraska-Omaha he saw a job posting with PokerNews, and after a little persistence he finally got an opportunity to report for PN at the 2013 WSOP.
Since both of these recent WSOP circuit ring winners have had countless hours watching hand after hand of poker, I decided to ask them for some words of wisdom based on their day job and also as a player.
Advice Based on Their Day Job
Alcorn has spent hours and hours dealing to some of the best players in the world and on the biggest stages in poker. The biggest skill she has developed from watching these players is her ability to read her opponents.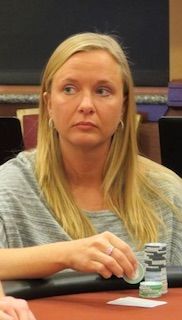 "One advantage of getting to watch these players all the time is practicing my reading ability," she explains. "I utilize all the information from their emotions, reactions, and tells, then I mentally try to guess what hand they may have and see if I'm right. I have always done this, but as I continue to deal year after year, I pick up on more and feel more comfortable making a critical read when I play."
Nuwwarah has also watched thousands of hours of poker as a live tournament reporter. The one piece of advice that he has incorporated into his own game is observation.
"The amount of information you can get from playing live poker is so much more than online," says Nuwwarah. "You can look at every showdown, observe every player while they are playing the hand and truly adjust to every individual opponent based on the information you gain by observing. You can collect a lot of information, but you have to pay attention."
"I see players often going on auto-pilot and not being dialed in at the table, especially when they are not in the hand," Nuwwarah continues. "By eliminating those distractions and focusing more on what is going on at the table, they would probably improve their game immensely."
Advice as a Player
Alcorn doesn't get to play very often with her busy dealing schedule, but when she does she realizes that she must have both patience and persistence, while also finding a way of dealing with the highs and lows of tournament poker.
"As a player, the biggest key is patience," Alcorn says. "This characteristic really defines a true poker player in my opinion. Additionally, you have to have a certain amount of persistence as well. I have watched players struggle over and over again and finally, they hit a big one. And then, they get back on the grind and do it all over again. It is not normal for you to hop into one event and win it. If this is what you are expecting, you will be very disappointed."
"Additionally, you have to be able to deal with the highs and lows of tournament poker," she adds. "You need to learn how to lose and learn how to win, and deal with everything in between. You have to remember that you are not going to win them all and you can play great, but still not have success."
Nuwwarah believes it was crucial for him to find a network of players with whom to discuss poker hands and help him handle the inevitable swings in poker. During the recent WSOP Horseshoe Hammond series, he roomed with several top circuit grinders, including 10-time WSOP Circuit ring winner Josh Reichard (who as it happened also captured a ring on the same day as Nuwwarah), four-time winner Mark Fink, and two-time winner Chris Conrad.
"My advice would be find some players that you enjoy hanging out with and eventually become involved in somewhat of a poker community," suggests Nuwwarah. "From these players, you can not only learn poker from them, but they can also help you deal with the ups and downs of poker. Ideally, you want to find players who have a little more experience and skill than you. You want to talk poker with players who are having repeated success in the tournaments that you are playing in, not players who are well beyond your skill level or buy-in amount."
For the future, Alcorn will be using all of his advice while preparing for the 2019 Global Casino Championship. She won a seat into this WSOP bracelet event for winning the Main Event at Horseshoe Southern Indiana. As for Nuwwarah, he plans to continue playing on the WSOP Circuit when his busy schedule permits and possibly earn his own seat into the Global Casino Championship. However, he is also excited to play in more mixed cash games across the country.
Both provide useful and inspiring examples of how it is possible to improve our games not just by playing, but by observing others play as well.