Alec Torelli's "Hand of the Day": "Playing the Player" on Poker Night in America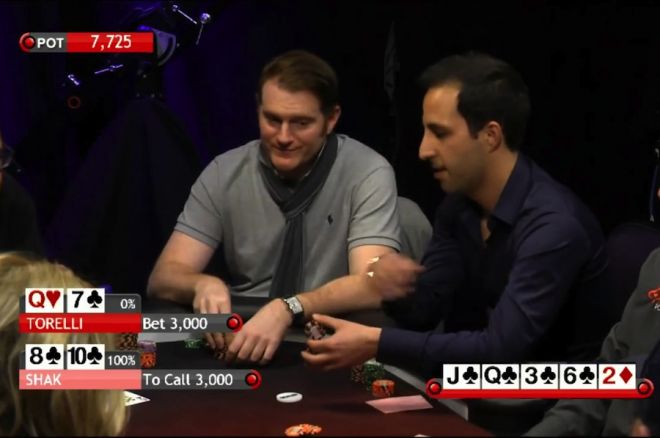 Alec Torelli is a poker professional originally from California, but travels the world full time with his wife, Ambra. Torelli has over $1.5 million in live tournament earnings (including two World Series of Poker final tables and two World Poker Tour final tables) as well as over $500,000 in online tournament earnings. Outside of poker he and his wife manage a million-dollar online business which travels the world with them.
In Torelli's "Hand of the Day" series he analyzes hands played by him and submitted to him by others. Today he considers a tricky hand sent by reader playing in a deep-stacked, turbo event who flops a huge draw against multiple opponents.
* * * * *
Playing your opponent is the key to being successful in no-limit hold'em. The next time you think otherwise, just remember this quote from Doyle Brunson:
Poker is a game of people. That's the most important lesson you should learn… People… and the strategy you use against them. More than any other game, poker depends on your understanding your opponent.
Too often do we get preoccupied with our own two cards. I see it time and time again — people get married to the absolute strength of their hand with no regard for what their opponents are holding.
This idea of "playing the player" has become well known, but it's lacking one key element — it's often only applied when we are on "defense," so to speak. In other words, the vast majority of the poker community only interprets this advice to mean they should fold big hands when their opponents could have them beat.
But that's only half the battle. What about when your opponents are weak, and you can represent the monster? In other words, there are other ways to "play the player" (rather than just your own hand).
For an example of what I'm talking about, heck out this new "Hand of the Day" video focusing on a hand I played on Poker Night in America at the SugarHouse Casino in Philadelphia:
You get it? Based on how my opponents played the hand, I know that neither of them (almost never) have the nuts. Meanwhile I can easily represent it, which puts them in a really precarious spot.
Here's my exercise for you. Try to implement this strategy into your own game to make yourself tougher to play against and put your opponents to the test.
You can start by answering these questions to find ways to improve:
Are you playing the player or playing your hand?
Recall a few tricky hands which you played and see if there was anything different which you could have done to outwit your opponents. Now develop a game plan which you will use to face your three most frequently-faced or difficult opponents.
Before you make decisions at the poker table, ask yourself what hands you're trying to represent and how your opponent will likely respond to a given action you wish to take.
Also, always be asking yourself (with regard to all of your actions) — what am I trying to accomplish?
Use these strategies to help you play the player instead of the hand and watch as you begin to crush the competition.
You dig this stuff? Be sure to subscribe and stay tuned for updates and new hands.
Now it's your turn to share. Leave a comment and let me know your favorite example of a time when you played the player!
Thanks for sharing.
~Alec
Want to be featured on future episodes of "Hand of the Day"? Simply submit your hands to Alec here.
Follow Alec Torelli on Twitter, Instagram, through Facebook, or via his popular blog.
Get all the latest PokerNews updates on your social media outlets. Follow us on Twitter and find us on both Facebook and Google+!