Bankroll Builders, Vol. 12: Double or Nothing SNGs, Part 1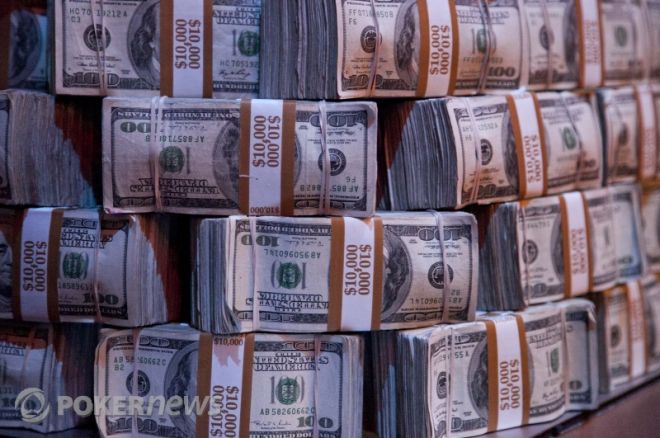 Double down. Bet it all on black. Flip a coin. What if we told you there was a way to gain an edge on a 50/50 proposition and all it took was a nice helping of patience and some diligent table selection? Meet the double-or-nothing sit-n-go. There is no pay ladder, no money jumps to sweat, only the bubble. If you're an online poker beginner or seriously short on funds, the double or nothing SNG is a low-variance way to get your feet wet and grind out a workable bankroll at the same time.
What is a double-or-nothing SNG?
A double-or-nothing or "DON" sit-n-go is a ten-handed, single-table tournament in which the top 50 percent of the field wins double their buy-in (less the rake) while the bottom half of the field goes home empty-handed. For example, in a $10.80 buy-in double or nothing, the top five players earn $20.00 apiece and sixth through tenth places leave with nothing.
Where can I play?
PokerStars has by far the widest variety of double-or-nothing tournaments and its massive player base ensures that it will fill up quickly. Here's a sampling of the buy-in levels offered:
Standard-speed DONs: $1+0.15, $5+0.40, $10+0.80, $20+1.60, $50+4
Turbo DONs: $1+0.10, $5+0.20, $10+0.40, $20+0.80, $50+2,
How much do I need?
A 40 buy-in bankroll will give most players only a very small probability of ever going broke. If you're comfortable with making another deposit, relax those requirements to 20 or 25 buy-ins. If you have less than $50 in your account, play the $1 games until you hit the $200 mark. Then, graduate to the $5 games. Once you hit a bankroll of $400 to $425, start moving up to the $10 games.
I know you're going to tell me to multitable. But how many is too many? And how do I adjust my bankroll requirements?
It's imperative to multitable double-or-nothing SNGs. Although the variance is smaller in DONs, the payouts are smaller, your overall edge is smaller, and it will take a higher volume of games to build up that bankroll. The good news is that you'll be able to play more DON tables comfortably than regular SNGs. Because the tournament ends with five players remaining, there is far less short-handed play involved, and you'll have more lag time between hands. If you typically four-table regular SNGs, try six-tabling the DONs.
Another rule of thumb I've adopted (thanks for the most part to the fine folks at Time Warner Cable) is to never have more than 10 percent of my bankroll in play at any given time. That way, if there happens to be a major disruption to my session (internet outage, computer failure, alien invasion) I won't lose more than 10 percent of my bankroll.
Should I play standard speed or turbo SNGs?
Although this comes down to personal preference, consider the rake, the number of tables you play at once, and your hourly rate when choosing between standard and turbo DONs. Standard-speed DONs take about twice as long to play out as turbo DONs and their rake is double that of a turbo. For example, if you play 100 $5.20 turbos, your total outlay is $520, while 100 standard-speed games would cost $540. If you plan on mass multitabling for hours at a time, the turbos are probably your best bet. Although the variance increases with the turbo structure, you'll get in almost twice as many games per hour. That, and the lower rake should contribute to a higher hourly rate than if you played standard-speed games.
How much can I earn?
Like any sit-n-go, edges are small. The best DON players win 55 to 60 percent of their games and have a single-digit ROI. That's why volume is so important. If you can be patient and grind it out these games are beatable and profitable.
Next week, we'll focus on strategy, paying special attention to optimal bubble play. Stay tuned.
Are you ready to start building your own bankroll? Open up an account at one of our online poker rooms today and get on the grind.