Where to Play Online Video Poker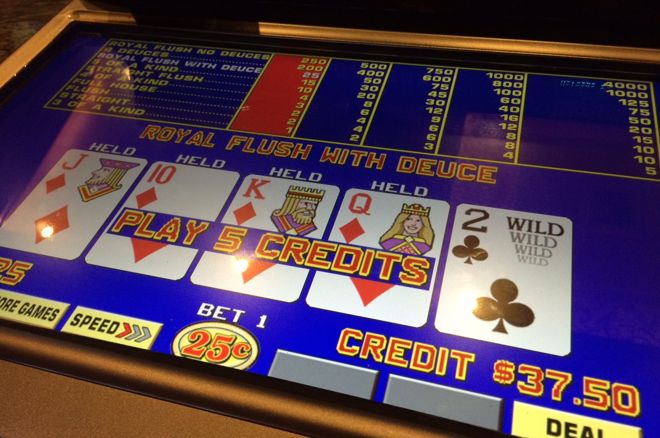 Sometimes video poker can be intimidating, especially sitting down without any knowledge of what you're getting into.
Let's start with the basics.
Video poker is a computerized video slot machine based on draw poker where players try to make certain poker hand combinations.
The outcome of the deck depends on a random number generator, which constantly shuffles the deck whether you are hitting deal or not. So when you hit deal or draw, the random number generator stops at whatever shuffle combination it has at that moment.
There is no pattern or guessing game because there are 2.6 million possible card combinations. The more hands you play, the higher risk you take.
Each video poker game has its own deck; each should be played as a single-hand game. Strategically, those who get bored with one hand can entertain themselves with several once they boost their skill levels.
Each hand consists of five cards, which depending on the value, suits and number of pairs or consecutive card values, will pay out a higher or lower sum. Click here to check out the winning video poker hands.
The rules are the same as draw poker, except without any other players to play against, you want to receive the highest ranked five-card poker hand. Clicking deal will give you your first five cards; choosing to hold will allow you to keep certain cards. Thus, you can improve your hand.
You will be paid out based on the strength of your hand on the payout table.
Using Skill to Your Advantage
Players can, unlike other many other casino games, sometimes beat this game using skill.
Playing video poker online can improve your ROI (before promotions) to over 99 percent. Video poker returns can be deciphered from the information on the screen, but not all are created equal.
Each game has a certain hit frequency and return-to-player rate, which can increase your chances!
Start by looking for the poker games that pay better than others.
Full pay games are for players who want to maximize their wins, so players should look for the 9:6 scheme that will pay out 9 to 1 for a full house and 6 to 1 for a flush.
Certain games have full pay and standard versions; they pay out 8:5, which may not seem that much lower but will increase the house's odds against your own.
Jacks or Better is one of the best, with a 99.54 percent RTP rate, an 800:1 prize for royal flush, 50:1 for a straight flush, and a grand prize of 4000 coins for a royal flush with a five-coin wager.
Jacks or Better requires at least a pair of jacks or higher to be at even odds.
Other popular versions include Deuces Wild, Joker Wild and triple Deuces.
Video poker machines have varying similarities and differences with slots games. But there is one fact to remember: Casino game odds all favor the house. Some many have better rate of potential return than others, but to determine that, you'd have to assess the payout structure of slots and video poker games.
In video poker, you can select the cards you hold, giving you a significantly higher potential for improving, or even ruining your chances at beating the house. It can take months to master the game to get consistent returns.
Very few video poker games feature progressive jackpots, so the only way to win is to study up, determine the game's tactics and apply these strategies while playing poker online for a prolonged period of time.
Returns for video poker can be smaller than slots, so you need to be patient and settle for lower odds to get more frequent wins.
Unsure of yourself at the poker tables? Not sure of your expertise or experience? Video poker may be the best thing for you if you feel ready to play games of skill. The return rate comes close to 100 percent.
Here are some other basic video poker tips:
Match your hand to the highest initial card amount and know how many cards to hold and discard (with this chart).
Always draw for a flush over a straight.
Don't drop a low pair, even if you have three cards.
Always play with max coins.
Where to Play Video Poker Online:
One great option for video poker is EnergyCasino, which offers a range of progressive video poker games, like Jacks or Better. Register through this link to receive 15 free slot spins before even making a deposit.
Another option is Bet365 Casino, a great place for those who want to play a game of video poker while also starting out with €100 in free money.
Moving further into the online casino gaming world, you can find Casino.com with a selection of video poker games including Aces and Faces, Megajacks and Joker Poker. More here on that one.
888poker
888poker has many options for players who love the classic nature of the video poker game. Whatever you fancy, you'll find it at 888 with All American Double Up, Jacks or Better, Joker Wild Double Up and Deuces Wild Double Up.
TigerGaming
TigerGaming has all the multi-hand and single-hand video poker games your heart desires, and en masse. Check it out if you don't believe us.
partypoker Casino
Partypoker makes it easy with real money and play money games for video poker. With their variety, you can experience something different every time you log on.
PokerStars
PokerStars is upping the stakes, or at least giving you a choice. Play video poker on PokerStars and give yourself the chance to win up to 4,000 times your bet.
Unibet Casino
The Playtech software platform provides games with access to eight different video poker variants, including multi-hand games. Take your pick.
RedKings
Go onto a smartphone or tablet to play one of the 15 video poker offerings on the Amaya software.
PKR
PKR Casino offers seven video poker games, but the graphics from Playtech make it. There are even a couple progressive machines to go with the multi-line games.
Huuuge Casino
This casino has opportunities for online poker fanatics to play blackjack, roulette, video poker, baccarat and more in the table game section.
Mybet Casino
Beyond our love for slots, this casino also captured our attention for its wide selection of table games, video poker, keno and live casino games.
Casumo Casino
This online casino has many casino table games, regular slots and video poker and keno games.
Videoslots
As the name suggests, there are quite a variety of video slots to choose from, but there are also almost 70 versions of blackjack and almost 90 poker varieties. Never a dull moment here.
So get playing video poker online today! Let nothing stand in your way.