Jack Sinclair Analyzes Difficult Fold of Pocket Aces in Multi-Way Pot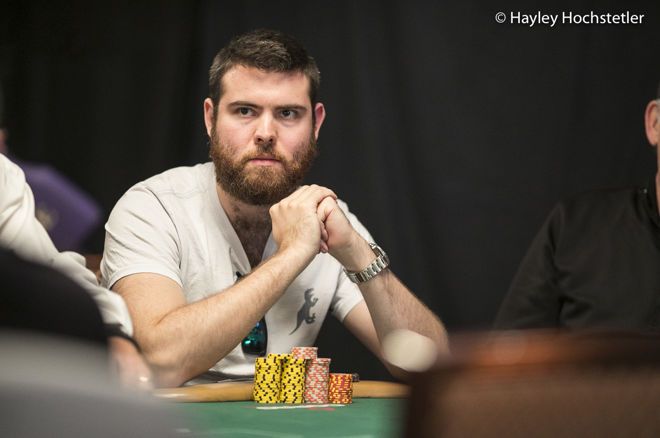 Folding pocket aces is never fun, and often not easy, either. Just ask World Series of Poker Europe Main Event champion Jack Sinclair who analyzed a hand for PokerNews in which he had to do just that.
The hand occurred relatively late in the massive 6,214-entry Event #34: $1,000 Double Stack No-Limit Hold'em in which Joseph Cheong went on to capture his first WSOP gold bracelet.
It was the fourth day of the five-day event, with 28 players remaining. With about 50 big blinds to start, David Guay open-raised 2.5x from the button. Starting with about 22 BBs, Sinclair then looked down at A-A and called, and the big blind who had Sinclair covered as well also called.
The flop came K-8-7 rainbow and all checked. The turn was an offsuit 4 and Sinclair led with a bet of 850,000 or about one-third of the pot.
In his analysis, Sinclair talks about what hands he represents when leading with this small bet, noting how he couldn't really have certain hands — e.g., pocket fours or 6-5 — given his preflop call.
The big blind called, then Guay tanked before raising to 2.5 million.
"I kind of just wished I'd checked," laughs Sinclair before discussing what kind of range Guay's range represented — i.e., something narrow and very strong (e.g., 4-4, K-K, K-4, and perhaps 6-5 suited) and not many bluff combos.
"Me and the big blind can both have really strong hands. Me not so much, but it's unlikely that [Guay] is going to get two folds here that often. So for him to be bluffing, he just has to be completely wild — like have ace-ten or something," says Sinclair.
Sinclair tanked and folded, then was a little disappointed to see the big blind fold as well.
Listen to Sinclair break down the hand and think about whether or not you could have folded pocket aces in this spot.
As Sinclair explains, Guay later told him he'd indeed had K-4 for two pair. By lasting a little longer Sinclair made a pay jump to finish 27th, while Guay went on to make the final table before going out in seventh.