Jonathan Little Examines Brutal River Card in High Stakes Duel – Hellmuth vs. Negreanu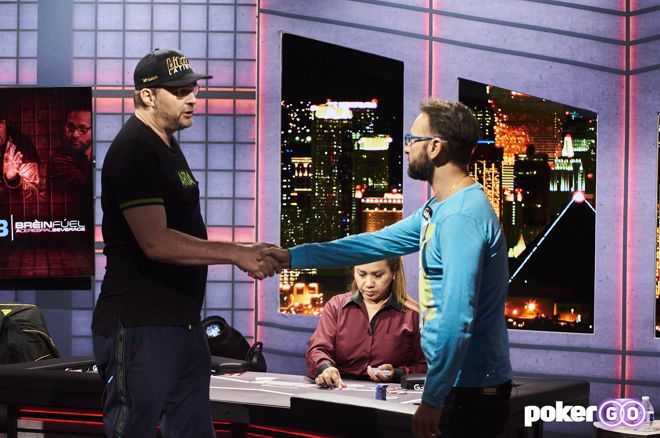 In this brutal spot from Round 3 of the High Stakes Duel, Daniel Negreanu rivers a straight and leads, but after facing aggression from Phil Hellmuth, who recently captured his 16th World Series of Poker (WSOP) gold bracelet, he can't be sure if this is the best or worst river card in the deck!
Some coolers are colder than others! Would you have played this poker hand any differently? Let's take a look at the hand.
It took place with the blinds at 600/1,200/1,200 when Hellmuth (325,000) limped from the button and Negreanu (75,000) checked his option holding the
. That led to a flop of
and Negreanu checked to Hellmuth, who bet 1,400. It's unlikely Negreanu has an ace as he would have been likely to raise a lot of his aces when facing a preflop limp from Hellmuth.
If you do not have many hands in your range that want to raise for value you should subsequently not be raising too many hands as a bluff. Negreanu called with his gutshot and paired on the
turn. He checked it, likely with the intent to check-call another bet, but instead, Hellmuth checked behind.
The
river gave Negreanu a wheel and he bet 3,500, which was three-quarters of the pot. Hellmuth then blasted it by raising to 21,000! What should you do with a straight in Negreanu's shoes?
Fold because you're afraid of being beat by or
Call
Raise all in for 72,400
This is a spot where Negreanu should only fold or call, he should not decide to raise in this particular spot.That would not be bad, it would be terrible. When you use a large bet size and then face a large raise size your opponent's range is extremely polarized. When your opponent decides to raise you on a connected board their range will often be more weighted towards value hands.
Occasionally Hellmuth will have some bluffs in this spot, but it's unlikely. It becomes far more likely that Hellmuth has a straight if he thinks Negreanu will rarely fold after leading on this board. Negreanu should not three-bet here as he will only get called by hands that he is losing to hor hands that he is chopping with.
Negreanu wound up calling and discovered the bad news as Hellmuth tabled the
for the nuts. It was a brutal cooler that ultimately led to Hellmuth winning Round 3 of the match for $400,000.
For more on this hand, check out my breakdown in the following video:
Jonathan Little is a professional poker player and author with over $7,000,000 in live tournament earnings. He writes a weekly educational blog and hosts a podcast at JonathanLittlePoker.com. Sign up to learn poker from Jonathan for free at PokerCoaching.com. You can follow him on Twitter @JonathanLittle.
*Lead image courtesy of PokerGO.