Jonathan Little's Weekly Poker Hand: Figuring Out What to Do When Check-Raised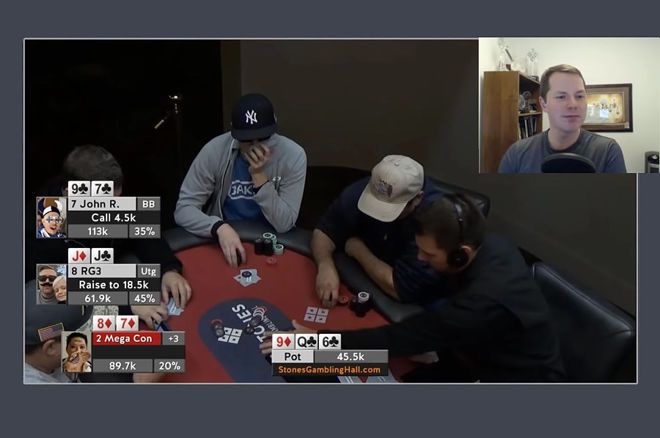 Poker pro and coach Jonathan Little has been producing a wide variety of strategy content for poker players for some time, including authoring multiple books and sharing videos and articles on his website and elsewhere, much of which is free to players of all levels seeking to improve their games.
Little started his popular "Weekly Poker Hand" series on YouTube several years ago, and recently he decided to switch up the format to begin featuring footage from live small- and medium-stakes cash games.
In the episode shown below, Little is back at the Stones Gambling Hall in California, this time to analyze an interesting hand played during a $1,000 buy-in sit-n-go.
Action begins with a player named RG3 opening from under the gun with J♦J♣, then David O. chooses to call with A♥K♠ from the next seat over. Two more players come along as well — Mega Con from late position with 8♦7♦, and John R. from the big blind with 9♣7♣.
The flop comes 9♦Q♣6♣, and with middle pair and a flush draw John R. checks. RG3 checks as well, then David O. bluffs at the board with a small bet and Mega Con calls with his open-ended straight draw. John R. also calls, and the action returns to RG3.
With his pocket jacks, RG3 then chooses to put in a largish check-raise, a move Little doesn't really recommend given how he could be crushed and even draws have plenty of equity.
David O. quickly folds his ace-king, and Mega Con also folds his open-ended straight draw (Little says he should probably have called).
John R. then has a decision with his middle pair and flush draw — fold, call, or reraise-shove all in? Little discusses all of these options and which one he thinks is probably best here.
Some of the concepts discussed in the hand analysis include:
position
check-raising
hand ranges
implied odds
playing drawing hands and equity
Take a look:
Jonathan Little is a professional poker player and author with over $6,800,000 in live tournament earnings. He writes a weekly educational blog and hosts a podcast at JonathanLittlePoker.com. Sign up to learn poker from Jonathan for free at PokerCoaching.com. You can follow him on Twitter @JonathanLittle..