The Changing Face of Vegas Poker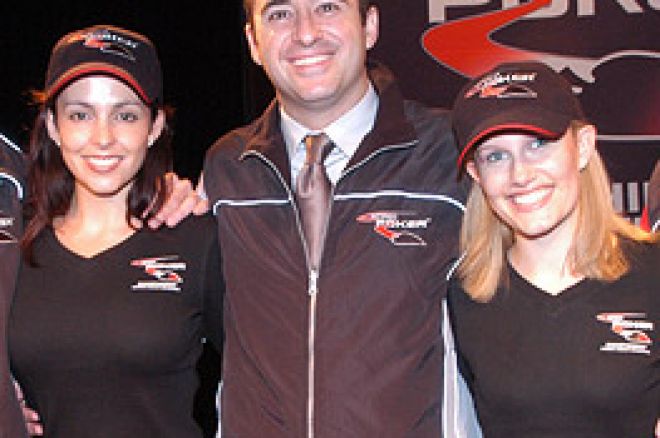 The poker games in Las Vegas have gone through a tremendous transformation over the last three years. Before the "Poker Boom" of the past three years, poker rooms in Las Vegas were not only closing their doors, but the mid to high level games were the toughest in the nation. My how times have changed.
With the introduction of television poker to the masses, one game has arrived in Las Vegas to change the face of Vegas poker forever-The NO-LIMIT cash game. Played at it's lowest level of $1/$2 blinds, you can find a games with blinds as high as $100/$200 on a weekly basis.
Television has not only propelled the masses into the poker rooms of Las Vegas like never before, but it has given players a false sense of tactics as well. Many new players are playing cash games in the style which they see on television. In order to be a successful tournament player, you must adapt a totally different style than that used in a cash game. Fast structures and blind increases are the main reason you see players on TV making these seemingly "Crazy" all in moves with hands such as A7 offsuit. New players watch poker on television and then sit down with $200 in a no-limit cash game and proceed to call of their entire stack with the first pair or ace-king they see. Call it crazy, call it insane, local players who once played 7-card stud on a daily basis are now playing the no-limit cash games. The amount of money some of these rock locals are making is absolutely absurd. I know of several local players that once played 10/20 stud and now playing $2/5 blind no-limit holdem everyday.
So where are the best places to play no-limit poker in Sin City? I have composed a list of the top 5 poker rooms which spread the game:.
5. Golden Nugget- Downtown Las Vegas
The Golden Nugget spreads a $1/$2 blind game on a daily basis. The buy-in is $100 minimum with no maximum. This no max buy-in structure usually attracts some sharp customers so be wary of your opponents and their stack size. The rake structure is a friendly 5% with a $4 cap. With tournament action on a daily basis you can almost always find a good game going at The Nugget and hence it comes in at number 5 on the countdown.
If you can't find a juicy game at the Nugget, head down Freemont a little further to the West to the number 4 spot. . .
4. The Plaza Hotel- Downtown Las Vegas
With one of the greatest game structures in town, it's no surprise that this poker room has made it to number 4 on this countdown. The $1/$2 blind game at the Plaza features a $40 minimum buy-in, and once again, no maximum. The rake is once again a very player friendly 5% but with a $3 cap it's the cheapest game to play in town. On weekends The Plaza runs a midnight tournament that attracts fields of 80+ regularly. This rather large field usually brings with it a great base for their no-limit cash games. The Plaza also offers a high hand payouts for which they take a jackpot type drop. The Plaza has fueled their poker revival with late night tournaments and great live action.
With such a great number 3, it's hard to think that there would be better games out there, but they do exist….
3. Sahara Casino-North end of Strip
With their room recently expanded to 15 tables, the no-limit action at the Sahara is one of the best in town. The game features $1/$2 blinds with a $100 minimum and no maximum buy-in. The rake is 10% max $3. The Sahara has expanded their tournament schedule to encompass every night of the week. Starting at 7pm each night is one of the best value tournaments in town. A $40 buy-in with one $20 re-buy attracts the a large number of neophyte no-limit players. As soon as the tournament begins to break down, be sure that some great no-limit action fires up. The game is usually full of fresh new fish and the occasional steaming semi-pro players that just got busted from the tournament. Many of these new players have recently seen poker played on TV and subsequently came down to the Sahara to play their first tournament. Once these new players bust out they usually find a spare $100-$1,000 in their wallets to feed their new found addiction, and the live no-limit game. Great action here warrants its position in the countdown, there is just not many places in town with this blind structure that gets better games.
2. The Palms
With by far the hippest crowd in town, thanks in part to two of the hottest nightclubs in town(Club Rain, and Ghostbar) the Palms easily ranks as the 2nd best place to play poker in Las Vegas today. The game features $2/$5 blinds with a $100 minimum $500 maximum buy-in. The rake is a very friendly $1 on 20 - 40 - 60 and 150 making it less than 5%. There is also a high hand jackpot in place that can get as high as $2000 for a royal flush. This room gets three no-limit tables going on a daily basis. On weekends you may even see a $10/$25 blind game up and running in the back corner. The action in this game when the nightclubs shut for the evening is as close to unbelievable as you will ever see. Players come in on what I like to call " Hook up TILT". Feverish young males enter the poker room fuelled by liquid courage, and after succumbing to the fact that they have drawn dead in the nightclub, decide that the last hope they have to salvage anything of the evening is to win a truck load of cash in the no-limit game. Unfortunately the liquid courage usually wears off just as their bankrolls do. A sobering experience for anyone, this game chews'em up and spits'em out at an alarming rate. With such a great wrap so far, there has to be something holding the Palms back from the number 1 spot. THE PALMS POKER ROOM IS A SMOKING ROOM. If you can handle the cigarette smoke, the action in this room is as good as it gets. Smoking and action are usually synonymous in poker and the Palms is no exception.
Number 2 is a tough nut to crack but allow me to try. . .
1. The Bellagio
With such a great spot at number 2 it's hard to imagine any no-limit games being better. The Bellagio delivers by far the best variety, limits and action of any game in town. You can walk into the Bellagio on any given night and find 4-5 tables with a $2/$5 blind structure, max-minimum buy in of $200. Rake is a rather high 10% $4 max. This buy-in structure means the most any player can ever re-buy for is a measly $200. Don't let this fool you, there are so many players playing this level that a must-move situation is in place everyday. If you manage to last through the four or so must move tables you can be sure that there will be a plethora of chips awaiting you at the main game. The must move system tends to filter a huge amount of chips to the main game. Players at the main game have stacks of $500+ on a regular basis. Beware though, the players in the main game are usually some sharp customers. Bellagio also benefits from the "Liquid Courage" factor mentioned at the Palms thanks to one of the hottest night clubs virtually next door, Light. Sunday night is usually the best night at Light so the amount of "Liquid Courage" going around is second to none. The one thing that sets the Bellagio apart from its competition is the true high limit section. Along with the multitude of $2/$5 blind games, there is also at least two tables of $10/$20 blind no-limit action going everyday. On most nights this game also adopts a must move system. The buy-in for this game is $600 minimum with no maximum. The lack of cap on the buy-in assures players that they can parlay their last $600 into a new car on certain occasions. If $10/$20 blinds are not high enough for you, then come to the Bellagio when tournaments are on and you can rub shoulders with celebrities such as Tobey Maguire in the $100/$200 blind no limit cash game. Pots in this game can be as big as anywhere in the world, so bring your checkbook, and not the one made of rubber, it's a felony to bounce a check in Nevada. If this is not high enough for you and you have a spare hundred thousand or so lying around, then go play the biggest game around, $1000/$2000 blind mixed games. This game generally has a tougher lineup to the other $1 and $2 games in town. Doyle Brunson, Phil Ivey and Chip Reese are among the regular players in this bad boy. The Bellagio is a NON SMOKING poker room, so breath easy. Massage therapists and great food for the high limit players insure that this is the place to play no-limit cash games in Las Vegas.
That is my list of the best 5 places to play the hottest game around these days. You can imagine that some big names were omitted from this lineup, the Mirage and Mandalay Bay are just two that did not make the cut. You can find a no-limit cash game in just about every poker room in town these days however, stick to these 5 and you will find many a fish at your disposal.