WSOP 2018: Eight Excellent Poker Rooms in Vegas Other Than the Rio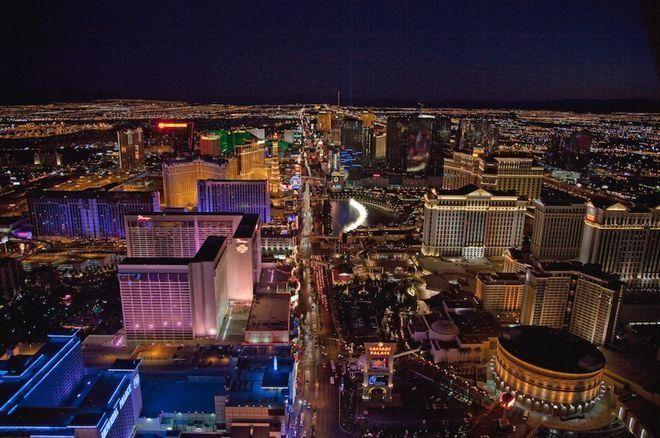 The 2018 World Series of Poker will be here sooner than you think, with the first bracelet events starting May 30 — check out the full schedule here.
* * * * *
During the World Series of Poker, the Rio All-Suite Hotel and Casino is a great place to play poker. The WSOP presents the largest line-up of major tournaments, plus there are many smaller daily tournaments, satellites, and cash games of every type and every stake. It is a spectacular poker scene. If you haven't ever been, you should go.
At the same time, there are other truly great poker rooms in Las Vegas. They all do their best to shine during this time of year when the World Series of Poker and all the players who are attracted to it are in town.
Below is my list of eight other excellent rooms where you can enjoy some great poker — especially when you're in town for the WSOP. They all have a lot to offer, and are listed alphabetically, not in order of preference (as I couldn't decide which one was best).
Aria
The Aria is a first-class room in a high end casino. They have 24 poker tables, all of which are often in use. They have a host of mid-stakes and low-stakes games, regularly spreading $1/$3, $2/$5, and $5/$10 NLHE and $1/$2 and $2/$5 PLO.
The Aria also has a host of regular $140 and $240 tournaments, as well as a a high roller series with buy-ins between $10K and $100K.
Bellagio
Long known as the premier room in Las Vegas and home to the famous nosebleed stakes Bobby's Room, the Bellagio has Las Vegas' widest range of limit and no limit games including $20/$40 and $40/$80 limit hold'em, $200/$400 mixed games, $1/$3, $2/$5, $5/$10, and $20/$40 NLHE, and even the occasional $20/$40 seven-card stud game.
In my opinion, this is still the premier poker room in Las Vegas, a distinction it has held since its opening.
Caesars Palace
Always spreading $1/$2 and $2/$5 NLHE, and now promoting a $6/$12 dealer's choice game on Tuesday and Thursday evenings, Caesars Palace also offers bigger games like $5/$10 NLHE and $5/$5 PLO on weekends and some weeknights. There are four daily tournaments.
Now with 18 poker tables, they're expanding the room to 22 tables over the summer. The poker room is located next to the sportsbook — a favorable spot as they regularly attract a lot of true gamblers walking by.
Golden Nugget
This is the best room left in Downtown Las Vegas, located on what is, by far the nicest property north of the Strip. The Golden Nugget has 13 tables featuring $1/$2 NLH and $2/$4 limit hold'em.
They also host daily tournaments and the Grand Poker Series during the WSOP with nearly all the games of the World Series of Poker, but with one or two fewer digits less for the buy-ins.
Mirage
Once the premier room in Las Vegas before the Bellagio opened, the Mirage is still a great room, often filled with tourists and not too many regulars feeding off them. Not as grand as the old room, but a nice, tidy, well organized, somewhat crowded place with lots of action. You can nearly always find both a $3/$6 limit game and a $1/$2 no limit game.
In my opinion, the no-limit games here are the juiciest in Las Vegas, especially on the weekend or during special events when the deep-pocketed tourists flock here in droves.
Orleans
The Orleans is known for its great value. This poker room is embraced by locals, grinders, and those who don't mind going off the strip to find a well run, full-service poker room, with a $3 rake. It's West of the Strip, about a mile-and-a-half south of the Rio, and focuses on limit games, especially low limit hold'em and Omaha 8 games like $2/$4, $4/$8, and $8/$16. They also spread a $1/$3 NLHE game that always runs.
There are two tournaments each day, including those featuring games not frequently spread for daily tournaments such as Omaha-8/stud-8, PLO, H.O.R.S.E., and the 8-game mix. The tournaments are extremely well run, and buy-ins range from $80-$130.
Venetian
The Venetian is the largest room in Las Vegas with 37 tables, always spreading $1/$2 and $2/$5 NLHE and $1/$2 PLO. There are frequently larger games, especially on the weekends.
This room is known especially for the tremendous DeepStack Extravaganza that runs from May 14 through July 29. The early events are so big they hold them at the Sands, not moving to the Venetian until July 7th. When the DeepStack Extravaganza isn't running they also have daily tournaments.
Wynn
This first-class, 28-table room that has actually been relocated from the Wynn to its sister property, the Encore. It has a modern look, and is located in an open area, with bright walls, and excellent lighting. It is beautifully appointed, and is an extremely comfortable and well run room that goes out of its way to make all players, no matter how big they play, feel welcome.
They typically have $1/$3, $2/$5, and $5/$10 no-limit hold'em. They're known for having higher caps to their buy-ins than other rooms, with a $5/$10 game with an uncapped buy-in. They don't have LHE. They do have the Wynn Summer Classic Tournament series, with 38 events running at the same time as the World Series of Poker. The championship is a $1.5 million guaranteed event with a $1,600 buy-in that runs from July 9-13.
You don't need to visit these rooms to have a great experience during the World Series of Poker. Even so, if you decide to leave the Rio, these eight rooms are all great places to play poker before, after, or during your WSOP trip.
Ashley Adams has been playing poker for 50 years and writing about it since 2000. He is the author of hundreds of articles and two books, Winning 7-Card Stud (Kensington 2003) and Winning No-Limit Hold'em (Lighthouse 2012). He is also the host of poker radio show House of Cards. See www.houseofcardsradio.com for broadcast times, stations, and podcasts.
Photo: "Night aerial view, Las Vegas Strip," Carol M. Highsmith (public domain).