WSOP 2018: 7 Cheap Shots at Glory Around Las Vegas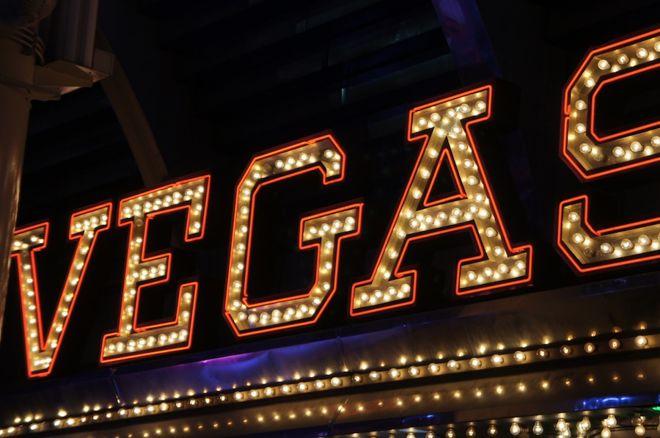 The 2018 World Series of Poker will be here sooner than you think, with the first bracelet events starting May 30 — check out the full schedule here.
* * * * *
So you're a poker player and you've decided to check out Las Vegas during the World Series of Poker. You've been hearing about how amazing everything is out there then, and you've finally decided to take the plunge. But you're shying away from entering one of the WSOP events because of the slim chance of finishing in the money and what might for you represent a relatively high cost to play.
For those of you who want a cheap shot at glory, here's a list of a few inexpensive but still enjoyable tournaments in and around Las Vegas where you actually have a good chance of cashing and even taking down the whole thing. They're not as prestigious as a bracelet event, to be sure, but they may be your best shot at poker glory during your visit.
Poker Palace
This tournament must feature one of the softest fields in Las Vegas. At $20 it's surely one of the least expensive. It's at the Poker Palace in North Las Vegas. It only goes off Friday and Saturday nights at 6:30 p.m, with registration opening at 6:00 p.m. It usually attracts a number of casual local players out to have a good time.
The structure is quite fast with 15-minute levels, and the house rake from the initial buy-in is very steep at 50 percent. But the unlimited $5 re-buys with one $10 add-on all go into a prize pool that typically gets up to around $700.
With three or four tables and a bunch of fun-loving gamblers, you have a good chance to win the whole thing. Time it takes to complete: 2.5 to 3.5 hours (chops are likely).
Excalibur
Next on my list of soft, inexpensive tournaments are a couple at the Excalibur Hotel and Casino's poker room — the $45 daily at 5 p.m. and the $40 daily at 9 a.m. Each allows one re-entry. The evening tournaments usually draw about two or three tables, while the morning ones draw three or four.
Here roughly two-thirds of the buy-ins and re-entries go into the prize pool. Your chances of finishing in the money are going to be pretty good, given that again you'll likely be playing with a crowd that tends to consist of drinking, happy, and "unserious" tourists.
Time to complete: 2.5 to 3 hours (once more, expect folks to agree to a chop).
Treasure Island
Here's another good place for a short-money tournament. The poker room at the Treasure Island Hotel and Casino typically has three $50 tournaments each day at 12:30 p.m., 6 p.m., and 10 p.m. These are raked aggressively with $30 of the buy-in going to the prize pool. There are re-buys of $20, of which $17 goes to the prize pool, and there's an add-on for $20 of which $13 goes into the prize pool.
Blind levels are 15 minutes and the tournaments tend to finish in 2.5 or 3 hours. These tournaments also feature an interesting promotion — if you bust out with a flush or higher, you get a free buy-in to another tournament.
South Point
The South Point Hotel Casino & Spa is a large casino located south of the Strip. Their poker room has a $20 tournament at 2 p.m. every Monday and Wednesday.
The tournaments start players with 2,000 in tournament chips with 25/50 blinds to begin, and feature unlimited re-buys of $20 through the first six levels. There is also an optional single or double add-on based on how many chips you have in your stack.
These tournaments typically draw 20-40 players, many of whom tend to be regulars. The tournaments end in 3 hours or so, typically by chopping soon after players hit the money.
Sam's Town
Sam's Town Hotel and Gambling Hall is local's casino located down on the Boulder Highway toward Henderson that features many low buy-in tournaments every day.
The least expensive and most interesting offering is the daily 10 a.m. tournament with a $25 buy-in and a unique structure. The tournament actually begins as a limit tournament, with three 20-minute levels, then it turns into a no-limit tournament. Players start with only 500 in tournament chips, but blinds begin at just 5/10. In other words, it's really like starting with 2,500 with 25/50 blinds.
The tournament tends to be filled with older, local regulars. There are no re-buys and no add-ons — just the $25 entry fee, of which $8 is raked out and $17 goes to the prize pool. There are usually 30 or so punters who enter. Deals are often made, though aren't mandatory. If you win it, it will take roughly 3 hours.
Wynn
The poker room at the Wynn Las Vegas runs a top-notch, long-structured tournament at 12 noon every Monday through Thursday that might be a little above the typical low roller's price point, but I'm including it on this list because it represents great value.
First off, the tournament has a $140 buy-in of which only $15 goes to the house. That's just a little more than a 10 percent rake — an enormous bargain not replicated anywhere in Las Vegas for that buy-in level.
Players start with 10,000 in tournament chips, or 11,000 if they register by 11 a.m. and are seated by noon, with the blinds going up every 30 minutes.
Players at the Wynn are at least a couple of cuts above those at the other casinos mentioned in this article. But winning something here will really represent a major accomplishment over excellent opponents, not mention a nice payday. (This tournament is pre-empted by the Wynn Classic that will start on June 1st and continuing until July 17th.)
Club Fortune
Finally, the Club Fortune Casino in Henderson is a great place to go for another small, well run tournament. It happens every Saturday at 2 p.m. and costs just $45 when all is said and done, $28 of which goes to the prize pool. And if you bring an unexpired can of food to donate, you'll end up with 9,000 in tournament chips to start.
There are unlimited re-entries during the first hour (you don't have to have another can of food to get the 9,000 in chips). The tournament typically attracts 30-40 players, lasts 3 hours, and usually ends with some sort of chop although players do occasionally play it out to the end.
From my experience in the room, the players are regulars — friendly and competitive, but not nearly as tough as the field you'll find in the larger tournaments you'd be entering at other, bigger rooms around Las Vegas. If you play cash in this room before the game, you'll also be treated to the best comps in the United States, as far I know — $5 an hour from 12 noon until 2 p.m..
Conclusion
People play poker tournaments for different reasons. If you're looking for a major score and a chance to win life-changing money, or the prestige of a WSOP bracelet, none of the above-listed tournaments will satisfy the bill.
But if you're looking for a good chance to gather some experience and achieve some tournament success — and at a very inexpensive price — nothing beats the options presented to you here.
Ashley Adams has been playing poker for 50 years and writing about it since 2000. He is the author of hundreds of articles and two books, Winning 7-Card Stud (Kensington 2003) and Winning No-Limit Hold'em (Lighthouse 2012). He is also the host of poker radio show House of Cards. See www.houseofcardsradio.com for broadcast times, stations, and podcasts.
Photo: "Las Vegas" (adapted), Tracy Hunter, CC BY 2.0.