WSOP 2018: How to Live it Up Without Risking it All in Las Vegas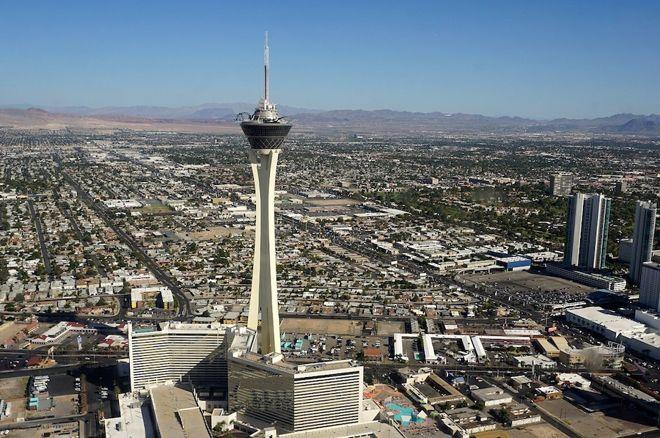 The 2018 World Series of Poker will be here sooner than you think, with the first bracelet events starting May 30 — check out the full schedule here.
* * * * *
You're in Las Vegas. You like the idea of living large for the brief time you are there. But you don't have a large bankroll. What you do have, well, you'd like to save it for poker. So you're wondering if you can have any of the experiences of a high roller without going broke in the process.
The answer is that in Las Vegas, just about anything is possible. This article is one step in showing you how to pull off the neat trick of living it up without spending a lot of money.
Let's look at five areas of Las Vegas life that might interest you and see if we might find an affordable price for a grand experience in each — accommodations, entertainment, food, pampering, and views.
Accommodations
One indication of luxury is staying in a suite, that is, a large room with more than just a bed and a bath. Suites abound in Las Vegas, in all the major hotels, but they are usually priced quite a bit higher than the regular rooms. As such, they may well be out of reach for the poker player on a limited budget.
But you can still score a great suite for less money in one of two ways. First, you can usually find something spacious for less than a premium price on Airbnb. These are rooms either in private residences available when the owners may be away, or rooms that are owned and leased out for just this purpose on a daily basis. Either way, they can run 50 to 80 percent less than a comparable room in a major hotel.
Second, there are also fine hotels that lack the brand name label or the Strip location but that still have great rooms — and suites — for a considerably lower price. Two good examples are the Sheraton Four Points and the Signature Suites AirPads, both located just one block east of the Strip. Both have huge suites for about a third of what you'd pay on the Strip, and neither charges the exorbitant "resort fee," saving you $40 or so dollars a day right there!
Entertainment
You surely want entertainment as part of your "high roller" Las Vegas experience. Just any entertainment won't do. You want a premium show. But the hottest shows, with the biggest names, often cost over $100 (sometimes a lot more), and you're on a short budget. What to do?
Let me recommend three shows that stack up well against even the most expensive alternatives, but cost much less.
Absinthe, in the forecourt of Caesars Palace, is surely in the top tier of shows. Discount tickets often can be found online or being sold right near the venue by vendors.
If you want to get a great show and not worry about having to find discounted tickets, consider the extremely well reviewed and long-running Mac King Comedy Magic Show at Harrah's. You can get tickets for $30 for many shows.
And here's one more suggestion: Defending the Caveman at the D Casino. It's a great show — an entertaining one-man comedy that started on Broadway — and typically sells for $35 or less a seat.
One final thought on finding luxury entertainment on a budget. There are numerous lounge acts all over Las Vegas where you can enjoy great music with no cover and no minimum. Check out the options on any of a number of sites or guidebooks.
My personal favorite is great jazz on Wednesday, Friday, and Saturday nights at the Dispensary Lounge on Tropicana Avenue. The music starts at 10:00 p.m., and food and beverages are really cheap — e.g., half-pound hamburgers with fries are $5.99, beer $5. There's no cover, and the jazz artists, including the house band, are first rate.
Food
There is so much inexpensive, great food in Las Vegas. Last year I shared a number of great, low-budgeted options in "Eating Right in Vegas Without Breaking Your Bankroll", and all of the recommendations I listed there hold true today.
Even so, this article is looking to steer you toward luxury experiences on the cheap. For that, Chinatown, Roberto's Mexican food, $6 buffets, and $1 hot dogs won't do. Instead, consider visiting some of the high-end spots, but sampling them during "happy hour" or "reverse happy hour."
For example, at the lovely dining and drink spot Trevi located in the Forum Shops at Caesars Palace, they have an early happy hour from 2-6 p.m. and a reverse happy hour from 9 p.m. until closing. During those times, the typical $9 frozen bellini is just $4, and the Trevi bites (a wide assortment of appetizers) sell for only $6 each.
Similarly, Pub 365 at Tuscany Suites and Casino (on Flamingo Road) features a cut rate menu from 3-6 p.m. and again from 11 p.m.-2 a.m. — just $2 for tacos and pork sliders, and $3.65 for any beer on their extensive list.
In fact, lower prices during off-hours are more the rule than the exception both on and near the Strip. Check with any restaurant or drink place before you plan your night out to see what they offer during off-hours. You'll often be pleasantly surprised.
Pampering
What is a better experience of personal luxury than a great massage? But you needn't spend a few hundred dollars in a luxury spa for this experience. There are many expert massage therapists willing to give you all you "knead" on the cheap.
Head over to Spring Mountain Road, located in the Chinatown section of Las Vegas and look for signs for Reflexology. These are licensed massage therapists, all competing with each other for your business so their prices are extremely inexpensive. They will start with your feet and then massage out the stress in the rest of your body for as little as $20 an hour.
Views
Finally, you need a first-rate view to make your Las Vegas experience complete. For that, there's really only one option, the top of the tallest structure in the Southwest United States — the Stratosphere.
In order to get the most out of the experience with the least pressure on your wallet, either go between 4-7 p.m. or from 10:30 p.m.-3 a.m. Take the elevator to Club 107 (the trip up is free). Then stay for a drink and some appetizers, as the drinks are 2-for-1 and appetizers half-price. And the view of Las Vegas is unsurpassed.
Ashley Adams has been playing poker for 50 years and writing about it since 2000. He is the author of hundreds of articles and two books, Winning 7-Card Stud (Kensington 2003) and Winning No-Limit Hold'em (Lighthouse 2012). He is also the host of poker radio show House of Cards. See www.houseofcardsradio.com for broadcast times, stations, and podcasts.
Photo: "Aerial View of Casino Stratosphere Las Vegas" (adapted), Mario Roberto Durán Ortiz, CC BY-SA 4.0.