WSOP 2018: Five Different Day Trips From Las Vegas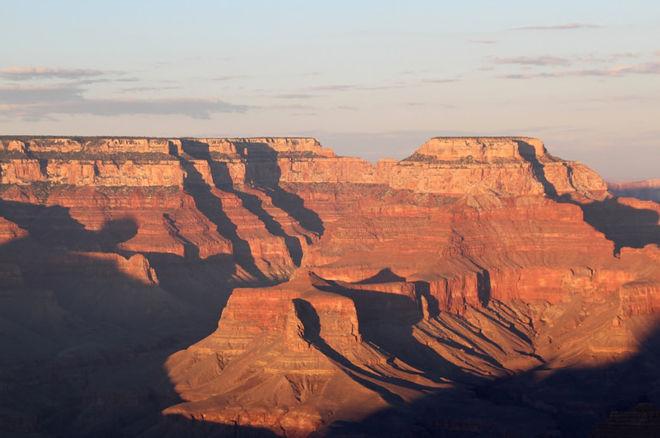 The 2018 World Series of Poker will be here sooner than you think, with the first bracelet events starting May 30 — check out the full schedule here.
* * * * *
Poker players visit Las Vegas chiefly for one reason — to play poker. Even so, from time to time, especially if you are traveling with others who do not share your enthusiasm for poker, it's sometimes worthwhile to get away from the felt, leave the heat and action of Las Vegas behind, and take a trip to a nearby but very different destination.
Toward that end — and with the 2018 World Series of Poker rapidly approaching on the horizon — I've compiled a list of five different day trips you might go on during your next visit to Las Vegas.
1. The Grand Canyon
Considered one of the five natural wonders of the world, the Grand Canyon in Arizona is accessible to Las Vegas visitors willing to spend a day visiting the site.
Realize that the Grand Canyon itself is immense. You could easily spend a week exploring the area and still not see all of it. Even so, there are many ways to "see" it in a day. Depending on what part of the Grand Canyon you visit, the trip by car from Las Vegas takes between two hours (to the South Rim) and four hours (to the entrance to the Grand Canyon National Park).
You can also choose from a myriad of options at many price points ranging from $80 for some bare-bones bus excursions up to $500-plus for a full luxury helicopter trip. Other options include mule rides down into the canyon, helicopter tours of the site, helicopter rides to the canyon, and many hiking options in and around Grand Canyon National Park.
A very popular option is the Grand Canyon Skywalk on the South Rim. Built, owned, and operated by the Hualapai Tribe, this artificial glass overhang of the canyon is an engineering marvel that allows visitors to walk out over the Grand Canyon and peer down through a glass floor. It is controversial, with some praising it immensely because of the extraordinary views, and others considering it a tourist rip-off. It is also not cheap, with tours of it available for $80-plus per person, plus extra charges for photographs and videos as cameras and recorders are not allowed.
But no matter how you go or what you do when you get there, the Grand Canyon is an amazing way to spend a day outside of Las Vegas.
2. Hoover Dam
I often visit Hoover Dam when I visit Las Vegas. It's a traditional tourist venue, and for good reason. It's a fascinating piece of history, engineering, and design. The views are amazing. and the government-run tours inside the dam are informative and worthwhile.
You can do even do it as part of an all-day trip to the Grand Canyon, though I prefer taking my time, stopping in some shops and casinos in Boulder City that I might not normally visit, and making a day out of it.
I recommend getting the full interior tour (a shorter exterior tour is also available). There are restrictions for those with certain medical conditions that make it inaccessible to some, so make sure to check ahead of time if you have any physical limitations.
If you're so inclined you can also boat and fish on the artificial lake, Lake Mead, that was created by the dam.
3. Mt. Charleston
Mt. Charleston is just about an hour's drive northwest from the Strip. Even though it isn't that far away, it has an entirely different climate, with temperatures usually 20 or more degrees below those of Las Vegas proper.
With an elevation of nearly 12,000 feet, it is among the highest peaks in Nevada. It remains snow-peaked into June, with snow beginning as early as September. There are trails to the summit, and it is a beautiful windy drive up to the highest trails.
There is a ski lodge for all sorts of snow sports, including skiing, that stays fully operational until the first weekend in April (when temperatures in Las Vegas can hit 90). Hiking up to the summit is not for the weak of heart or out of shape, though there are many trails for every level of physical fitness.
About three quarters of the way up, on the road leading to the summit, there's a lovely hotel, the Mt. Charleston Lodge, with a great restaurant. It's a nice place to stop for a fine dinner or just drinks. You can even stay there overnight if you're worn out from all of your hiking!
4. Death Valley
The lowest point of elevation in the Western Hemisphere, Death Valley is also the hottest. It's a little more than two hours west of Las Vegas.
Though the route to Death Valley National Park (our nation's largest national park) is a largely plain and boring highway drive, there are many scenic spots in and around the park once you get there. Zabriskie Point, Badwater Basin, Furnace Creek, and the Artist's Drive/Artist's Palette are some of the best known within the park. There's also a ghost town at the entrance to the National Park.
You can do the day trip to and around Death Valley in style with a guided tour that will pick you up and drop you off at your hotel, or you can do it on your own. The tours range from $175 to $300 or so (including entrance to the park and lunch) and generally start with a 7:00 a.m. pick up and drop off at 4 or 5 p.m.
If you do it on your own you'll have to pay the admission fee yourself (and the car rental and gas, of course). The fee schedule for all national parks is as follows:
$25 per carload for 7 days
$50 for the year
$80 for all parks all year
$20 annual senior pass (62+)
$80 lifetime senior pass (62+)
If you go, get a map and bring plenty of water!
5. St. George, Utah; Mesquite, Nevada; Valley of Fire State Park
Finally, one of the most beautiful drives in the United States is to take Interstate 15 heading northeast out of Las Vegas. The drive takes you to Mesquite, Nevada and St. George, Utah.
The beauty is in the form of sandstone formations that have been carved by the wind over the last few million years. The formations are fully visible on the side of the road, and they are simply spectacular.
There is a beautiful national park along the way called the Valley of Fire (about an hour from LV). The park features trails for walking, biking, or driving. Mesquite is roughly 80 minutes outside of Las Vegas, and is a small city with a couple of hotel-casinos, a few restaurants, and some of great golf courses.
St. George — about two hours away — is a little bigger, with a walkable downtown, some stores, and restaurants. If you want the most scenic drive, time it so the sun will be setting when you arrive in St. George. Have dinner there and then return to Las Vegas with a black night sky punctuated by the brilliant lights of the city.
Ashley Adams has been playing poker for 50 years and writing about it since 2000. He is the author of hundreds of articles and two books, Winning 7-Card Stud (Kensington 2003) and Winning No-Limit Hold'em (Lighthouse 2012). He is also the host of poker radio show House of Cards. See www.houseofcardsradio.com for broadcast times, stations, and podcasts.
Photo: "Grand Canyon Evening 2" (adapted), Tony Hisgett, CC BY 2.0.