WSOP 2018: Saving Enough in Las Vegas for a WSOP Tournament Buy-In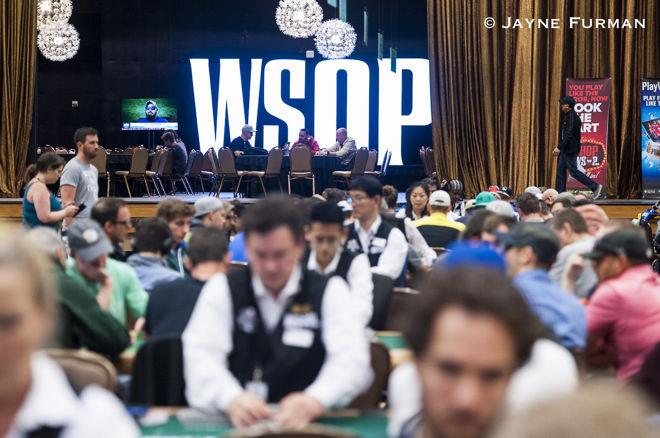 The 2018 World Series of Poker will be here sooner than you think, with the first bracelet events starting May 30 — check out the full schedule here.
* * * * *
In this article, I'm imagining responding to a challenge from you — to provide ways to save enough money during your upcoming one-week Las Vegas trip to "earn" yourself a World Series of Poker tournament buy-in with the savings.
Okay... let's see how I do.
Airfare
Be flexible. Look at one of those sites that shows you the cheapest fares and the cheapest days to fly. Travelocity, Fly.com, Expedia, Kayak, Skyscanner, or Momondo are some of the sites you can use. Compare the best dates and the best flights on these sites, and you'll be surprised at how much you can save.
I have saved hundreds of dollars off of the rate I would have paid for flights had I not done comparison shopping. You may need to fly on an airline you don't prefer or at a time that is not ideal, but it can be well worth it.
I'll be conservative here and estimate a savings of $100 for your flight (it could be a lot more).
Hotels
Here is where you can save a ton of money if you shop early and if you don't require yourself to stay right there at the Rio All-Suite Hotel and Casino or on the Strip.
You could go super low budget if you're willing to share a room (under $20 a night at a hostel with no resort fee), or a bathroom (the cheapest of the Airbnb options in Las Vegas are around $25). But even if you demand the luxury of your own room and bath, you can save money by checking out consolidators like Trivago, Hotwire, or Hotels.com to find the absolute lowest prices on hotel rooms in Las Vegas.
Many hotel chains have loyalty programs that will give you free rooms after a certain number of stays. For example, Hotels.com gives you one free room for every 10 nights you book with them (I've booked many a free room this way).
You'll also save a great deal of money if you're willing to stay off the main part of the Strip. Downtown properties like El Cortez and the Golden Gate or upper Strip properties like the Stratosphere or Circus Circus are often under $30 per night.
Compare that to the typical $100-a-night room and you'll save $400 or more for your six-night stay.
Transportation
Here's another area where the smart traveler can save quite a bit of money. Taking cabs and even Uber at peak times to get around Las Vegas can quickly add up. If you're staying in Las Vegas for a week (or more), I recommend renting a car.
Use Hotwire or CarRentals.com to find the least expensive rates. Always rent the cheapest vehicle. You will often be given an upgrade since your size car may not be available when you pick up your vehicle.
Use a credit card that carries with it the collision insurance deductible, and check your regular auto insurance to make sure it covers rental vehicles for basic coverage (most do). Decline the options for buying your gas in advance. Your daily charge should be about $30 or so including taxes and fees.
Compare that with the typical cost of just four $15 cab rides a day plus your trip to and from the airport and you'll save about $200 for the week. If you want to save even more money, travel by bus in Las Vegas. They're frequent, scenic, and relatively inexpensive — just $7 for a daily pass.
Entertainment
First off, forget all the fancy night clubs and other "adult" entertainment around town — such diversions could easily run you $200 or $300 a night. Save your money for the poker.
Enjoy all of the many free or minimally-priced lounge acts and discounted (but still great) shows. Want to drink? Drive your rental car to a supermarket for less expensive beer and wine, or buy a nice mid-range bourbon for $30 a bottle. See the earlier entries in this series "Protect Your Bankroll, Avoid These Five Poker Tourist Traps" and "How to Live it Up Without Risking it All in Las Vegas" for other similar recommendations for how to cut corners without lessening your fun.
Let's estimate your typical savings by entertaining yourself on the cheap for a week to be $400.
Food
Search out the inexpensive options — for example, the good-but-inexpensive buffets such as they have at the Gold Coast, any of the Station Casinos, or the Orleans. Other good options include the also cheap (and also good) Mexican fare at Roberto's, or any of a hundred great and cheap restaurants in Chinatown.
You could spend $100 a day at or near the Rio eating in their restaurants. Or you could spend closer to $40 a day eating on a budget. Over a week of dining that can add up to a $300 difference.
Total Savings
What we've tallied here are obviously just estimates, but let's go ahead and add up all of these savings over the typical "rack rate" for your trip: airfare $100, hotel $400, transportation $200, entertainment $400, food $300. That's $1,400.
Throw in another $100 you're going to save by buying snacks and incidentals at a supermarket instead of at the snack bar, gift shop, room service, mini-bar, or vending machines, and you've saved yourself $1,500 on a typical one-week trip to Sin City. That's enough for at least one buy-in from a menu of over 40 different bracelet events at the 2018 WSOP in Las Vegas.
Then, when you cash in that event, you can go ahead and really live it up at next year's World Series!
Ashley Adams has been playing poker for 50 years and writing about it since 2000. He is the author of hundreds of articles and two books, Winning 7-Card Stud (Kensington 2003) and Winning No-Limit Hold'em (Lighthouse 2012). He is also the host of poker radio show House of Cards. See www.houseofcardsradio.com for broadcast times, stations, and podcasts.