Preparing for the World Series of Poker: Advice from WSOP Dealer of the Year Daniel Harris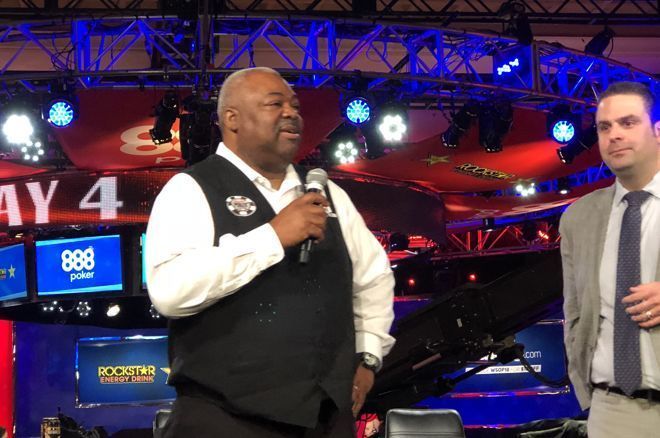 Last summer, Daniel Harris of Mississippi dealt his first World Series of Poker at the Rio All-Suite Hotel and Casino after having started dealing 14 years earlier at the WSOP Circuit in New Orleans.
By the end of the series, the 57-year-old was honored to be named 2018 WSOP Dealer of The Year, an award voted on by his fellow dealers. Harris will return this summer to Las Vegas to once again deal at the 50th Annual WSOP.
I sat down with Harris prior to this year's WSOP to learn what advice he has to share with both players and dealers currently getting ready for the 2019 WSOP.
PokerNews: First of all, congratulations on being named 2018 WSOP Dealer of the Year. What a well deserved honor!
Daniel Harris: Thank you, Bernard. I was truly honored because it was voted on by my peers. To get accolades from your peers, I feel like that is the top of the line. It was definitely something so special and something I will never forget.
You have been dealing on the WSOP Circuit for over a decade, but last year was your first WSOP during the summer in Las Vegas. Why?
I always spent the summer with family. I would work hard during the year and then spend time with my family during the summers, so I was never able to deal the WSOP. But last year, I needed to make some additional money for family, so I went out to deal the WSOP for the first time.
When you first arrived at the Rio, what was your initial reaction?
I always say that the World Series is the Super Bowl of Poker. But WOW! I was just amazed when I walked in the room to see all the tables all over the room. I had no idea it was like this.
Also, even though I have been dealing forever, I was still a little nervous at the beginning, as this was my first time dealing at the WSOP. But after the first couple of days, it was just like riding a bike. Also, what made it easy for me was most of the floors were the ones I work with during the year.
You have dealt to thousands of players throughout your career as a poker dealer. What are some of the common mistakes that players make at the WSOP?
First, I think the biggest mistake players make is folding out of turn. So many players do this and it can truly affect the play and slow down the game.
Second, some players expose their cards just to show them, especially with action pending. For some reason, players always want to show their cards. They often do this at home with their buddies, but this is the WSOP and there is a lot of money at stake.
Third, they tend to splash the pot, instead of sliding out their bet. Most really don't know that they are doing something wrong so please be aware of this.
Finally, the players try to make change while there is action still pending because once again, they do this at home. Also, players want their change immediately, but they don't realize that they must wait until all the action is complete.
Do you have any advice for veteran players?
I think many players these days are not paying attention and it is really slowing down the game. They are on their phone, listening to music, or playing a game. They are just not paying attention and I have to constantly get their attention.
Also, although many players have years of experience playing poker, please don't jump on the beginning dealers. They have to learn and you don't want to discourage them. Be a little patient with them at the beginning and try not to make them nervous as this will make them perform worse.
Do you have any pet peeves about things some players do?
The one thing I don't like, and I think a lot of players feel the same way, is when players tank for no reason at all. Maybe it is to save face or some players try to act like they are on TV. I wish that players would just fold in a reasonable fashion.
What is your favorite game to deal? Why?
I personally play Omaha 8-or-better, so I like to deal it. Ironically, I really don't play hold'em.
Why do you like being a poker dealer?
I get to travel a lot and go to places that I would never have gone to if it wasn't for being a poker dealer. Places like Lake Tahoe, which is my favorite stop on the WSOP Circuit. You also get to meet a lot of different people, not only players but also dealers from all walks of life. And, there are a lot of players that I truly enjoy and are extremely nice… like you, Bernard.
Well, thank you my friend. Do you have advice for first-time dealers at the WSOP?
As for the dealers, always try to be friendly with the players. They are our customers. Always try to listen first before you react. Many dealers become defensive if they do something wrong. As for me, I want to know what I did wrong so I can correct it. I'm actually appreciative if someone points out something I'm doing wrong so I can correct it.
So I guess my advice would be first to listen, then accept your mistake and correct it. And then apologize if you did something wrong. If you accept your mistake and apologize, I find that the players often respect you more for owning up for your mistake.
Any other advice for first-time dealers at the WSOP?
I would have a schedule of the events in your pocket because so many players ask you questions about the schedule. Instead of memorizing the daily events, you can just pull out the brochure and let them look for the information that they need.
Also, go over how to do a race-off and color-up. And, review how to deal all the games. Most of us are so used to hold'em and maybe Omaha. However, we only deal some of the mixed games [that are played] here at the WSOP. So definitely brush up on these games.
Last year, you were chosen to deal the WSOP Main Event final table. How was that experience?
It was really cool. My family, my wife, my daughters, they had a blast with it. They taped it all and they were watching it all. I was really excited about it. It was special — I really enjoyed it.
Daniel, thanks so much for your time and I look forward to seeing you this summer.
Thanks, my friend. See you at the WSOP.