Preparing to Play the WSOP: A Conversation with Evan "Gripsed" Jarvis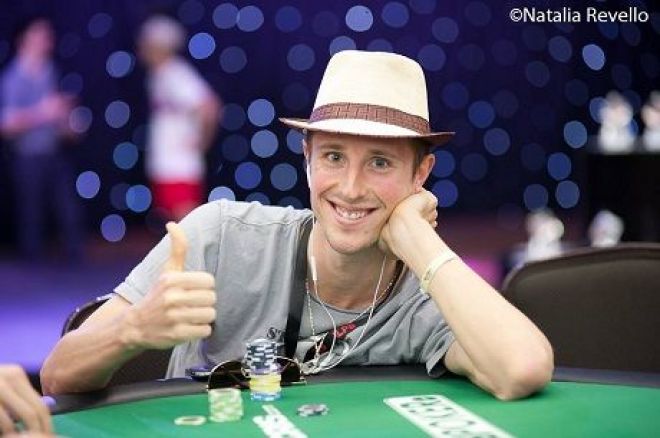 Evan "Gripsed" Jarvis has been playing poker for over 10 years, during which time he has been a consistent winner both online and live. In recent years Jarvis has turned to coaching as well, posting frequently to a popular YouTube channel, running a well-liked Twitch stream, and most recently contributing a chapter to Jonathan Little's Excelling at No-Limit Hold'em in which he shares "The Six Ingredients for a Winning Poker Strategy."
Many poker players have benefited especially from Jarvis's advice regarding the mental game and being both prepared for and ready to cope with the many psychological challenges poker presents. Yesterday I had the chance pick Jarvis's brain about how best to ready oneself for the special endurance test that is the World Series of Poker.
PokerNews: How do you think players should prepare for long, strenuous tournament series like the WSOP?
Evan Jarvis: The first thing you need is a solid fundamental understanding of the game. Once you get that under your belt, you need to turn your attention to some other things. For example, you should focus on improving your performance, focus, and attention. Developing winning habits that the best athletes and mental gamers have and adding those habits to your life is the name of the game.
Being able to perform at your best when the pressure is on and everything is not perfect is really difficult. It's easy to perform well when we are sleeping well, eating well, and everything is going well. But how do you perform when things are not going well? You need to set up your daily routine to make your success a sure thing. Do whatever preparation it takes for you to deal with pressure so you can perform at your peak.
Can you give players some tips on how to establish a routine that puts them in the best position to succeed?
Your primary goal should be to surround yourself with winners — people who take both the game and their lives seriously. Get that influence around you so that your natural state becomes one of constant improvement. Having their healthy habits rub off on you is so helpful. I call it the "winner's lifestyle."
A couple of years ago I realized this was really important. Once you get past your 25th birthday, you won't have that unlimited reserve of passion and energy anymore. As life happens, health becomes something you need to pay more attention to. There are real benefits to nutrition and exercise, and there's a right way to approach both to get the most benefit. Too much exercise or food can be bad, so spend time learning the right ways to do things. So far I feel like I'm doing pretty well at learning these things.
Also, keep an excitement to learn and improve. It's easier to do this when you are surrounded by like-minded people.
Can you offer some specific tips on preparing for the WSOP?
The first thing I do is choose the events that are most important to me, and I make all my choices and decisions around what I need to do to perform my best in those events. Ideally, you begin to work on this several months in advance. I focus on it a lot and I visualize what it will be like to make the final table [in every event I play]. I also watch footage from years' past so I can visualize my possible opponents and chip stacks and things like that. Visualization is so important.
I also make a list of books I want to read and videos I want to watch to improve my game. I make a list of relationships I want to maintain during that period. I prioritize everything so that I each day I'm doing my highest priority activities. I also write out my fears and concerns. For example, maybe I'm concerned I'm going to work as hard as I can and not get the results I want. By writing it down, I'm able to process it and it becomes less powerful.
I want to give a lot of credit to Alex "Assassinato" Fitzgerald who is one of the best MTT teachers around. I've learned so much from him and I know that's made a major difference to my game.
That's great advice. What about the "grind" of the WSOP you hear so many players talk about, especially now that the series has been going on for several weeks? How can players avoid getting "ground down"?
WSOP events are like a marathon and you need stamina for it.... You want to be sharp while everyone else is fading. I do plenty of cardio leading up to the series. You also want to stay centered, grounded, and calm. I do stretching so my body is fluid and free flowing which I believe leads to more fluid thinking.
Also, take the time to do rejuvenating activities like meditation and yoga. Taking naps, going for long slow walks, and getting spa treatments can really help your mindset. I take a balanced approach and focus on enjoying the journey. If you enjoy the journey, it's easy to have fun and maintain your passion. You cannot just grind, grind, grind and expect to have longevity in poker. It doesn't matter if you have all the strategy in the world if you get tired halfway through an event.
Early in my career I thought strategy was everything, but the more I was around great players the more I saw how important the mental game and peak performance is. You want to remain excited about the game. The recipe is pretty simple — prioritize, learn, and then repeat. Each year should be even better than the last and it will be if you know what your priorities are and you stick to them.
* * * * *
Thanks to Evan Jarvis for discussing the mental game. Learn more about him at Gripsed Poker Training.
Dr. Tricia Cardner is the author of Positive Poker with Jonathan Little, available in paperback, audio, and e-book formats via D&B Poker as well as through the PokerNews Book Section. She also co-hosts The Mindset Advantage Podcast with Elliot Roe, available for free on iTunes, and you can follow her on Twitter @DrTriciaCardner.
Want to stay atop all the latest in the poker world? If so, make sure to get PokerNews updates on your social media outlets. Follow us on Twitter and find us on both Facebook and Google+!