Strategy with Kristy Podcast: Amanda Musumeci Discusses WSOP Main Event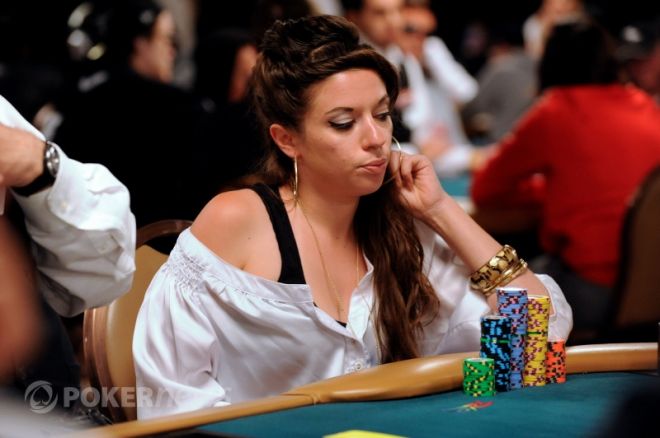 Amanda Musumeci, 27, has the poker world at her well-manicured fingertips. She gained most of her poker experience online but has had impressive live success, as well. Most notably, she finished 62nd this year in the World Series of Poker Main Event for $131,000, and fell just shy of claiming the "Last Woman Standing" title.
In this week's edition of Strategy with Kristy, Musumeci talks about her deep run and her most interesting tournament decisions.
Here is a snippet from the interview:
I got moved to Donnie Mizrachi's table, and he was sitting in seat one. I was in seat nine. [Action] folded around to me in the small blind and I had him covered. I think he had 15 big blinds and was short-stacking for an hour or two. I just shoved king-jack into him when we were blind versus blind. He ended up waking up with pocket queens and held up there. That kind of chipped me down.
When you're playing a tournament and you've got a short stack in the big blind, how wide is your shipping range if he's folding so often? In that spot, I don't think he'll be calling off too lightly since he still has fold equity after going through the blinds.
Well another thing to take into consideration to add to that is that I'm a female. To him, I'm unknown. I think at that point, I was relatively new to the table. Even after being at the table for an hour-and-a-half, in live poker, you just don't see that many hands. He didn't get to see much of my play. So, I think that his calling range may actually be a bit tighter than against some other opponents where he might call off a bit lighter knowing it's correct.
PokerStove is a really a great tool even with the age of online poker halted right now. It was a tool we used for online, but even when I go out and play live, I'll come home at the end of the day and use the PokerStove to see equity-versus-implied calling ranges. So in that spot, given all that, when has 15 big blinds, I have him covered, and it won't cripple my stack at all, I'd shove four-five suited, nine-ten offsuit plus, any pair. So yeah, [I'd shove] pretty wide. Because even when you're called which is like 10 to 15 percent of the time, you'll still win like a third of the time, so you have to shove a ton no matter what.
Tune in every Thursday for new episodes of Strategy with Kristy and feel free to send in questions, ideas or suggestions for the podcast to kristy@pokernews.com. Also remember, follow us on Twitter for up-to-the-minute news.