Tournament Tips: Pay Attention & Reap the Rewards Advises Blair Hinkle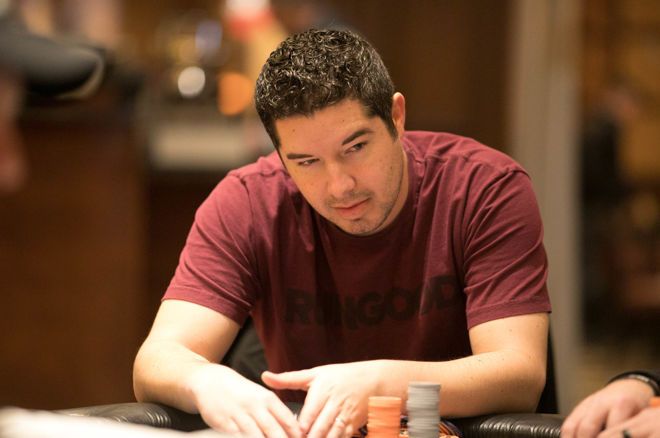 Earlier this month, Kansas City native and five-time World Series of Poker Circuit ring winner Blair Hinkle almost won another WSOP-C title, finishing runner-up in the WSOP-C Horseshoe Council Bluffs Main Event to his buddy and fellow Missourian Nicholas Burris.
It would have been a fourth WSOP-C Main Event title for Hinkle. In fact, it would have been a fourth WSOP-C Main Event win at Horseshoe Council Bluffs, which is where Hinkle claimed each of his previous Main Event wins (in 2010, 2013, and 2014).
Hinkle has also collected Main Event titles at the Seminole Hard Rock Poker Open (for over $1.7 million) and on the Heartland Poker Tour to help boost his career live tournament earnings over $4.4 million. He additionally won a WSOP bracelet in 2008 in a $2,000 no-limit hold'em event just 11 days after his brother Grant had won a bracelet himself — the first (and so far only) time brothers have achieved the feat in the same year.
While at Horseshoe Council Bluffs, I spoke with Hinkle about his career, his family, and his repeated success at Horseshoe Council Bluffs. You can hear the entire interview on The Bernard Lee Poker Show.
Along the way, Hinkle shared some of the strategies he employs in tournaments that help him to accumulate chips time after time.
PokerNews: Congratulations on all your success here at Horseshoe Council Bluffs. Why do you feel you have had so much success here over the years?
Blair Hinkle: Thanks, Bernard. I'm not really sure. I definitely feel comfortable with the players from the Midwest as it is near my home in Kansas City. Maybe there is something in the water (laughs). But I really couldn't [say]... exactly [why] I run so good in this specific place.
What aspect of the game do you pride yourself on the most... something that separates you from most amateur players?
I do pride myself on focus at the table. When I feel like I'm playing well, I feel like I'm really keyed on focusing on every hand, even when I'm not playing in the specific hand. I really want to see if there is anything I can pick up on my opponents.
I know that when I get on my phone, I'm not paying close attention. Then later, I can get in a tough spot since I don't have any reads or history against a certain opponent and don't have any prior information.
This is definitely something that most amateurs don't do while playing. For a lot of people these days, I see them on their phones, talking to their buddies, not paying attention and distracted by everything that is going on around them. Instead, they should be actually watching the table, even if there are not in the hand, to see if they can pick up on any tell or read that could help them later in the day or the tournament.
The more you pay attention and stay focused, the more success you will have at the tables.
What is the most common tell that you look for when you play? And how can amateurs avoid giving off this specific tell?
For me, I don't look for physical tells. I primarily look for timing tells, which is basically how long a person thinks to make a decision. You can find these in both the live and online settings. Whether they take a long time or snap call could be the difference in the strength or weakness of their hand.
This is why it is so critical to be paying attention to hands that you are not even involved in. If you can pick up on a timing tell, it makes such a huge difference when you play one-on-one against them and can lead to critical chips later in the tournament.
To avoid giving off a timing tell of your own, be aware of your own actions and try to stay balanced in every action you do.
When playing in these massive-size fields, what do you focus on to get deep in these events?
First of all, I like to focus on getting through Day 1, which is very tough to do especially at the WSOP, where you play ten one-hour levels. I try to go into every tournament thinking positive, trying to play my best game and hoping I get some good table draws.
Also, I would tell people to focus on your table and not to worry about the players at other tables, especially ones who have huge chip stacks. Who cares? They are not at your table. I have seen so many players try to force the action just because someone else at another table has a lot of chips.
You have mentioned that aggression is very important. At what point during a tournament do you begin to focus on turning up the aggression and what players do you target?
Money puts a lot pressure on people and it should because it's important. It is the reason we play these tournaments. Many players want to call back home and tell family and friends that they made the money.
So, for me, I try to attack the players that care a little more about the money and I do this during the significant pay jumps.... [This first] happens, of course, at the money bubble. Also, I turn up the aggression during the final table, where the pay jumps are much more significant.
So it is recognizing the players who you can take advantage of because of the money pressure. Also, knowing the ones that I can't take advantage of. Hopefully, I can get a big hand versus them when they don't believe me since I had previously been so aggressive.