Truth in Fiction: Poker Insight from Jesse May's "Shut Up and Deal"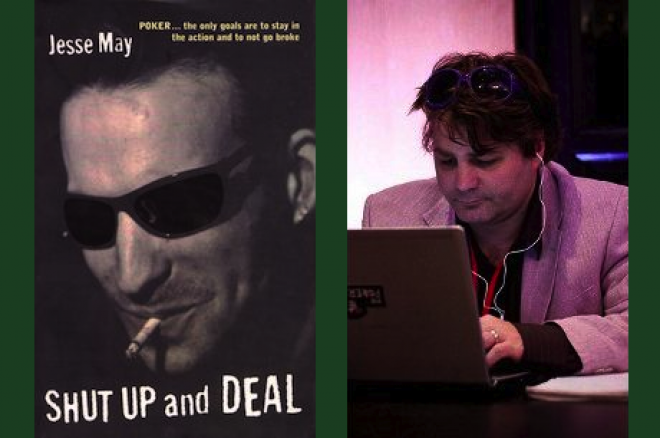 In the past I've recommended non-poker fiction ("All I Really Need to Know About Poker I Learned from Sherlock Holmes") as well as poker strategy books ("Zero In on Your A-Game With Zen and the Art of Poker") as useful for improving your game. But what about poker fiction — that is, novels in which poker is front and center? Are there any among that category worth recommending as both good reads and worthwhile for learning more about how to play the game?
Frankly, there aren't many. There's the 1963 novel The Cinncinnati Kid by Richard Jessup, which works much better on the big screen in the 1965 movie starring Steve McQueen and Edward G. Robinson (along with a ravishingly beautiful Ann-Margret). The poker in it, as plenty of poker writers have noted, is, to put it mildly, improbable, but the movie is entertaining, much more so than the pretentious book.
Then there's Rick Bennet's 1995 fictional debut, King of a Small World, which appeared nearly a decade before poker's breakout year in 2003 when Chris Moneymaker's improbable win in the World Series of Poker Main Event catalyzed the poker boom. Bennet's hero, Joe "Pinocchio" Moore, is grinding out a living in private games in Maryland with trips to Atlantic City and Las Vegas. The book demonstrates a deep familiarity with the denizens of poker's low culture and real insight into the mind of the live poker grinder.
But to my way of thinking, the novel that best captures the essence of live poker is by Jesse May, a poker commentator who's probably more famous in the UK than in the US thanks to his work on the poker TV show Late Night Poker. You might have recently read May's recent collection of memories about Dave "Devilfish" Ulliott, someone else who was there at the beginning for that groundbreaking show.
May's novel Shut Up and Deal came out in 1998. The book is narrated by Mickey Dane, a young poker professional who plays mostly in Atlantic City but who additionally travels to Foxwoods, Vegas, and California in search of a good game. Like Bennet's book, May's is about a grinder's life, as well as about navigating the treacherous, tricky waters of playing poker for a living.
Written in a stream of consciousness style, the book offers little in the way of plot. In fact, it's almost devoid of narrative momentum in the traditional sense. Which is, I think, true to the nature of poker itself. A hand of poker is a perfect small drama, with a beginning, a middle, and end. But the game as such has no such structure. As Dane points out, "poker's just a never-ending series of hands… no beginning and no end."
If you like your novels well-plotted in a "I'm going to stay up all night to see how this story ends" way, then, Shut Up and Deal may not be your cup of tea. But May is pitch perfect when he writes about the nature of the game, such as when Dane concludes the book's prologue with insight regarding the relative importance of luck and skill in poker:
"Poker is a combination of luck and skill. People think mastering the skill part is hard, but they're wrong. The trick to poker is mastering the luck. That's philosophy. Understanding luck is philosophy, and there are some people who aren't ever gonna fade it."
That kind of acute, trenchant observation convinces you that May knows his way around a poker table. He's not saying that poker is a game of luck and not a game of skill. He's saying that only by understanding the luck factor — by embracing the reality that bad players can and do win — can you really tolerate, and profit from, the often maddening vagaries of chance. (Luck is what keeps bad players in the game.)
There's a life lesson in the pages of this wonderfully titled book as well — namely, that control is an illusion, at the table and elsewhere. You are in control of your actions, of course (except when you're on tilt). But you are never in control of the outcome of any one hand. As Dane explains,
"Poker players keep ledgers, because they need them. They need them to show that they got it all under control. But it's never under control. No matter how many wins you got in a row, no matter what your hourly win rate is, no matter what."
May expands on this theme later on, talking about the inherent disconnect between our innate desire for order and the fundamental nature of gambling:
"Everything associated with casinos and their effect on people has to do with the loss of order… no clocks, no windows, free alcohol, bright lights, bells…. It's the same with gambling, the drug produces chaos — rapid heartbeat, adrenaline pumping, things moving fast, chips instead of money, in, out, bad judgment."
Poker players don't need May to remind us what happens when you lose control at the table. But he does have Dane provide us with a great definition of tilt. According to Dane, tilt is the point...
"when all the rules you have made for yourself, all the order that you have in the casino… all that goes out the window and what you're left with is a burning desire to get even and a more burning desire to get in action."
It's a fine book, and to me one of the few poker novels worth reading. But it's less of a novel than a journalistic account in fictionalized form. There is no real sense of a dramatic resolution, and that is precisely why the book feels so authentic.
With gritty realism, Shut Up and Deal captures the essence of the life of the rounder and its unique mixture of boredom and exhilaration, confidence and insecurity. And there's plenty of poker wisdom in there as well, for those seeking not just to be entertained but also to gain a deeper understanding of the game.
Want to stay atop all the latest in the poker world? If so, make sure to get PokerNews updates on your social media outlets. Follow us on Twitter and find us on both Facebook and Google+!