What Would You Do? Final Three Face Big Decisions in WSOP Main Event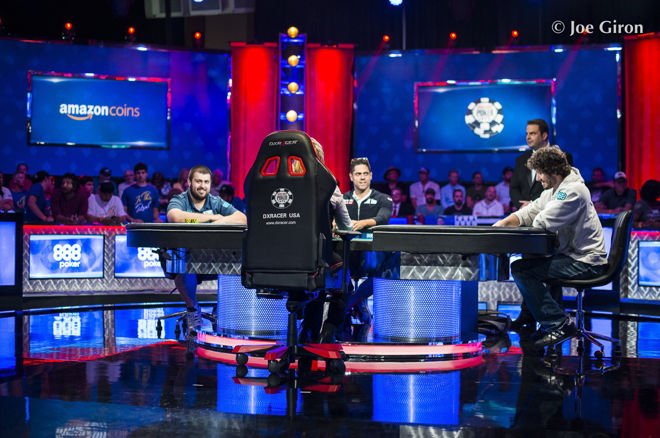 It's all over. Following a dramatic finale on Saturday, Scott Blumstein of New Jersey is the 2017 World Series of Poker Main Event champion.
Three-handed play began with Blumstein enjoying a big chip advantage over his two remaining challengers, Dan Ott and Benjamin Pollak. It would take 51 hands before Pollak was eliminated in third, then another 65 hands of heads-up between before Blumstein knocked out Ott to win the title.
Blumstein's large chip advantage meant three-handed play was punctuated by frequent all-ins by the other two, with each surviving their shoves until Pollak was finally ousted. Then heads-up play saw Blumstein whittle Ott down further, building close to a 10-to-1 chip advantage before Ott was finally all in and at risk a couple of times, with Blumstein at last winning.
For this last round of "What Would You Do?" from the 2017 WSOP Main Event, let's highlight the night's three most memorable hands, each of which involved meaningful, not-so-simple decisions made by players that affected the outcome.
Play along with one of the players in each hand, and try to make your choice regarding what you would do without thinking about how the hand actually played out. And after making your choices, share any further comments about the hands below.
Worth keeping in mind as well, of course, were the remaining payouts — $8.15 million (first place), $4.7 million (second), and $3.5 million (third).
Hand #146: Big River Decisions
Players left: 3
Blinds/antes: 1,000,000/2,000,000/300,000
Blumstein started play with 226.45 million or nearly 63 percent of the chips in play, but didn't win any of the first 10 hands of the night as both of the short stacks came out firing to claim all of the early pots.
By the night's 11th hand Blumstein was down 180.85 million, Ott up to 135.575 million, and Pollak still short with 44.15 million.
That's when Ott had the button and raised again to 4.4 million. Blumstein looked down at
in the small blind and chose to three-bet to 13.5 million.
"Look at this," said Antonio Esfandiari on the televised commentary in response to Blumstein's reraise. "Blumstein has had enough."
Pollak folded, and after thinking a short while Ott called.
The flop came all clubs —
— giving Blumstein the nut-flush draw, and he continued for 16 million (just over half the pot). Ott called. The turn was the
. Blumstein bet again, 20 million this time, and Ott called again. That brought the pot up to 101.9 million.
The river was the
. Blumstein had 131.1 million behind, while Ott had 85.8 million. If you're Blumstein...
Blumstein elected to make the all-in push, sending Ott into a lengthy tank with his
. Try if you can to look at the action from Ott's perspective. If you're Ott...
Ott folded his eights, and the big pot went Blumstein's way, carrying him right back to roughly the same stack he had to start the night.
After he'd won, Blumstein was asked about this key hand of the tournament.
"I had the
, a pretty good card to bluff with," he said. "When you get to the river with king-high and there's all those chips in the middle... and Dan was kind of short, I went for it and got the fold."
Hand #181: To Push or Not to Push
Players left: 3
Blinds/antes: 1,200,000/2,400,000/400,000
Skipping ahead, both Ott and Pollak had survived all-ins by the time the following hand occurred, at the start of which Blumstein had almost 279 million (116 big blinds), Ott 46.2 million (just over 19 BBs), and Pollak 35.6 million (just under 15 BBs).
Pollak had the button and opened with an all-in shove. The action was on Ott in the small blind holding
. Put yourself in Ott's position.
After thinking almost exactly one minute, Ott did push all in. Blumstein then looked down at
and immediately asked for counts of both of the other stacks.
"Should I go for night-night?" Blumstein said, glancing back at his rail. He thought another 15 seconds or so.
Blumstein called, setting up a three-way all-in and the potential to end the Main Event right then and there. It would have been the first time ever for a Main Event to conclude without any heads-up at all, but the board came
, giving Ott a pair of kings and knocking Pollak out in third.
In his interview just after, Pollak said "I was surprised when Dan decided to shove with king-nine offsuit." Later after the night was over, Ott conceded "I think I got it in a little loose," on the hand.
Players left: 2
Blinds/antes: 1,500,000/3,000,000/500,000
This one may seem a less difficult decision comparatively speaking, but we'll include it for the sake of completeness and to provide another point of discussion.
As noted, Blumstein and Ott battled heads-up for 65 hands. By the last one Blumstein had just over 296 million versus Ott's 64 million.
Blumstein then limped in from the button, and after being dealt
Ott raised to 8 million. Blumstein responded with an all-in shove, and Ott tanked for more than two minutes as he decided what to do.
"You just have to do it in a heads-up spot when you have 21 bigs," said Esfandiari on the commentary, and indeed Ott eventually did make the call.
The board came a dramatic
, the deuce on the river hitting Blumstein's kicker and giving him the pot and title.
Everybody needs an account at one of these online poker rooms! They're the biggest, the best, and we get you the best poker bonuses. Check out our online poker section for details on all the online poker rooms around.