888Millions Sunday Special 2 - $100,000 GTD
Day: 1
888Millions Sunday Special 2 - $100,000 GTD
Day 1 Completed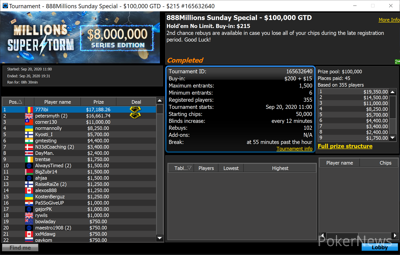 After just over eight hours of play, "777ibi" from Romania has won the 888Million Sunday Special after besting the field of 355 entries and 102 rebuys. They made a deal heads up, so the win was worth $17,188 instead of the original prize of $19,350.
"777ibi" came into the final table with the second smallest stack, but played the small stack well. They were behind when heads up began as well, and after a wild few hands, emerged victorious.
The Final Table
| Place | Name | Country | Prize |
| --- | --- | --- | --- |
| 1 | 777ibi | Romania | $17,186 ($19,,350) |
| 2 | petersmyth | United Kingdom | $16,662 ($14,500) |
| 3 | corner130 | Taiwan | $11,000 |
| 4 | normannolly | Ukraine | $8,250 |
| 5 | Kyosti_I | Finland | $5,700 |
| 6 | gmtesting | India | $4,400 |
| 7 | N33dCoaching | Denmark | $3,400 |
| 8 | DayMan. | Costa Rica | $2,400 |
| 9 | trentse | Ireland | $1,750 |
The Day's Action
They got going today at 1 p.m. eastern time with just over 100 players, but the field grew steadily through three and a half hours of late registration. When it finally closed, there were 355 entries with 102 rebuys in total. That meant they were playing for $100,000 with $19,350 up top for the win.
There were just 139 players left in the game when registration closed, and it was only about 90 minutes later that they got down to the 45 paid spots. Things really took off then, with action playing down to the final two tables in about an hour and about half an hour more to get to the final nine.
They played nine-handed for about 20 minutes and then the bustouts started. They dropped three players very quickly, but were down to the final three in less than half an hour. Players started talking about a deal six-handed, but they weren't able to find agreement.
Three handed play went one for a bit, and they tried again at a deal with no success before "corner130" ended their day in 3rd place for $11,000. They finally found a deal heads up, and it went very quickly after that. "petersmyth" had the lead going into heads up, but they lost it, regained it, then lost it again before "777ibi" finally held with the biggest stack.
There wasn't much difference between first and second after the deal. "petersmyth" won $16,662 for second, while "777ibi" took home $17,188.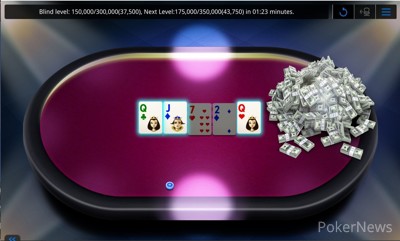 The chips were flying around heads up after the final two made a deal to ICM chop the prizes. After "petersmyth" doubled, it went the other way again, and then they ended their day after busting on a
board, but action went so fast the cards were already gone.
Chips are flying around, and "777ibi"'s pocket pair couldn't hold against "petersmyth".
Player
Chips
Progress

777ibi

15,152,468

1,342,436

petersmyth

6,722,532

-1,341,936
It all went in preflop and "777ibi" was behind with king-queen against ace-six, but they hit a king on the river to stay alive and take the lead.
Player
Chips
Progress

777ibi

13,810,032

5,480,016

petersmyth

8,064,468

-6,455,516
Level: 39
Blinds: 150,000/300,000
Ante: 37,500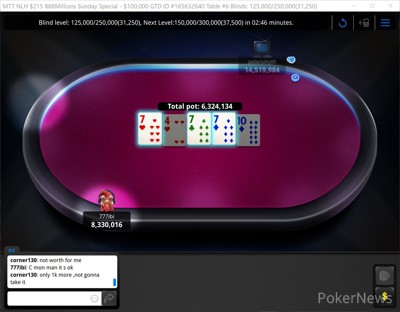 "corner130" called off against "777ibi" with king-three, and lost to the pocket pair of "777ibi"
"777ibi" raised enough in the small to put "corner130" all in, and they called it off. They had the best of it with queen-nine against ajck-nine, and held for the double.
Player
Chips
Progress

petersmyth

14,051,234

777ibi

5,433,324

-1,276,596

corner130

3,333,942

1,295,096
Player
Chips
Progress

petersmyth

14,051,234

484,375

777ibi

6,709,920

703,125

corner130

2,038,846

-1,081,250
Player
Chips
Progress

petersmyth

13,566,859

3,057,500

777ibi

6,006,795

-998,750

corner130

3,120,096

-825,000