Level:

14
Blinds:

1,500/3,000
Ante:

500
It has just been announced that a few players are on the way and therefore we are going to just hold up a short while for them. We'll be off shortly.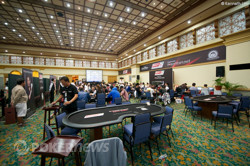 Welcome poker fans, to the Waterfront Hotel and Casino for the penultimate day of play here at the 2012 Asia Pacific Poker Tour Cebu Main Event.
There will be 28 players heading to the felt today with stars in their eyes, but by the end of the day 19 of those will have been sent crashing to the rail as we play down to the final table. While all 28 players are now guaranteed some cash for their time, it is the PHP 5,927,000 first place prize that all the players will be eying off.
One player who is in the best shape to ensure all his poker dreams come true is India's Amit Varma. A huge Day 2 ensured Varma would finish up as the chip leader, and when we say "leader" we really mean it. Varma begins the day with 545,500 which is 200,000 more chips than his nearest rival, Hoang An Do.
Close behind Do and in with a chance come clutch time are the likes of Jacky Wang, Nicholas Wong, Xue Bin Pang and Alistair Duff. Don't rule out the talent of Julian Hasse, Michael Kanaan, Antoine Amourette and Carter Gill as they have all tasted success on the felt at a very high level before.
All in all it's going to be a huge day of poker, so strap yourself in and follow along with all the action as the PokerNews Live Reporting Team is on the floor from 12:15 pm local time and then all day long here on Day 3 of APPT Cebu.
| | | | |
| --- | --- | --- | --- |
| Table | Seat | Name | Chips |
| 1 | 1 | Antoine Amourette | 195,000 |
| 1 | 2 | Steven Tegnelia | 63,500 |
| 1 | 3 | Jae Kyung Sim | 145,000 |
| 1 | 4 | Hoang Anh Do | 330,000 |
| 1 | 5 | Carter Gill | 52,500 |
| 1 | 6 | Alvin Cheam | 61,500 |
| 1 | 8 | Hyung Kook Shin | 173,500 |
| | | | |
| 2 | 1 | Chun Tat Lee | 127,500 |
| 2 | 2 | Xiuming Huang | 214,500 |
| 2 | 3 | Bobo Chen | 172,000 |
| 2 | 4 | Mark Anthony Ortiz | 46,000 |
| 2 | 6 | Antonio Martins | 102,500 |
| 2 | 7 | Frederick Hallen | 84,000 |
| 2 | 8 | Bobby Zhang | 120,000 |
| | | | |
| 3 | 1 | Xue Bin Pang | 241,500 |
| 3 | 2 | Sang Yong Lee | 63,500 |
| 3 | 3 | Andrew Nguyen | 201,500 |
| 3 | 4 | Julian Hasse | 130,000 |
| 3 | 6 | Victor de Guzman | 107,000 |
| 3 | 7 | Sameer Rattonsey | 191,000 |
| 3 | 8 | Sungsik Bae | 221,000 |
| | | | |
| 4 | 1 | Amit Varma | 545,500 |
| 4 | 2 | Nicholas Wong | 261,000 |
| 4 | 3 | Alistair Duff | 223,000 |
| 4 | 4 | Christopher Edgar | 145,000 |
| 4 | 5 | Hui-chen (kitty) Kuo | 34,000 |
| 4 | 7 | Michael Kanaan | 157,000 |
| 4 | 8 | Jacky Wang | 274,500 |
Main Event
Day 3 Started