APPT $1,500 Main Event
Day: 3
APPT $1,500 Main Event
Day 3 Completed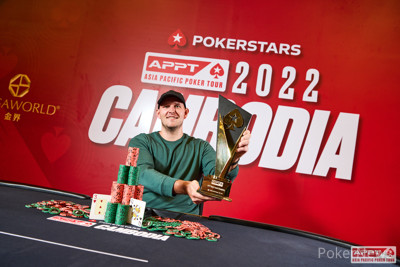 After seven hours of play in the opulent Grand Ballroom of the award-winning integrated NagaWorld Resort in Phnom Penh, a winner has been crowned in the first ever PokerStars Asia-Pacific Poker Tour (APPT) $1,500 Main Event in the Kingdom of Cambodia. Out of a field of 378 entries, it was Alexander Puchalski who took home the biggest portion of the $494,991 prize pool when he came out on top of a short-lived heads-up duel with Akshay Kapoor.
The Canadian has been playing poker for eight years where he mainly focuses on cash games. He is currently based in Thailand like many other poker enthusiasts from all over the world and made the short trip over to Cambodia, a decision that has certainly paid off. For his efforts, the 27-year-old Ontario born, Puchalski takes home the top prize of $96,028 and the golden shard trophy.
While he was not the most chatty player on the nine-handed final table, he imposed over the line-up with his calm manner and consistently grew his stack without any major setbacks. However, the most-defining hand en route to victory certainly contained a lot of drama when his pocket jacks were up against the pocket queens of runner-up Kapoor and the ace-four suited of Renniel Galvez.
Taiwan's Yu Chung "Nevan" Chang, who started the final table as the chip leader, was eliminated in fourth place. The only former APPT Main Event champion in contention was Michael Soyza who became the first casualty of the day after coming into the final day with fewer than seven big blinds. Norway's Markus Garberg and the UK's Chris Backhouse were also notable names among the final nine and nine different countries were represented during the final showdown.
Final Table Result 2022 APPT Cambodia $1,500 Main Event
| Place | Winner | Country | Prize (in USD) |
| --- | --- | --- | --- |
| 1 | Alexander Puchalski | Canada | $96,028 |
| 2 | Akshay Kapoor | India | $60,884 |
| 3 | Renniel Galvez | Philippines | $44,005 |
| 4 | Nevan Chang | Taiwan | $35,590 |
| 5 | Quoc Dinh Nguyen | Vietnam | $28,165 |
| 6 | Chris Backhouse | United Kingdom | $21,681 |
| 7 | Markus Garberg | Norway | $16,137 |
| 8 | Quoc Huy Phan | Netherlands | $11,682 |
| 9 | Michael Soyza | Malaysia | $9,454 |
All eyes were set on former champion Soyza when the action resumed at 1pm local time and the Malaysian immediately got his chips into the middle with jack-ten suited. Chang looked him up with ace-jack and remained ahead despite a sweat with two spades on the turn, ensuring that a new first-time APPT Main Event winner would be crowned.
From there on it became a tense affair as several short stacks doubled. Quoc Huy Phan then saw his hopes vanish when his ace-ten flopped best but was outdrawn by the ace-jack suited of Puchalski, which reduced the field to the last seven contenders. In remarkable fashion, Galvez went from shortest stack to chip leader after he first hit a one-outer with pocket tens against the pocket aces of Garberg to then also go runner-runner with ace-nine suited to make quads and beat Chang's pocket queens.
The dire luck of Garberg continued as he also doubled Quoc Dinh Nguyen when queens were cracked by ace-queen and Galvez then held the very same ace-nine of clubs to knock out the Norwegian in seventh place.
With Galvez in the lead the momentum on the table shifted and Backhouse lost a flip to Puchalski, which kickstarted the surge of the Canadian. Nguyen was unable to win yet another all-in showdown and bowed out in fifth place before start-of-the-day chip leader Chang became short and was knocked out by Kapoor in a roller coaster runout.
Kapoor pulled into the lead in three-handed play and was two cards away from victory in a dramatic three-way all-in. His queens were ahead on a ten-high flop but a jack on the turn improved Puchalski to a set. A blank on the river knocked out Galvez with ace-four suited and heads-up play started with a commanding lead of more than nine-to-one for Puchalski.
Kapoor was able to double up two times in quick succession only to see his hopes of a miracle comeback vanish in a limped pot when his jack-trey suited flopped trips. The chips only went in after the river without any betting action prior and Puchalski tabled queen-trey for a well-hidden full house to become the champion.
This marks the conclusion of the second PokerStars APPT stop in 2022 and the global online poker brand will now shift the focus on the European continent with regional tours and the upcoming EPT Prague festival in December 2022 on the horizon.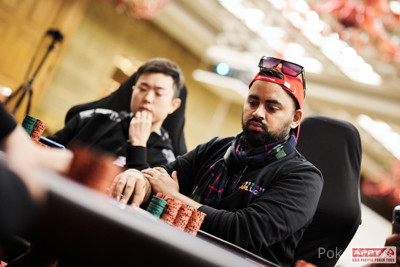 There was a dealer change and Akshay Kapoor smiled to the new dealer with the words "a little bit of help".
In the first hand he limped the button and Alexander Puchalski checked the option. The
flop and
turn was checked again by Kapoor and Puchalski bet 175,000 to win the pot.
Kapoor had some 2.8 million after the hand and Puchalski limped. They checked down the
flop and the
turn. On the
river, Kapoor carefully glanced at his opponent before he over-bet for 400,000.
Puchalski gave it a few seconds of consideration before he pushed all-in and Kapoor instantly called. The
of Puchalski had flopped a full house and Kapoor revealed
for trips treys to finish as the runner-up for $60,884.
A recap of today's action is to follow.
Akshay Kapoor lost a small pot to Alexander Puchalski without showdown and then limped the button. Puchalski jammed in the big blind and Kapoor snap-called.
Akshay Kapoor:

Alexander Puchalski:
The
flop vaulted Kapoor into a commanding lead and the
turn sealed his double, which made the
river a formality. Kapoor doubled for 1,290,000 and jumped to nearly 27 big blinds.
In the third hand of heads up play with new blinds already, Alexander Puchalski jammed on the button and Akshay Kapoor called out of the big blind.
Akshay Kapoor:

Alexander Puchalski:
The
flop gave Puchalski a gutshot and the
turn added a second gutshot on top. However, the
river was a blank and Kapoor doubled for 745,000.
Level: 29
Blinds: 50,000/100,000
Ante: 100,000
The bad news for Akshay Kapoor is the fact that there are only 1:18 minutes left at the current blinds after which he will be down to a mere 11 big blinds.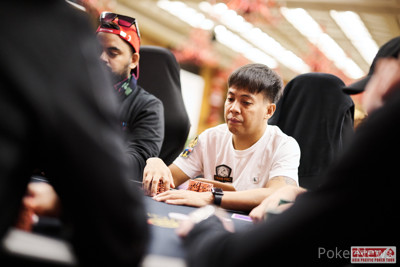 The action started with a button raise to 160,000 by Akshay Kapoor and Renniel Galvez then pushed all-in from the small blind.
Alexander Puchalski in the big blind seemed interested and asked for an exact count on the shove, which was for 2,225,000 total. He then pushed all-in himself and Kapoor shot out of his seat.
"How much is that?" Kapoor immediately inquired and once it was deemed to be for 3,935,000, he called to put two players at risk and potentially end the tournament right there.
Renniel Galvez:

Alexander Puchalski:

Akshay Kapoor:
The rail gathered closer to the table and Zurvan Tumboli joked "I can see the queen of diamonds" while glancing at the feature table.
On a flop of
, Kapoor retained his lead but Puchalski had two outs and Galvez had one overcard, back door clubs and a gutshot at his disposal.
The
turn catapulted Puchalski into the lead and he pumped a fist for a second. Now it was Kapoor who had two outs and Galvez still had four outs to a wheel.
Nothing changed on the
river and Galvez was eliminated in third place for $44,005 while Kapoor's stack was reduced to fewer than 15 big blinds. There will now be a short break prior to the heads-up duel between Puchalski and Kapoor.
Renniel Galvez jammed two more times into Alexander Puchalski and got through with it.
Puchalski then limped the small blind and Akshay Kapoor checked in the big blind. On the
flop, Puchalski bet 80,000 to get called and a second barrel for 280,000 did the trick for Puchalski.
Another limped pot between Kapoor and Galvez was checked all the way on the
board and Kapoor won the pot with the
.
Galvez won a small pot when a checked board of
was bet on the river only and Puchalski didn't pay the 110,000 by his opponent.
Alexander Puchalski raise-folded to a shove by Renniel Galvez, who then limped in the small blind next. Puchalski announced a raise to 240,000 and a split second later, Galvez had pushed all-in again. Puchalski carefully posted his announced raise, gave it 20 seconds of consideration and folded.
Puchalski limped the next small blind and Akshay Kapoor checked from the big blind. The
flop was checked by Puchalski and he then folded when Kapoor bet the minimum.