$2500 APPT Seoul Main Event
$2500 APPT Seoul Main Event
Day 1 Completed
Play has concluded for the evening, with 48 players set to return for play tomorrow afternoon. Players are bagging up their chips, and will redraw for seats. The new software used by Tournament Director Danny McDonagh ensures this is the smoothest of transitions.

Stay tuned for the official end of day chip counts ans seating allocations for the start of Day 2 tomorrow.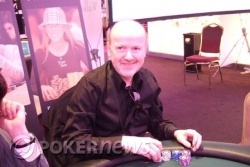 Jacques Zaicik has been a Big Game Hunter today, eliminating Team PokerStars players Vanessa Rousso and 2005 World Champion Joe Hachem. He has lost with Queens against Ace Queen and won with Queens against Kings, after the flop came
. He is a colorful character, who is fearlessly agressive and has a happy-go-lucky attitude.
In one of the final hands of the day, Zhiwei Ang sent a player home when his
outdrew the
of his opponent. Ang flopped trip tens and as if that weren't enough, made an unbeatable full house when the
hit the turn.
While the action has slowed down considerably, a few players have been eliminated in dramatic fashion. While it's sometimes uncertain exactly how the hands played out, it seems each elimination has been accompanied by a player jumping out of their chair in disgust and/or disbelief. Witnessing this behavior as the clock ticks down on Day 1 only supports the argument that many of the players remaining have they're eye on Day 2 and are only committing their chips when they have by far the best of it, and in at least a few cases, it seems that still hasn't been enough.
Amos Angelini was just sent to the rail when his
was bested by the
of Danny Purkins. Angelini was in a dominating position preflop when the money went in, but that position was quickly reversed when the flop came
. Angelini failed to catch the runner-runner draws required to stay alive and his name has been added to the list of Day 1 casualties.
With Day 1 drawing to a close, the action appears to have slowed down a bit. Players seem less inclined to get involved in big pots than they were just a few hours ago. While there is still quite a few eliminations to go before we reach the money, it's always possible that coasting to Day 2 is in the back of some of the players' minds.
It has just been announced the 132 players have been eliminated thus far today leaving 54 players (with an average stack of 34,444) still on the quest for first place prize money.
Jason Min just eliminated two players when his
held up against the
and
of his two opponents. Neither of Min's opponents were able to catch their overcards and Min emerged the victor. Min is now working with about 76,000 chips and has two less opponents to worry about.
Level:

9
Blinds:

500/1,000
Ante:

100