APT Macau Main Event
Day 1b Completed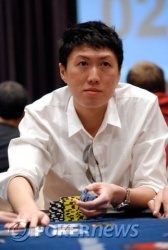 The second Day 1 flight of the 2009 Asian Poker Tour Macau Main Event has officially come to an end. 192 players started the day. When the chips were bagged, several of the 51 players remaining were vying for the chip lead. By our estimates it appears that Aussie Stewart Scott -- winner of the 2009 Aussie Millions Main Event -- was overtaken at the very end of the night by Eugene Teh's stack of 95,000 chips.

In contrast with the play we saw during Day 1A, today was a day of slow, steady chip accumulation. It was also a day of painful eliminations for many of the more recognizalbe and accomplished players. Chino Rheem was among the very first players eliminated after he fell to a rivered two-outer. Tommy Le and two-time APT runner-up Steve Yea soon followed. Also hitting the rail during the day were Chau Giang, John Juanda, Liz Lieu, James Akenhead, Praz Bansi and Vivek Rajkumar.

Tomorrow the field of 88 survivors combines. They'll play all the way down to a final table, which will be played out Sunday. The action kicks off at noon local time with PokerNews providing all your live updates. See ya!
Don Carmona is once again up to his old tricks. With nine minutes left on the clock, and the big blind approaching, Carmona was first to act under the gun. He sat there for several minutes, counting on his fingers and eyeing off the clock, as most of the table were apparently entertained by his antics.

"I'm counting my outs!" he laughed.

Eventually one player threatened to call the clock and Carmona folded, just seven minutes short of his goal of avoiding the impending big blind.

"What, were you planning to sit there for nine minutes?" questioned one player as Carmona just laughed.
There was an open-raise to 3,000 in front of Dave Lee during a recent hand. He re-raised to 8,500, inducing folds from each other player back to the original raiser. That player tanked for three solid minutes. He agonized over his decision long enough for a player who had already folded to request a clock be called.
A floor was summoned to the table. He gave Lee's opponent one minute to act. At the end of that minute Lee's opponent flashed the
and folded. Lee stood sharply out of his chair, seemingly irritated that a clock had been called that most likely caused his opponent to fold.
"Good luck to me," said Steve Wong. He was facing a short-stacked player's all-in raise of roughly 10,000 and opted to take a flyer out of the big blind with
. The all-in player had a small pair of
. The board was all small cards also,
, but somehow they dodged Wong's hand to give his opponent a double-up.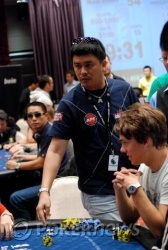 Don Carmona has certainly provided us with plenty of memorable moments to keep us busy today, and we can add another to the list.
We arrived at his table after some commotion has emerged. A short-stacked player had moved all in and Carmona made the call. The only problem was that the dealer didn't hear the call, so when Carmona flipped his
the dealer promptly scooped up the cards into the muck.
The floor was called and when it was determined that he clearly announced call, his cards were retrieved and he found himself racing with
.
The board was favorable as it ran out
to spike a pair of aces for Carmona to send another opponent to the rail. Carmona is still hovering at around 70,000 chips.
We came to Hien Tran's table to see him at the river of a board that came
. Tran had made a huge bet or raise of 20,000, enough to put his opponent all in. That player tanked for several minutes before painfully open-mucking
! The table was shocked; one player even told Tran, "You really got away with one there." Tran's opponent was convinced that Tran had runner-runnered a diamond flush.
Johnny Chan is cautiously picking his spots over on the far side of the room. He found one when action folded to him in the cutoff. He opened to 3,000 and was called by the small blind and Manami in the big blind.
On a flop of
, both blinds checked to Chan. He fired for 3,500 and found one caller in the small blind. When the board paired nines on the turn
, the small blind checked again. Chan kept up the pressure with a bet of 5,500, which was enough to take down the pot.
Chan has a roughly average stack of 34,000 chips.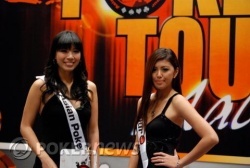 The players have entered the home straight with the final level of the day. At the moment 58 players are still alive and looking for a day 2 berth to join the 37 survivors from yesterday.
Level:

10
Blinds:

500/1,000
Ante:

100