$100,000 Challenge
Day 1 Completed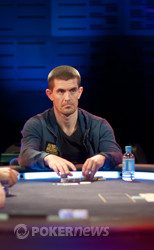 That's a wrap for Day 1 of the Aussie Millions $100,000 Challenge, and it's been quite a day.
Twenty-two players turned up to Studio 3 inside the Crown Casino this afternoon with a strong desire to spend six figures on a slip of numbered paper. About 10 hours later, that field has been reduced to just eight as the final table is locked up for tomorrow.
Mike "SirWatts" Watson was the first one to make his exit today when Sam Trickett's combo draw came through to best his top pair with ace-king. Watson was soon joined on the rail by quite a cast of characters including Dan Shak, Tom Dwan, Masa Kagawa, Tony Bloom, and Jonathan Karamalikis — all before the dinner break at the end of the second level. The latter was sent off by Daniel Alaei, but Alaei would be the first one to fall after the recess in a bit of a nasty beat to Joe Hachem. Alaei flopped top set with tens, and Hachem put him to the test on fourth street with only a gutshot straight draw. The four-outer came through with a vengeance, though, and Alaei was sent off in the middle of the pack.
Others to fall today included a couple more Daniels — Negreanu and Cates — along with Tobias Reinkemeier, JC Tran, Jason Mercier (#whenwillitend), and last year's third-place finisher, Erik Seidel.
The field had been reduced to nine players around just one table, and right around 1:00am, the final hand played out. Gus Hansen flopped two pair with six-seven, and Phil Ivey went with pocket eights for a pair and an open-ender. His hand never got over the hump after a blank apiece on the turn and river, and Ivey's exit made things a little easier on the eight who are set to return tomorrow.
As our pal RedBull Robbie would say, "LLLLLLLet's meet them now."

| Seat | Player | Chips |
| --- | --- | --- |
| 1 | Tony G | 102,000 |
| 2 | Gus Hansen | 567,000 |
| 3 | Nam Le | 79,500 |
| 4 | Sam Trickett | 73,000 |
| 5 | Mikhail Smirnov | 265,000 |
| 6 | Joe Hachem | 538,500 |
| 7 | Sorel Mizzi | 228,500 |
| 8 | Dan Smith | 346,500 |
That's who we've got left, and they're set to return tomorrow at precisely 2:30pm-or-so to play it out to a winner. We'll be here, too, and we hope to see you back here to finish up the story.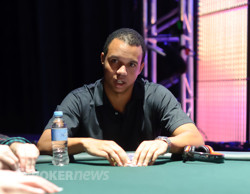 Phil Ivey has just busted out in ninth place and ended the tournament for the day as just eight players now remain. He went out at the hands of Gus Hansen after action went five ways to the flop. Here's the final hand of the night.
From under the gun, Nam Le opened with a raise to 13,000. Ivey made the call from middle position, Mikhail Smirnov called from the next seat, Tony G called out of the small blind and Gus Hansen called from the big blind. The five players took the
flop and Tony G checked. Hansen fired a bet of 39,000 into the 65,000-chip pot. After Le folded, Ivey raised all in for 123,000 and action fell on Smirnov. He tanked for nearly all of his allotted time and then folded. Tony G quickly got out of the way and then Hansen splashed in the chips to make the call.
Hansen flipped over two pair with the
. Ivey held one pair with the
, but he had plenty of outs to a straight or a better two pair.
The turn was the
and left Ivey needing a king, ten, nine, eight or five on the river. Unfortunately for Ivey, the
wasn't what he was looking for and it was all said and done for him. Hansen won the pot and the tournament was stopped for the night with just over 30 minutes left in Level 5.
| | | | | | |
| --- | --- | --- | --- | --- | --- |
| Phil Ivey | | | | Busted | |
Phil Ivey has been very active the past couple of hands, but on the third hand he played in a row, lost a decent pot to Joe Hachem to get knocked back to 136,000 in chips.
On the first of the three hands, Ivey raised to 12,000 from the cutoff seat and Mikhail Smirnov called from the button. Sorel Mizzi called from the big blind and the flop came down
. Mizzi checked and Ivey bet 20,000. Smirnov folded, then Mizzi followed suit and Ivey won the pot.
On the next hand, action folded to Ivey in the hijack seat and he opened to 12,000. Everyone folded and Ivey won the pot.
On the third hand of the three in a row, Ivey opened to 12,000 from middle position, but this time Hachem got a bit aggressive and three-bet to 25,000. Action folded back around to Ivey and he called to take the
flop out of position. Ivey checked and Hachem bet 29,000. Ivey called.
The turn was the
and paired the board. Ivey checked and Hachem bet 55,000. The clock began to tick and tick as Ivey thought. The dealer announced that Ivey had 10 seconds left and then began to count down when he got to six. Ivey asked, "Do I get a chip?" in reference to the time-bank chips. The answer was no and Ivey had a minor look of disgust on his face. The clock then ran out and Ivey's hand was declared dead — the second time this has happened today. He was left with 136,000 in chips while Hchem moved to around 540,000.
| | | | | | |
| --- | --- | --- | --- | --- | --- |
| Joe Hachem | | | | 540,000 | 67,500 |
| Phil Ivey | | | | 136,000 | -2,000 |
Nam Le has been waiting to squeeze out a good hand for a while now, and he finally found his spot. It happened behing a Gus Hansen raise to 12,500, and Le got it all in for 42,500 total. Hansen took the liberty of pulling the 12,000 out and breaking down Le's remainder before talking himself into the call. "It's such a good price," he surmised as he splashed the chips into the middle.
Le showed just the
first, and Hansen chirped, "That's not a good card for me." Le rolled over
, and he did indeed have Hansen's
sufficiently dominated. The
board was money in the bank, and Le has flushed his way to the double.
| | | | | | |
| --- | --- | --- | --- | --- | --- |
| Nam Le | | | | 92,500 | 43,500 |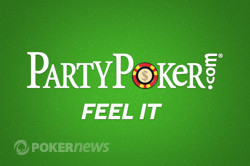 We all know everyone likes free money. We also know that if you're following along with our coverage that you enjoy poker. Thanks to our great friends at PartyPoker, you can now get some of both with the "Exclusive $50 FREE with NO DEPOSIT & $50 Reload Bonus" offer.
New PartyPoker players just sign up using the PokerNews links to qualify for our Exclusive PartyPoker $50 Free Promotion. Real cash — NO deposit required!
Then, deposit and enter code "PN50FREE" to take advantage of our NEW $50 reload bonus.
Between the nine players who have made it down to this last table of play, there's $56,571,193 in career live tournament earnings. Three of them have World Series of Poker gold bracelets: Phil Ivey (8), Joe Hachem (1) and Gus Hansen (1), four of them have World Poker Tour titles: Hansen (3), Ivey (1), Hachem (1) and Le (1) and all but two of them have seven figures of live tournament earnings. That's one heck of a group of players.
Gus Hansen raised to 12,500 to open the pot, and Nam Le flatted with his shortening stack. Heads-up, they took a
flop, and Hansen checked it over. When Le bet 8,000, though, he clicked it back to 16,000, and Le tanked and folded.
He's under 50,000 now.
| | | | | | |
| --- | --- | --- | --- | --- | --- |
| Nam Le | | | | 49,000 | -20,000 |
Level:

6
Blinds:

2,500/5,000
Ante:

0
Sorel Mizzi just picked up the first hand at the nine-handed final table. He opened with a raise to 8,000 from middle position and found calls from Dan Smith out of the hijack seat and Sam Trickett in the big blind. The flop came down
and Trickett checked. Mizzi bet 12,500 and both of his opponents folded.