$100,000 Challenge
Day: 1
$100,000 Challenge
Day 1 Completed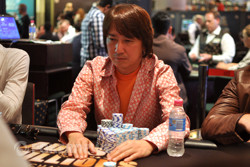 Year in and year out, the Aussie Millions $100,000 Challenge proves to be one of the most competitive and prestigious tournaments of the New Year. That was the case at Crown Casino in Melbourne, Australia on Sunday as 21 players took to the felt for nearly 10 levels of play. During that time there was one re-entry and the field whittled itself down to the final seven. Leading the way is Masa Kagawa, who ran hot throughout Day 1 and bagged up 695,000.
Things began going well for Kagawa in Level 5 (1,000/2,000/200) when he doubled through Dan Shak, who was the early chip leader. From there, he never looked back.
In a big hand in Level 7 (2,000/4,000/400), there was around 60,000 in the pot and a flop of
when Kagawa checked from under the gun. Martin Finger, winner of the 2011 European Poker Tour Prague, bet 16,000 from the button and Kagawa made the call before checking the
turn. Martin then moved all in for 80,000 and Kagawa snap-called. Finger sheepishly turned over
and he was in big trouble against Kagawa's
; in fact, Kagawa needed either a non-heart ten or king on the river to keep his tournament hopes alive. The dealer burned one more time and put out the
. Kagawa improved to a flush to send Finger to the rail, which also vaulted him up to 600,000.
On the flip side, Andrew Robl was the first player to bust from the tournament and became the only player to fire a second bullet. Apparently he came back with a vengeance as he quickly chipped up upon his return.
It happened in Level 6 (1,500/3,000/300) when Igor Kurganov opened for 6,500 from the hijack and Robl three-bet to 17,000 from the button. Mike "SirWatts" Watson then four-bet to 37,000 from the big blind, Kurganov folded, and Robl five-bet the pot. Watson announced that he was all in for 177,000 and Robl, who barely had him covered, made the call.
Robl:

Watson:
Robl was a huge favorite and looking to dodge an ace. According to the PokerNews Odds Calculator, Watson had just a 29.74% chance of winning the hand, though that jumped a bit to 30.30% as he picked up a gutshot straight draw. The
turn was no help, and Watson watched his chances of survival be cut in half to 15.91%. Unfortunately for him, that hit zero when the
blanked on the river. The stack were verified, and then Watson made a hasty exit from the tournament floor.
Others who joined Watson and Finger on the rail throughout the day were (click on their name to read their elimination) Fabian Quoss, Jason Pritchard, John Juanda, Jason Mercier, Tony Bloom, Eric Liu, Sam Trickett, Gus Hansen, Philipp Gruissem and Patrik Antonius.
It was actually a short and not so sweet stay for Antonius, who entered the tournament in Level 4 (500/1,000/100) and exited 20 minutes later. The action was picked up with 13,000 in the pot and a flop reading
. Antonius had bet 7,200 from the under-the-gun position, only to have Shak raise to 20,000 from the hijack. Antonius thought for a moment before moving all in for about 70,000 more, and Shak made the call with
for a flush draw, which he needed to hit in order to overcome the Finn's
.
That's exactly what Shak did as the
rolled off on the turn, though Antonius could still win if the board paired on the river. The dealer burned one last time and put out the
. "I'll see you in a few minutes," someone at the table said to Antonius, referencing the fact that he was likely to re-enter.
"No, no, no," Antonius responded. "That's enough for me."
Lynn Gilmartin spoke with Shak during the dinner break:
Seven players are still in contention, but only four of them will earn a payday as follows: 1st-A$1,000,000; 2nd-A$610,000; 3rd-A$320,000; and 4th-A$237,000. Who will add their name to this prestigious list of champions (click name to learn more about their victory):
| Year | Winner | Prize | No. of Entries | Prize Pool |
| --- | --- | --- | --- | --- |
| 2012 | Dan Smith | A$1,012,000 | 22 | A$2,200,000 |
| 2011 | Sam Trickett | A$1,525,000 | 38 | A$3,800,000 |
| 2010 | Dan Shak | A$1,200,000 | 24 | A$2,400,000 |
| 2009 | David Steicke | A$1,200,000 | 23 | A$2,300,000 |
| 2008 | Howard Lederer | A$1,250,000 | 25 | A$2,500,000 |
| 2007 | Erick Lindgren | A$1,000,000 | 18 | A$1,800,000 |
Day 2 of the 2013 Aussie Millions $100,000 Challenge will kick off at 14:00 EDT (22:00 EST), and of course the PokerNews Live Reporting Team will be on hand to bring you all the action and elimination from that event as well as Day 1b of the A$10,000 Main Event.

Player
Chips
Progress

Masa Kagawa

695,000

15,000

Igor Kurganov

563,000

233,000

Dan Shak

435,000

-17,000

Tobias Reinkemeier

160,000

-55,000

Vanessa Selbst

136,000

56,000

Andrew Robl

129,000

-11,000

Niklas Heinecker

85,000

-15,000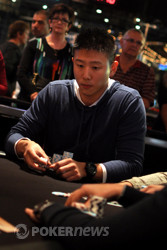 In what would be the last hand of the night, Igor Kurganov scored a rare double elimination, meaning we'll be coming back to Day 2 with just two players.
The hand began with Winfred Yu opening for 20,000 from middle position and Kurganov three-betting to 40,000 right behind. When action reach Chris "Genius28" Lee in the small blind, he four-bet to 130,000, leaving just 36,000 behind, and Yu called off for around 53,000. Kurganov hit the tank for nearly five minutes before announcing that he was all in, and Lee called off.
Kurganov:

Yu:

Lee:
Kurganov got it in good, but he had to dodge a lot of outs. He did so on the
flop as no player held a diamond, and the
was safe enough. The dealer burned one more time and put out the
, giving Kurganov the double elimination to end Day 1.

From middle position, Andrew Robl raised to 16,000. Winfred Yu called from the small blind, and Igor Kurganov reraised to 63,000 out of the big blind. Robl moved all in, Yu folded, and Kurganov called.
Kurganov:

Robl:
The board ran through
, and Kurganov doubled up.
A short-stacked Winfred Yu raised the pot (35,000) from under the gun, which left him just 2,000 behind. Action then folded around to Niklas Heinecker on the button and he called, prompting both blinds to fold. Yu then bet his last 2,000 in the dark and Heinecker called so the cards could be turned up.
Heinecker:

Yu:
Heinecker had the best hand, but not after the flop came down
. Yu paired his queen to take the lead, which was strengthened when
turn took away some of Heinecker's outs. The
ended up blanking on the river and Yu doubled through the German.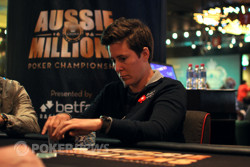 Vanessa Selbst raised to 16,000 from middle position, and Masa Kagawa called from the cutoff seat. After everyone else folded, the dealer ran out the
flop.
On the flop, both players checked to see the
land on the turn. Selbst bet 16,000, and Kagawa called.
The
paired the board on the river, prompting a check from Selbst. Kagawa bet 35,000, and Selbst tank-called. Kagawa tabled the
for trip jacks, and Selbst mucked her hand.
Level: 10
Blinds: 4,000/8,000
Ante: 1,000
Players are now on a 10-minute break.
Igor Kurganov opened for 12,500 from middle position and Niklas Heinecker defended from the big blind. The latter proceeded to check-call bets of 12,000 and 28,000 on the
flop and
turn respectively, and then he moved all in for around 60,000 on the
river. Kurganov insta-mucked and Heinecker chipped up to 171,000.